On November 14, MFC Industrial (MIL) released its Q3 2013 financial performance and its reported EPS was $.11, which was above its adjusted Q3 2012 results by $.09. We have followed the company and its predecessors since 2010 because we saw that the company had a significant level of excess cash on its balance sheet and we were expecting the company to use this cash to unlock shareholder value. Unfortunately, it seems as though the company has decided to use its ample cash and liquidity holdings on acquisitions.
One reason why we are attracted to the company is MIL's Chairman Michael J Smith and his record of unlocking value from the company and its predecessors. Although the market price of MIL is trading at a 36% discount to its book value, we believe it was because the company had low yielding cash on its balance sheet for a long time only to end up using it on a couple of acquisitions. We are not the only ones who noticed this. Former Spear, Leeds & Kellogg executive and principal stockholder Peter Kellogg owns 33% of MIL primarily through his reinsurance company (IAT Reinsurance) and recently announced that he submitted a notice of intention to nominate directors at MIL's upcoming shareholder meeting on December 27. IAT will file a proxy circular in connection with its director nominees and the other matters to be considered at the Meeting.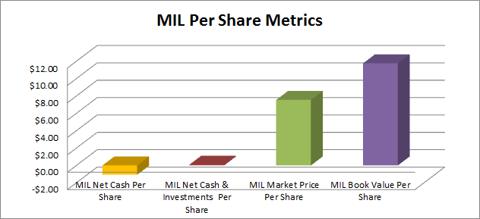 Source: MFC Industrial Q3 2013 Earnings Release
MIL released its Q2 earnings on the morning of November 14 and it was a bit of a mixed bag. We were dismayed to see gross margin percentage and operating income decrease in Q2 2013 versus the prior year period. MIL's gross margin percentage in Q3 2012 was 16.37% but dropped by 6.72% to 9.65% in Q3 2013. MIL's quarterly revenue increased by 80% to $215.6M in Q3 2013 compared to $120.1M in Q3 2012. MIL's revenue growth was due to contributions from newly acquired businesses, prices gains on some commodities and increased commodity sales volumes during the three months ended September 30, 2012. MIL's revenue increase was offset by higher cost of goods sold, which increased by 94% due to an increase in prices on commodities and other resource activities as well as the inclusion of the results of newly acquired businesses. Although MIL's adjusted SG&A expenses increased at a slightly slower rate than its revenues (11.55% year-over-year), it was not enough to offset the surge in financing costs and resulted in the company incurring 22.65% decrease in its operating income for Q3 2013 versus Q3 2012 levels.
MIL's Commodities and Resources business generated $3.6M in pre-tax income for Q3 2013, which was better than the $556K loss in Q3 2012. Although the division saw revenue growth from acquisitions, pricing and volume growth, its cost of sales grew faster due to the inclusion new acquisitions. As the Euro was stable in this quarter relative to last year, it has no material impact on the translation of Euro-denominated revenues into U.S. dollars. We have noted that Europe accounts for 59% of MIL's quarterly revenues, down from 74% in Q3 2012.
A part of MIL's oil and gas production comes from predominantly shallow low productivity, low-pressure dry gas wells located in Southern Alberta. The challenge facing MIL and other operators in the region arises from trying to profit from these "marginal well" assets in a low gas price environment coupled with high operating costs. MIL has approximately 800 marginal wells and it separated those wells legally from its present operations in order to create a segment that acquires wells that other producers have struggled to operate under their higher-cost structures. MIL also announced that it appointed Ernest Alders as the COO for its Commodities business.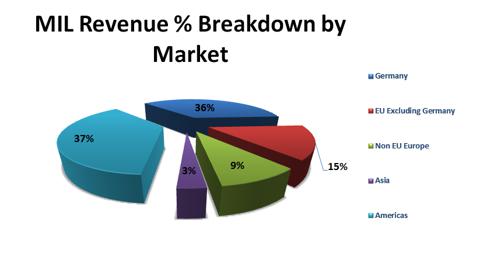 Source: MFC Q3 2013 Earnings Release
MIL's Merchant Banking business represents a smaller share of the company's operations and it generated $2.67M in revenues for Q3 2013, which was down from $7.44M in Q3 2012. MIL has noticed that many banks and lenders are reviewing their loan portfolios with a more realistic approach. We believe that this should provide more opportunities for MIL in the future with regards to merchant banking, as well as taking over a number of oil and gas producers. MIL's Merchant Banking business generated $1.22M in pre-tax income during the quarter, down from $5M in adjusted pre-tax income during the prior year's comparable quarter. Other operations generated $1.6M in pre-tax income during Q3 2013, which was better than the 1.6M in pre-tax losses incurred during Q3 2012. At least MIL was able to offset its merchant banking pre-tax income declines in this quarter.
In the last 21 months, MIL made the following acquisitions
January 2012, MIL acquired a 50% indirect interest in the distressed Pea Ridge Iron Ore Mine for $13M (Alberici has the other 50% interest)
March 2012, MIL acquired a mineral refinery plant and power plant (Kasese Cobalt Company Limited) for $28M
September 2012, MIL acquired oil and gas producer Compton Petroleum for C$32.9M
November 2012, MIL acquired an 80% controlling interest in ACCR for $17M
November 2012, MIL acquired a 60% controlling interest in Possehl for $6.2M
ACCR and Possehl are fully integrated commodity supply chain companies, specializing in industrial raw materials, chemicals and various other products.
We agree with MIL management's conclusion regarding the three catalysts that prompted the company to acquire Compton:
One, it had a substantial land bank of 350,000 acres and that land bank to MIL was a land bank which really was for developed-type properties, not exploration.
Two, it has tax pools. Tax pools to MIL are not a company that has tax losses. This is a pool where you can offset -- it is like a swimming pool. You jump in there and you offset all your taxes on a one-to-one basis of $330 million.
Third, Compton's assets are long-life, which will help MIL manage the volatile price of the underlying commodities.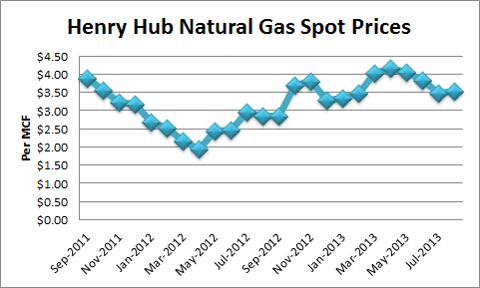 Source: EIA Natural Gas Pricing Data
MIL struck a development deal with an experienced local oil and gas exploration and production company ("The Operator") in the Niton area of Alberta. The operator has already established a significant presence in the area and currently produces 7,000 - 8,000 boe/d. Here are the terms of the deal:
The Operator will spend a minimum of C$50 million to drill at least three net wells per year and a total of 12 net wells (to a minimum of 800 horizontal meters each) during the initial three-year term.
The Operator will pay 100% of the drilling and completion costs of each well at its sole risk and expense.
After a well is drilled and there is continuous production from each well MIL can elect to participate for up to 30% on a look-back basis in the working interest of each well by paying 25% of its actual costs; or
Alternatively, MIL can elect to receive a 10% gross royalty on the production instead.
MIL will process the natural gas produced from the new wells through its processing plant for the life of the wells.
MIL announced a shareholder rights plan earlier this month to encourage the fair and equal treatment of shareholders in connection with any plan to acquire effective control of MIL. At the close of business on November 22, 2013, MIL issued one right for each common share of MFC outstanding at that time. The rights will automatically attach to the common shares of the Company (including shares issued in the future). The rights are exercisable in the event that any person or organization acquires or announces its intention to acquire 20% or more of MIL's shares without complying with the permitted bid provisions of the plan and where the board of directors in accordance with its terms does not waive application of the plan. If a take-over bid does not comply with the requirements of the Plan or where the application of the Plan is not waived in accordance with its terms, the rights holders (other than the acquiring party) will be entitled to purchase additional common shares of the Company at a discount to the market price.
Long-time MIL shareholder Peter Kellogg in conjunction with his IAT Reinsurance firm announced that it submitted a notice of intention to nominate directors at the next meeting of shareholders of MIL, which takes place on December 27, 2013. As set out in the notice and the enclosed materials submitted to MIL recently, Mr. Kellogg and IAT intend to put forward an ordinary resolution to expand the size of MFC's board of directors by fixing the number of directors of MFC at eleven and to nominate eight new directors. When asked about this, IAT Managing Director Tony Krebs said "Shareholders need to have confidence in a company's board and its strategic direction; we have lost that confidence in the current board of MFC". IAT's nominees consist of Mr. Kellogg, who is the Chief Executive Officer of IAT, as well as Mr. J. Andrew Betts, Mr. David L. Grange, Mr. Jeffrey A. Harris, Mr. William C. Horn III, Mr. Logan W. Kruger, Ms. Patrice E. Merrin and Mr. Trevor S. Schultz. MIL responded by rebuffing the Kellogg Group's actions.
In conclusion, we believe that MIL's share price is trading at a discount relative to its assets. Part of the reason why it is trading at a discount is because the company has maintained a significant level of low-yielding cash relative to its net equity position only to recently make two large acquisitions. We also believe that the investment community has a negative outlook on its FY 2012 acquisition spree. Although the company spent less than $100M in cash on these acquisitions, it assumed a significant level of debt to acquire Compton. We would like to see is MIL accelerate its plans to hire a full-time CFO because Michael Smith should not be the Chairman, CEO and CFO. We believe that Peter Kellogg/IAT Reinsurance's recent shareholder activism should enable MIL's share price ($7.55) to potentially converge with its book value per share ($11.76). At least MIL's share price has held up better than its two largest peers Noble Group and Glencore Xstrata have over the last 21 months.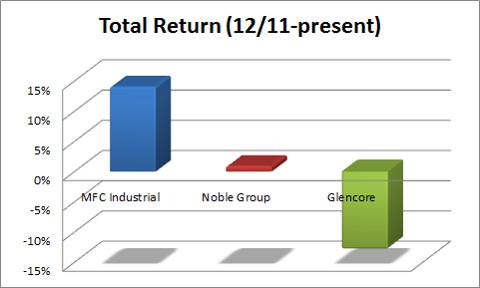 Source: Morningstar Direct
Disclosure: I have no positions in any stocks mentioned, but may initiate a long position in MIL over the next 72 hours. I wrote this article myself, and it expresses my own opinions. I am not receiving compensation for it (other than from Seeking Alpha). I have no business relationship with any company whose stock is mentioned in this article.