Developmental stage biopharmas are prime candidates for pump and dump scams, insider manipulation via overly exuberant statements that are promptly followed by insider selling, and various other shenanigans and hijinks. These types of stocks are prone to various forms of manipulation because the stereotypical investor buying these risky companies is often on the hunt for the next Amgen (NASDAQ:AMGN) with its spicy 100,000% return on investment (ROI). While a 100,000% ROI is a nice goal, it's not very practical in the real world for myriad reasons.
Chief amongst them is the fact that far too many investors venturing into small to mid-cap biopharmas are simply unaware of the dangers lurking around almost every corner. These dangers come in the form of clinical and regulatory risks, as well as plain out manipulation by bigger players.
And adding to the confusion, some biopharmas that are billed as "wolves" by some folks are actually harmless sheep. In other words, disinformation abounds at this level of the sector and it's often hard to tell what is what.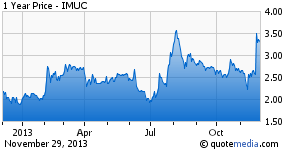 The fledgling immunotherapy company ImmunoCellular (NYSEMKT:IMUC) has undoubtedly gotten caught up in the biopharma game of misinformation and rumor mongering over the past two years. Why? All because the company reported that its lead brain cancer vaccine called ICT-107 had a favorable survival profile compared to "historical" benchmarks. The problem arose when some folks decided to use this statement to blatantly pump the stock, and a handful of naysayer's bashed them for it. In fact, this back and forth led to a number of humorous blog posts, but the end result was that the company and its novel therapy got lost in the mix.
With a pivotal Phase IIb read out coming for ICT-107 possibly this month, I think it's important to take a closer look at ImmunoCellular and ICT-107.
What is ICT-107?
ICT-107 is a vaccine that triggers an adaptive immune response in the presence of cancer cells. Currently, the vaccine is being tested as an indication against the most aggressive type of malignant brain tumors known as glioblastoma multiforme.
What's up with the latest Phase I update? Isn't this just more pumping?
Last week, ImmunoCellular announced that 50% of patients in its Phase I study were still alive after 5 years, and the stock roared upwards as a result. Although it's always a good idea to exercise caution with early-stage trial results, this is still an intriguing result. Newly diagnosed patients with gliobastoma treated with aggressive forms of chemotherapy generally only survive about 12 months, and have to endure the myriad side effects of high doses of radiation. So although this result is preliminary, it's impressive enough to warrant keeping tabs on the stock and its novel brain cancer vaccine.
What does a positive Phase IIb read out mean for the company?
First off, ImmunoCellular has a tiny market cap at $188 million. For a company with a promising mid-stage clinical candidate for a potential blockbuster indication, that is cheap, despite what some may say. Looking ahead, a positive Phase IIb trial for ICT-107 has broader implications for the company and its pipeline. ImmunoCellular currently has two other clinical candidates that are based off of the same platform. So a positive Phase 2b result with ICT-107 essentially validates the platform's overarching approach to treating cancer. In the same breath, a failure does cast a big shadow on the platform, and ImmunoCellular as a whole.
How is ImmunoCellular doing in terms of its fundamentals?
ImmunoCellular is a rare bird in the biotech universe in that it doesn't burn through cash at an unholy rate. According to the company's latest 10-Q (hyperlink below), the cash burn rate so far this year has been a measly $772k on average per month this year. For a company with multiple ongoing clinical trials that is flat out amazing. ImmunoCellular is able to achieve such a low burn rate because they employ what they call a "virtual" business model. Basically they contract out all their clinical trials instead of investing in expensive shiny new buildings. With approximately $28 M in cash and cash equivalents remaining and a low burn rate, ImmunoCellular shouldn't have to raise dilutive funding unless it launches a Phase III trial based upon a successful Phase IIb trial for ICT-107. And heck, I don't think many shareholders are going to whine about that scenario. That said, management has stated previously that they would actively seek out a big pharma partner to share the burden of a large Phase III trial. In short, positive Phase IIb results may not automatically result in dilution. We'll have to wait and see how this plays out.
Bottom line
The Phase IIb read out for ICT-107 is a pivotal moment in the life of this developmental stage biotech. While some folks have bashed the company for being optimistic about its lead clinical candidate, I personally think the optimism is warranted. Gliobastoma is a devastating disease that leaves the afflicted with little to no hope of long-term survival. The advent of immunotherapeutic approaches like ImmunoCellular's ICT-107 and Northwest Biotherapeutics' (NASDAQ:NWBO) DCVax-L could drastically change this moribund picture.
I also like the fact that ImmunoCellular's management hasn't pumped out tons of press releases and subsequently dumped stock at break neck pace. There has been some insider selling of late and some shareholders have taken that as a bad omen. But I would remind them that ImmunoCellular's executives are some of the worst paid in the sector, which has helped keep the cash burn rate in check. I could easily point to dozens of small-cap pharmas with CEO's taking home multi-million dollar salaries and still dumping shares like they're going out of style. In sum, I think management has taken on significant risk by not gauging unsuspecting shareholders, which is unfortunately common practice for developmental biopharmas.
In conclusion, ImmunoCellular is a wildly risky biopharma with an upcoming catalyst. If the Phase IIb read out is positive, the stock is probably going to triple from current levels. If it's negative, the entire platform is in question, so the bottom could be 0. So keep your trailing stops tight if you are going to speculate on ImmunoCellular. And don't bet more than you can lose. No one knows how this is going to play out.
Disclosure: I am long IMUC. I wrote this article myself, and it expresses my own opinions. I am not receiving compensation for it (other than from Seeking Alpha). I have no business relationship with any company whose stock is mentioned in this article.