December has arrived. And that is good news for equities (NYSEARCA:SPY). Historically, December has comfortably been the best return month for equities. As can be derived from the chart below, since 1946 the return on US equities has averaged 1.8% in December months. To put that in perspective; the average return in December has been more than 25% higher than the second-best month, April, with an average monthly return of 1.4%. The difference between the best and worst return month (September) averaged 2.3%, which is both statistically and economically very significant. Going long equities in December and short equities in September would have yielded about half of the historical risk premium of equities over government bonds.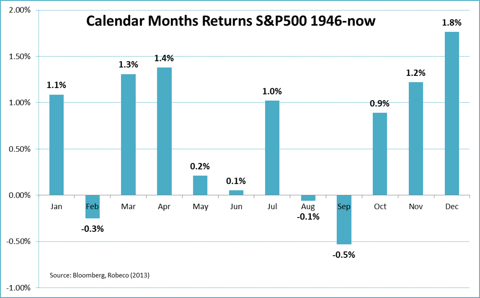 Click to enlarge
Sub periods
1946 as starting point is somewhat arbitrary. But, other starting points do not take away the sweetness of December for equity returns. Since 1970 the average monthly return in December has again been 1.8%. This time it beats the second-best month, April, by 0.5%. Compared to September the return difference rises to 2.5%. Since 1991 the results are slightly different. Although December is still very good for equities, April has returned a few basis points more. However, together December and April were way ahead of the remaining months.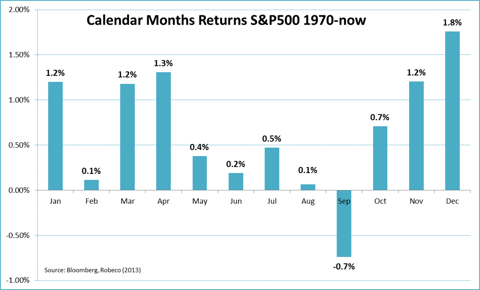 Click to enlarge
Hit ratio
But there are other ways to look at the attractiveness of December for equity returns. A good example is by looking at the percentage of months in which the return was negative. The results are shown in the graph below. For all months in the sample the return was negative in 41% of the time. As the graph below shows two months deviate substantially from this average. The first month is September. As the worst return month historically, the hit ratio for a negative month is almost 60%. The other outlier is December. The numbers for December underpin the positive relationship with the equity market. Historically, only 22% (roughly one in five) of the December months resulted in a negative return for US equities. That is half that of the overall average. December definitely stands out as the best return month. Historically, of course.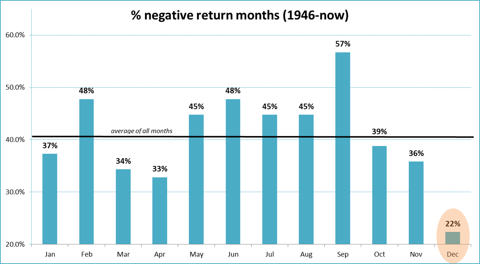 Click to enlarge
Disclosure: I have no positions in any stocks mentioned, and no plans to initiate any positions within the next 72 hours. I wrote this article myself, and it expresses my own opinions. I am not receiving compensation for it. I have no business relationship with any company whose stock is mentioned in this article.