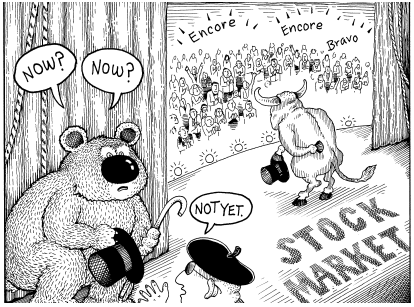 Outlook: The Wall of Worry" got a little taller this week; add to U.S. political uncertainty Euro-Zone's sovereign debt problems. Regrettably, matters of this nature are not easily resolved and difficult to quantify. Recent market actions are more likely a correction accompanied with greater volatility than the start of a bear trend.
CEF Weekly Review: The 13 closed end fund (CEF) types on average posted a 1.4% decrease for the week ending 2/5/10. On an aggregate, unweighted basis, the weekly average price change for the 492 CEFs was down 1.0%.
The weighted 49 CEFs comprising the Claymore CEF Index registered a decrease of 2.3% for the week and it is down 8.2% YTD. The S&P 500 decreased 0.7% for the week and 4.4% YTD.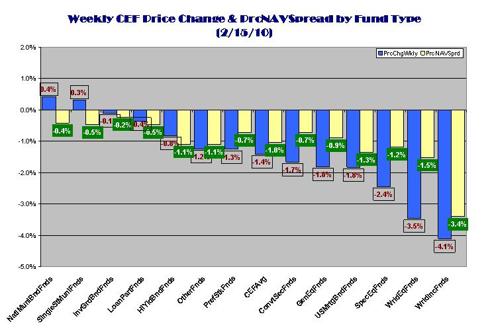 (Click here for YTD CEF performance. The table is based on a 274 CEF sample size as all the data fields are not available for the CEF universe.)
The Eqcome CEF Fear Index was elevated as share prices declined 1.0% and NAVs remained essentially flat. The CBOE Volatility Index (VIX), which typically moves inversely with the stock market, surged 22% from its Tuesday low and closed the week up 6.0% reflecting investors' uneasiness. The S&P 500 is now off 4.4% YTD. The S&P 500 average daily trading volume was flat from the previous week but at a robust 5.1 billion shares.
CEF Weekly Fund Type Performance: A similar pattern as the previous week prevailed. The same two fund types posted positive share price performance: SingleStMuniFnds and NatMuniBndFnds—each with very modest advances, 0.4% and 0.3%, respectively. All other fund types posted losses.
Equity-oriented funds again took a pounding with WrldEqFnds placing last for the third week in a row. Global anxiety has continued to roil the markets with the sovereign debt issues of the second-tier Euro-Zone countries taking the euro down 5% YTD. The USD has continued to be the beneficiary of the "fear trade" replacing gold as the historical storehouse of value in troubled times. Gold, as measured by the gold ETF (NYSEARCA:GLD) declined a further 1.2% for the week.
The PrcNAVSprds[1], which typically move in the direction of the stock prices, saw each fund type's price change less than the change in NAV. While both muni fund types (national and single state) posted modest positive price increases, NAVs actually increased greater than respective prices generating a negative spread.
CEF Winners and Losers: One of the CEFs with the greatest positive PrcNAVSprd for the week was Reaves Utility Income Fund (NYSEMKT:UTG). UTG price advanced 11.2% while its NAV declined 1.6% generating a positive PrcNAVSprd of 13.2%.
While utility stocks are favored as defensive investment in times of market turmoil, its peer group didn't demonstrate the same level of investor enthusiasm. Maybe the comfort of UTG having announced its next three distributions in late December (January, February and March) provided investors with some console. UTG sells at a 10.6% premium and at a 7.2% yield. It appears most of its distribution is generated from net investment income—unlike Gabelli Utility Trust (NYSE:GUT).
This week's CEF with the greatest negative PrcNAVSprd was Cushing MLP Total Return (NYSE:SRV). SRV share price slid 12.4% for the week while its NAV advanced 0.8% generating a negative PrcNAVSprd of 13.2%. Prospects of uncertain global economies coupled with the dollar's advance have depressed oil prices. The price of oil as measure by the US Oil Fund ETF (NYSEARCA:USO) was off 1.2%. The MLP is generating a 10.2% yield and is selling at a 32.8% premium.
Economic & Earnings Outlook: (Click here for next week's economic calendar; click here for earnings announcements and estimates.)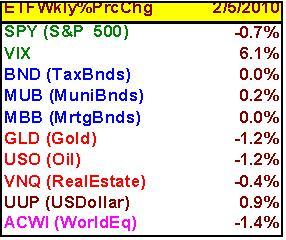 ETFs: (Click here for ETF YTD sector performance.)
Insider Trading: The only insider transactions for the first week of February were those of the Horejsi Group (Horejsi) continuing to acquire interest in its favor target CEFs.
Horejsi acquired an additional 5,000 shares in Boulder Growth & Income Fund (NYSE:BIF) at an average price of $5.97 per share (a capital outlay of $29,850) bringing its holdings in BIF to 7.7 million shares representing 31.9% of the shares outstanding. Approximately 25% of its portfolio is in Berkshire Hathaway "A" shares (NYSE:BRK.A) and another 5% in Wal-Mart (NYSE:WMT), both large cap index stocks that have taken a hit along with the market this week.
Horejsi also continued its insider buying of Denali Fund (DNY) where its stake is now at 76% of the outstanding shares (3,147,340 shares). Horejsi acquired an additional 1,400 at $14.33 per share for a capital outlay of $20,058 for the month.
There was no other CEF insider buying. (Click here for a hyperlink to the Joe Eqcome CEF Weekly Insider Report.)
CEF Distribution Announcements This Week: The following is a link to a table of CEF distribution announcements this week as well as the previous week's with yet expired ex-dividend dates. The list is not intended to be inclusive. (Click here for weekly CEF distribution announcements.)
Significant CEF Corporate Events: Seven Nuveen Closed-End Funds issued At-Par Redemption Notice for Auction-Rate Preferred Securities. These redemptions will be funded by proceeds received from the issuance of MuniFund Term Preferred Shares (NYSE:MTP). The funds issuing at-par redemption of ARPS are: NKG all $29.3 million; NMY $35.5 million of its $70.9 million; NEA $7.9 million of its $75.3 million; NTC $1.0 million of its $16.7 million; NMT $2.6 million of its $17.0 million; NNC $1.0 million of its $22.5 million; NPV $3.0 million of its $28.5 million.
Eaton Vance closed-end funds(NYH, EIO, EIP, EIM, EVM, ENX, EIV, EIA and MAB) at a joint Special Meeting approved a modification to each of the fund's 80 percent policy to eliminate the requirement to invest primarily in insured municipal obligations. Each Fund is eliminating "Insured" from its name.
BlackRock California Muni Income Trust (NYSE:BFZ) acquired substantially all the assets and liabilities of BlackRock's other California CEFs, BCL, BCK and BZA, in a tax-free transaction in exchange for an equal aggregate value of newly-issued common and preferred shares of BFZ.
CEFs Focus for the Week: The focus stock for the week is Cornerstone Progressive Return Fund (NYSEMKT:CFP). After an exhaustive search for value the conclusion is that there is no "long story" for CFP; period! Even the major shareholder(s) and the CEO are bailing out.
Continuous Quest: In lieu of fundamentals, an attempt was undertaken to determine whether there are trading algorithms around its significant monthly distribution that would support its valuation.
The following article analyzes both the forward and reverse "dividend-rolls": CFP's Dividend Strategy May be on a Slippery Slope" (2/3/10). The conclusion is that with the exception of this January, excluding trading costs, there was a small positive monthly return since July of last year. This is also coincidental with a pick-up of volume prior to the ex-dividend date as well as its major shareholder acceleration of its disposition program.
However, the strategy breaks down in an environment of declining stock prices. CFP's declining NAV and contracting premium may place it on a slippery slope where the positive dividend-roll returns become overwhelmed by stock price declines. This phenomenon was evident in late '08 when gains were wiped out by the stock price's decline.
Two Possibilities Remaining: Having eliminated fundamentals and technical considerations as sources of share price support, there are only two possible reasons for the stock to trade at its current level:
Retail investors believe they're receiving a 30% monthly annualized yield when they're effectively paying 1.40 in stock value for every $1.00 of distributions they receive due to the distributions being almost entirely a return-of-capital.

The major shareholder, who still owns over 4 million shares, after selling 4.5 million in the past 6 months, may be manipulating the shares to buoy the shares in an effort to maximize their sales proceeds.
As it relates to the former, retail investors are desperate for yield. They may be chasing this ephemeral yield and it could be a material factor in supporting the stock price.
As it relates to the latter reason, there is a lack of the level of empirical evidence that would make one comfortable in advancing the possibility beyond a conjecture. Consequently, there is no current evidence that CFP, its major shareholder(s), affiliates, broker/dealers, or related parties have done anything that would constitute an impropriety.
Interestingly, the fact that the stock trades in fractions of a penny could lead one to conclusion that CFP is being traded in institutionally sponsored "dark pools"—as I believe the exchanges only trade in penny increments.
So, there is more than just retail investor participation in support of this stock price.
Consider it food for discussion.
---
[1] A positive PrcNAVSprd can be interpreted as negative because it typically signals a share price movement less favorable than the NAV. All things being equal, price and NAV should move in tandem. A price movement greater than the NAV may indicate the stock is overvalued relative to its NAV which in theory is the stock's intrinsic value. The opposite would be true for a negative PrcNAVSprd.

Disclosure: Author owns a diversified portfolio of CEFs including a long position in BIF and is neither long or short CFP but thinks it is a dim-witted investment.