"When a management with a reputation for brilliance tackles a business with a reputation for bad economics, it is the reputation of the business that remains intact." - Warren Buffett
Exelon (NYSE:EXC) is down 9.65% year-to-date while the utility sector (NYSEARCA:XLU) is enjoying a 14.25% gain year-to-date, as of this writing. As a contrarian value investor, the following recent developments have attracted my attention in the company:
None of the analysts covering Exelon currently has a "buy" rating.
Goldman Sachs, one of my favorite contrarian indicators, recently issued a sell rating on Exelon in late October.
The stock price has been recently setting new 52-week lows.
Nuclear power is out of favor due to depressed market rates and inexpensive natural gas.
As I will discuss, Exelon is a top performer in the nuclear industry. Unfortunately, under present economic conditions this is equivalent to being the healthiest patient in a mental institution.
Exelon's Economic Moat
The term "economic moat" is over-used and underappreciated. Exelon clearly does not have an economic moat in the utility sector. If Exelon had an economic moat it would not be suffering from profit margin compression due to depressed market rates. However, Exelon's profitability in a tough economic environment is a testament to its management and operational strengths.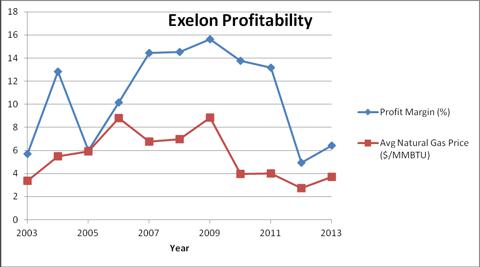 Source: Morningstar and U.S. Energy Information Administration
There is little competitive advantage in being the largest nuclear producer in the country. Exelon achieves efficiency of scale by co-location of its plants. Many of Exelon's nuclear sites are multi-unit sites. These multi-unit sites are able to share resources and obtain efficiencies of scale that single unit sites are not able to realize. These operational advantages have been subdued recently due to inexpensive natural gas and government subsidized renewable energy.
Negative Learning Curve
The nuclear industry has been accused of achieving a negative learning curve. Old power plants are like old cars; they require more maintenance to keep running. Most industries use experience and technological advances to become more efficient. The nuclear industry has departed to the opposite extreme. A recent example is the NRC's new Cyber Security regulations. These rules are so cumbersome that nuclear plants are opting to use antiquated technology to avoid using newer digital technology. The regulatory environment that Exelon operates under is something that it has little control over.
Exelon's Book Value
Exelon's ability to support its dividend is the only source of value for investors, in my opinion. Some investors may point to Exelon's book value, currently at $25.51, as a "floor" to the stock price. If Exelon liquidated its assets and paid off debts, investors would see a fraction of this book value.
Intangibles and Goodwill are likely worth very little in a forced sale. Any patents or intellectual property owned by Exelon are not likely worth much to other companies. In addition, operators of nuclear power plants are required by law to carry trust funds for plant decommissioning. This money is set aside and is used to return the plant site to the state it was in before the plant was built. The balance of these trust funds should not be included in tangible net asset value. Exelon's tangible net asset value should be considered as follows:
$22,067 Total Equity
- $2,625 Goodwill and Intangibles
-$7,776 Nuclear decommissioning trust fund
-$486 Pledged assets for Zion decommissioning
+$5,118 liabilities under the Asset Retirement Obligation
$16,298 Tangible net assets
$16,298 / 860 diluted shares = $18.95 per share
source: SEC EDGAR Database
Exelon's Dividend
Exelon's current dividend yield of 4.61% is safe as long as there are no major sustained impairments to earnings. Nuclear plants have been shutting down recently for fairly benign reasons. Recent examples include: San Onofre Nuclear Generating Station, the Kewaunee Power Station, Vermont Yankee, and Crystal River. The current economic environment may challenge Exelon's dividend. Exelon's current payout ratio with respect to earnings is 89% based on TTM data from Morningstar. In addition, the average analyst estimate of EPS growth over the next five years is -2.70% according to MSN.
Exelon is not immune to bad luck. As Exelon joins the rest of the US nuclear industry in implementing NRC required plant upgrades (based on lessons learned from Fukushima), they will likely defer other non-regulatory required plant upgrades targeted to improve plant reliability or performance. Several of Exelon's plants are General Electric Boiling Water Reactors and are similar in design to the plants at the Fukushima site. These plants may require more costly upgrades than plants of a different design.
Conclusion
Exelon, at current prices, does not represent a value proposition. I believe that investors should fully understand the state of the nuclear industry before placing a "contrarian" bet that things will turn around in the near term. Exelon's stock price needs to fall further before it becomes an attractive buy for a value investor.
Disclosure: I have no positions in any stocks mentioned, and no plans to initiate any positions within the next 72 hours. I wrote this article myself, and it expresses my own opinions. I am not receiving compensation for it (other than from Seeking Alpha). I have no business relationship with any company whose stock is mentioned in this article.