Ascena Retail Group (NASDAQ:ASNA) has grown to become one of the most dominant women's retail companies on the public markets. With ownership of key brands like Justice, Lane Bryant, maurices, dressbarn, and Catherine's, Ascena now has concepts addressing three key age groups and niche plus size clothing. The company's latest move is expansion into boys clothing through its Brothers brand, which is currently not being well covered for Wall Street. The time for investors to recognize the retail and e-commerce potential for this brand and the entire company is now.
Recently, Ascena Retail Group gave an investor presentation that included the following slide:
· "Serve our shareholders and create value by becoming a family of leading retail concepts with $10 billion in sales and top tier profitability."
That slide should be particular appealing for long term investors, as Ascena Retail is projected to post annual sales of $5 billion in the current fiscal year. What's better yet, is Ascena has grown into a family of leading retail concepts through acquisitions and isn't done buying out brands. I wrote recently of the company's buyout of Charming Shoppes, which gave it the Lane Bryant and Catherine's brands. The company's latest move is the expansion of its "tween" brand Justice into a male version called Brothers. With this new concept, Ascena has a huge retail potential and possibly another huge brand in its portfolio.
Brothers is an expansion of the successful Justice brand. The company is placing Brothers as a concept store inside of Justice locations in malls around the country. Running as a large test, a successful Brothers brand could eventually be spun off into its own retail storefronts. A visit to Ascena's website finds stores operating under the "Justice and Brothers" concept in 34 states. I counted a total of 129 locations on the website. The Brothers brand also ships to all fifty states, Canada, and several United States territories.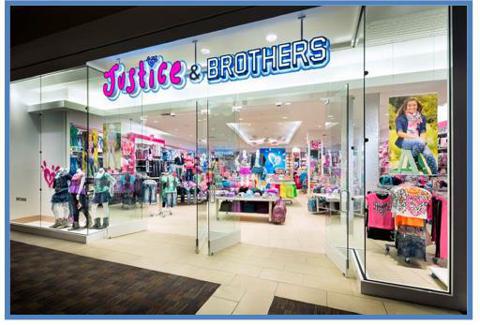 Click to enlarge
During its recent fourth quarter earnings call, Ascena executives had this to say, "We continue to be encouraged by our progress on the Brothers roll out, which was in 50 locations at the end of the fourth quarter and in 81 locations in time for back to school. These locations have seen no decline in the girls business and are generating promising incremental boys sales to date in the high-single-digit range. We are continuing to roll out this brand and expect to be in 150 locations by July 2014."
At the end of the fourth quarter there was 971 Justice locations. Plans call for 23 new Justice stores to be opened in the first quarter. As Ascena gives their goal of adding Brothers merchandise to 21 more locations by July, I can't help but think of the potentials. By July, Justice will have over 1000 stores in North America. If executives are saying the Brothers retail space in Justice stores hasn't hurt girls' clothing sales, this brand could potentially be added to all of the stores. When Ascena acquired Charming Shoppes, it gained over 1800 stores. Without an acquisition, Ascena is in the middle of a possible 1000 store internal gain from adding Brothers into Justice stores.
To me this seems like a smarter concept than moving Brothers into its own retail stand alone stores. With a target market of kids 7-14, Justice can now take on the parents with clothing concept for kids of both sexes under one roof. After all with this targeted age range, Justice customers are really the parents more than the kids.
Justice has been the key to Ascena's growth. In fiscal 2013, Ascena posted total revenue of $1.4 billion, representing 30% of the company's total sales. Justice's operating income of $182.3 million represented 61% of the company's total. If Brothers can boost sales and profit margins for this already successful retail concept, Ascena should see its stock slowly climb up in the 2014 calendar year.
Ascena gave the following goals to increase revenue during its investor presentation:
· Unit development: +1 to 2%
· E-commerce sales: +1.5 to 2.5%
· Comparable store sales: +2 to 4%
· These three items are expected to increase annual sales in a range of 4% to 7% annually
· Earnings per share growth: +10%
In the fourth quarter, total comparable store sales increased 4% for Ascena, with 2% growth coming in stores and 30% coming from e-commerce. Here is a breakdown of sales by retail concept:
| | | | |
| --- | --- | --- | --- |
|   | Comparable Sales | Same Store Sales | E-Commerce (SSS) |
| Lane Bryant | +9% | +6% | +27% |
| Maurices | +3% | +0% | +50% |
| Justice | N/A | +1% | N/A |
| Dressbarn | +0% | -2% | +54% |
| Catherines | +13% | +12% | +24% |
As you can see, e-commerce sales continue to be a huge source of growth for all five of Ascena's retail concepts. Another item worth noting is Ascena's push into loyalty memberships and private label credit cards. Here is a look at numbers given on these two initiatives during the earnings call:
| | | |
| --- | --- | --- |
|   | Loyalty Membership | Private Credit Card Penetration |
| Lane Bryant | N/A | 41% |
| Maurices | 3.4 million | 38% |
| Dressbarn | 5.8 million | 29% |
| Catherines | N/A | 42% |
Another item to watch is the company's expansion into Canada. At the end of the fourth quarter, Ascena had 23 Justice locations in the country to the north. These stores were reported to be outperforming United States stores in both sales and profit. The first quarter plan is to open 5 more Canadian Justice stores. There were also 15 Canadian maurices locations, with additional plans to open 4 more in the first quarter.
Ascena Retail has issued full year guidance of $5 billion in sales. The company also believes earnings per share will come in a range of $1.25 to $1.30. Analysts on Wall Street see sales coming in at $4.9 billion and earnings per share of $1.30. In fiscal 2015, analysts see revenue increasing 5.1% to $5.2 billion, and earnings per share increasing to $1.55.
Back in November of 2011, I recommended buying shares of Ascena after their acquisition of Justice. I also called for the company to make "another acquisition to strengthen its portfolio". Shares are up over 54% since that time and still show huge value and growth to me. Even though shares trade at high price to earnings valuations, Ascena Retail Group can not be overlooked. This retail company is a key niche player and is set to expand the Brothers concept. With key measurable growth targets in unit expansion, e-commerce, and same store sales, Ascena should be able to please long term investors if it can achieve its goals.
Disclosure: I have no positions in any stocks mentioned, and no plans to initiate any positions within the next 72 hours. I wrote this article myself, and it expresses my own opinions. I am not receiving compensation for it (other than from Seeking Alpha). I have no business relationship with any company whose stock is mentioned in this article.