From budding in the low $40s this June, to blossoming at $65/share just a month ago, shares of Rosetta Resources (NASDAQ:ROSE) have seen some exciting action. After this amazing rally and subsequent climax, shares of ROSE have wilted nearly 20% in just a month's time to around $50/share currently.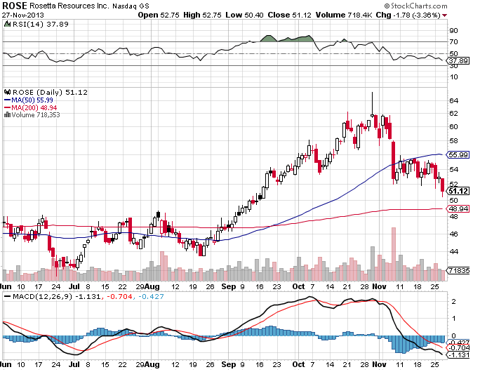 (Click to enlarge)
What happened here? Was there a drought in the garden? Well the answer is yes, sort of.
For starters, the price of oil has declined significantly over this same period, specifically in November, to around $90/barrel. Obviously as an oil and gas E&P commodity prices are critical.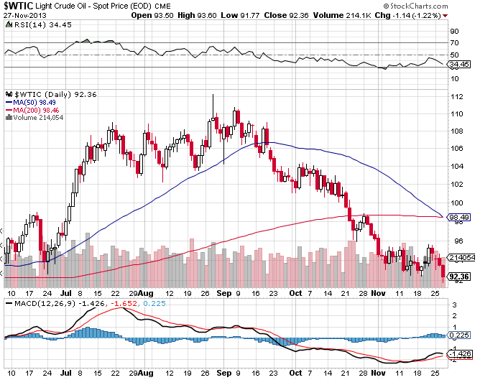 (Click to enlarge)
Second, ROSE reported somewhat disappointing Q3 2013 earnings results on November 8th. Specifically, production from the Eagle Ford was 48.5 thousand MBoe/d, a 33% year over year improvement, but only 3% from Q2 2013 levels. Also, overall production averaged 50.9 thousand MBoe/d, which rose just 4% since Q2 2013. Seems like production growth stalled a little this quarter.
In consideration of these two speed bumps and market reaction, it is apparent investors may have gotten pricked by the thorn if they grasped the ROSE recently. But is there good news looming? Could shares rebound? Perhaps. For starters, some positives notes from management going forward:
Costs were 13.83 per BOE on a per-unit basis, 9% decrease from the prior quarter, showing efficiency improvements.
Adding 1 more rig in the Eagle Ford for Q4, which increases rig count in the play from 5 to 6, a 20% increase.
20 to 25 gross Eagle Ford wells are expected for completion in Q4, versus 20 for Q3. The high end would result in reasonable growth permitting good volumes outputs.
Permian production is ready to take off. For Q3, 14 gross Wolfbone vertical wells were drilled and 12 gross vertical wells were completed. One gross operated horizontal well was also drilled. In contrast for Q4, 16 gross operated vertical wells in the Delaware Basin are expected for completion- in increase. In addition, operations are currently underway on the first operated horizontal well to be drilled by the company in Reeves County, which is exciting. Also, a 6th rig will be added in Q4 with plans to spud two additional operated horizontal wells, up from the 4 to 5 rigs used in Q3.
So in total, the company is going from what was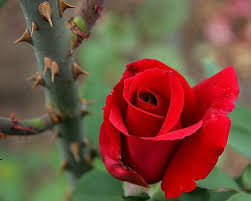 really 9-10 rigs in Q3, to an estimated 11-12 by 2014. To follow suit, estimated production guidance range for Q4 is 5,456 MBoe/d, up from the ~5,000 MBoe/d in Q3. Therefore Q/Q growth should be better than Q3's low single digit increase versus Q2. However, the results could vary depending on the results of the horizontal wells planned, especially those in the Permian. If these wells are successful, I feel the company could easily beat these results. Moreover, this kind of reasonable trajectory should continue through 2014. If we combine the pullback in oil prices with what was in my opinion an overreaction to Q3 results, now seems to be a buying opportunity. Of course, the real question here is do you believe oil prices will recover? I think the reward is worth the risk in this case.
"But he who dares not grasp the thorn should never crave the ROSE." -Anne Bronte
Disclosure: I am long ROSE, OXY, TLM, SN, BP. I wrote this article myself, and it expresses my own opinions. I am not receiving compensation for it (other than from Seeking Alpha). I have no business relationship with any company whose stock is mentioned in this article.