SunPower's (NASDAQ:SPWR) stock price has corrected from its mid-November highs pressured by the overall decline of other stocks in the group. The company managed to beat third quarter top and bottom line estimates, and has increased full-year earnings guidance. SunPower remains the industry leader by cell efficiency, and I believe that its share price will go higher after the industry group overcomes its short-term weakness, which can be attributed to profit taking after a tremendous run over the past 18 months.
Earnings beat and strong margin recovery
SunPower reported adjusted earnings and revenue that easily beat analyst expectations. Adjusted EPS was $0.44, ahead of consensus estimates of $0.25, while revenue was $619.5 million, 2% higher when compared to Q3 2012, and $20 million higher than analyst estimates. This was the first quarterly increase in revenue this year, and might be the only one this year, since the company guided for Q4 revenue between $675 million and $725, which is well below last year's $784.6 million. However, analysts expect the company's revenue to grow 7% next year.
As a result of the restructuring initiative, SunPower's profit margins continued to expand. Non-GAAP gross and EBITDA margins expanded 500 and 880 basis points year-over-year to 19.1% and 14.8%, respectively, in the third quarter.
SunPower management sees strong demand in the residential lease business, and the company now has approximately 20,000 residential lease customers. SunPower expanded its lease capacity by $155 million in Q3, and its total capacity now exceeds $850 million. The company's residential revenue has more than doubled while bookings have increased by 60%. Responding to a question in the Q3 conference call about its residential growth being slower than its peers, SunPower's CEO Thomas Werner noted that the company is looking to diversify its geographic footprint and especially to capitalize on markets that don't need subsidies and that are policy-free or closer to policy-free. By doing that, the company is positioning itself for strong growth in 2015 to 2017, while capturing the already strong demand this year. This is the reason SunPower trails its competitors in the U.S. residential market, for now.
The company also made a strategic decision to expand solar cell manufacturing capacity by more than 25% or around 360 megawatts. The expansion is planned for the Philippines, and the first silicon is expected in the first half of 2015, with full total build-out by the end of 2015.
Competitive environment
First Solar (NASDAQ:FSLR) remains the leader in the US module supply due to its strong pipeline of large-scale utility projects. SunPower lost second place to Yingli Green Energy (NYSE:YGE). Chinese module suppliers retained their leading positions on a worldwide basis. Yingli Green Energy, Trina Solar (NYSE:TSL) and Canadian Solar (NASDAQ:CSIQ) were the top three for total megawatts shipped.
The broad industry recovery continues, and blended gross margins for the top 20 solar PV module suppliers increased to 12.5% in Q3 compared to 11.3% in Q2. This is a significant improvement from almost 0% gross margin levels at the end of 2012. However, uncertainty remains, and the oversupply issues are still a major cause of concern.
The blended average selling price (NYSE:ASP) continued to decline in Q3 2013 to $0.74. The decrease was driven mainly by increased competition in Japan, which resulted in a reduced historic premium in Japan. SunPower continues to see strong demand in Japan, one of the key growth markets for the company. The distributed generation market in Japan remains very strong, and SunPower's shipments accounted for approximately 26% of total volume in Q3, up 130% year-over-year. The company is also utilizing its industry-leading technology to customize products for the Japanese rooftop market, and expects to begin shipping the first product this quarter.
First Solar too is looking to expand in Japan. First Solar signed a reseller deal with Japanese oil refiner/reseller JX Nipon. JX Nipon will distribute First Solar's high efficiency solar modules through April 2015. As a part of the deal, First Solar will develop and manufacture technology it obtained through its TetraSun acquisition. On November 25, First Solar announced its first project in Japan. Japan's cumulative solar installations topped 10.5GW by the end of August, and Japan has become the fourth country to break the 10GW mark. Japan is also attracting Chinese companies, and Yingli Green Energy's shipments to Japan rose 35% sequentially in Q3. With Japan being one of the most attractive markets for solar companies, SunPower will face increasing pressure from other companies, now including First Solar, but its industry-leading cell efficiency still gives it an edge over competition.
Price performance
I noted in my previous article that SunPower has outperformed SolarCity (NASDAQ:SCTY) and First Solar on a relative basis in recent months. The situation has turned somewhat in favor of SolarCity and First Solar since, but as of lately, SunPower seems to be regaining relative strength over SolarCity, while First Solar remains the best performer, and has corrected the least. The solar industry group has been correcting in November, driven in part by profit taking after SolarCity's earnings report, and by concerns over a congressional inquiry. Yingli Green Energy and other solar stocks have also experienced heavy selling pressure as of late. The latest selloff can be largely attributed to profit taking as many stocks in the group increased more than 400% since their 2012 lows. Given the favorable industry trends, I believe that the correction is temporary, and that SunPower and the other stocks in the group still have plenty of upside left.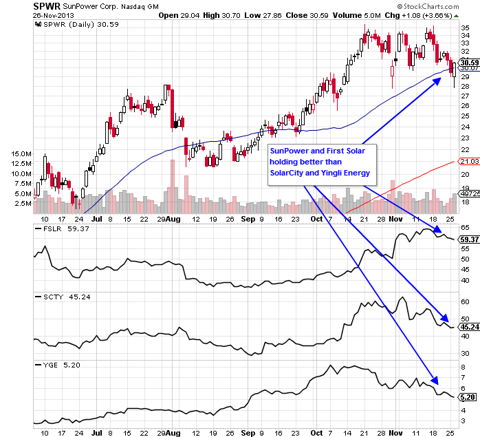 Click to enlarge
Source: Stockcharts
Conclusion
SunPower and the solar industry group are experiencing short-term pressures, which I believe are caused by profit taking. Industry trends remain favorable, profit margins are recovering, and global demand is picking up. SunPower remains the industry-leader with best-in-class cell efficiency and is well positioned to capture future growth in the solar industry. However, the length of the price consolidation is uncertain, and we might see further consolidation in coming weeks and/or months.
Disclosure: I have no positions in any stocks mentioned, and no plans to initiate any positions within the next 72 hours. I wrote this article myself, and it expresses my own opinions. I am not receiving compensation for it (other than from Seeking Alpha). I have no business relationship with any company whose stock is mentioned in this article.