Introduction
Staples (NASDAQ:SPLS) started its 'reinvention' process approximately a year ago, and I'm curious to see how the company's quarterly results were. I'll provide my view on Staples' financial results and its balance sheet, where after I'll have a look at the company's outlook. This will result in my investment thesis at the end of this article.
My view on the financial results
Looking at the company's financial results in the third quarter of this year, we see Staples reported a total revenue of $6.1B, which is 4% lower compared to the same quarter last year. One-fourth of this decline was caused by the closure of 107 shops in North America and Europe.
Staples had an operating income of $366.6M which is much better than the $357M loss last year which was caused by an impairment charge of $811M. As the company had a heavy tax bill of $121.4M, Staples' net profit came in at $135.2M or $0.21/share (or $0.34/share before deducting the loss from discontinued operations).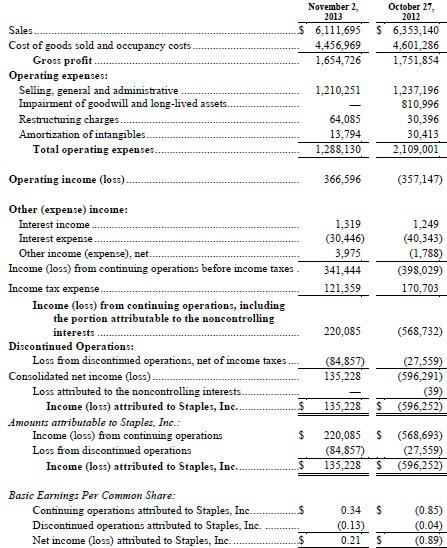 Let's now have a look at the cash flow statements instead of at the income statement. These cash flow statements show that Staples recorded a cash inflow provided by operating activities of $875.1M for the first nine months of the year, which is just 2.3% lower than in the same period of last year. I consider this to be relatively decent, as the total revenue dropped more than 2.3% in the same period.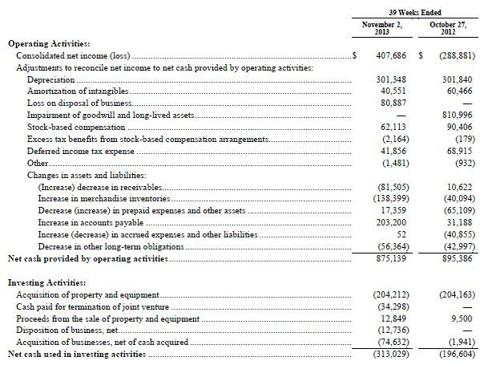 As Staples spent just $313M on capex (of which almost $75M is non-recurring), the company's free cash flow was a very impressive $562.1M (or $750M annualized). The Staples management showed a lot of shareholder love, as it spent almost $235M on dividends and in excess of $300M on a share buyback. Even after spending in excess of half a billion to reward its shareholders, Staples still had a net cash inflow of $57.6M.
My view on the balance sheet
On November 2nd of this year, Staples had a working capital position of almost $1.8B, which is excellent for a company of its size. The current ratio was a very acceptable 1.40 (keep in mind a ratio higher than 1 means the company has sufficient current assets to cover its current liabilities).
Using the current amount of outstanding shares, Staples had a book value of $9.25/share and is thus trading at almost 1.7 times its book value which isn't too high for a company with this much free cash flow.

Another thing I don't really like is the high amount of intangible assets and goodwill on the balance sheet (totaling $3.65B). If I'd re-calculate the book value using just 25% of the goodwill and intangible assets, the book value per share decreases to $5.07/share.
Outlook
Staples expects to report a non-GAAP profit of $1.21-1.25/share which is in line with the expectations. However, I'm more interested in the amount of free cash flow the company will generate. Looking at the cash flow statements for the first nine months of the year, it appears Staples is on track to generate $750M in free cash flow (operating cash flow - capital expenditures) this year, which equals $1.15/share.
And this is where the force of share buybacks becomes obvious. If Staples continues to buy back its own shares at a rate of $100M per quarter, the company will have bought back an additional 55M shares by the end of 2015, which would reduce the share count to just 600M instead of 654M shares. This means that should Staples be able to keep its free cash flow profile at the current level, the FCF per share increases to $1.25.
Investment Thesis
Investors never like a declining revenue and profit, but I think people should focus on Staples' cash flow statements. At Friday's closing price of $15.53, Staples is trading at just 13.5 times its annualized free cash flow (which equals a FCF yield of almost 7.5%). As Staples also pays a 3% dividend and is regularly buying back its own shares for cancellation, the metrics should actually improve in the future.
As most of my readers know, I prefer not to buy the shares, but write put options on them. In this case, I'm looking at writing a P15 January 2014 for an option premium of $0.35 (for an annualized yield of in excess of 13.5%) and a P13 July 2014 at $0.50 for an annualized yield of 6%. If I get shares assigned at $13, I'd be buying Staples at a P/FCF ratio of just 11.3 (which equals a FCF yield of 8.85%) if the company is able to keep its free cash flow on a stable level.
Disclosure: I have no positions in any stocks mentioned, and no plans to initiate any positions within the next 72 hours. I wrote this article myself, and it expresses my own opinions. I am not receiving compensation for it (other than from Seeking Alpha). I have no business relationship with any company whose stock is mentioned in this article.
Additional disclosure: I have no position in Staples, but will very likely write some put options.