Accuray (NASDAQ:ARAY) announced financial results for the 2Q of fiscal year 2010 on February 4 (see conference call transcript here).
A few highlights:
total revenue were $57.3 million, with a net loss of ($1.2) million, or ($0.02) per share – both numbers were slightly worse compared to the same period of last year (revenue of $57.6 million, with a net income of $1.4 million, or $0.02 per diluted share);
excluding revenue recognized for systems sold under the previously used Platinum plan/accounting system, t

he company achieved $32.3 million of product revenue, compared to $35.8 million last year (we remind you that revenues related to Platinum plan will decrease and go to zero after 2011);

basically, Accuray beat analysts expectations as far as revenues, but missed the Street's expectation ($0.01) for EPS;
11 new CyberKnife Systems were installed (8 in the USA and 3 internationally), including the replacement of an early model, bringing the worldwide CyberKnife installation base to 190 units -124 in the Americas, 42 in Asia and 24 in Europe;
18 orders for CyberKnife® Robotic Radiosurgery Systems (with a value of $84.9 million) were added to t

he company's backlog (8 in the USA, 10 internationally, with 2 of the international orders coming from Japan);

even more important, "There were no cancellations in the second quarter of fiscal year 2010 of orders previously reported as part of backlog" - as the company wrote in its 10Q filing (more about this comment later);
guidance for fiscal 2010 was narrowed, with the mid point increasing from $222.5 million to $225 million (basically raising the bottom end of $5 million, to $220 million).
The stock action after earnings was positive, with the price rebounding almost 15% on Friday. With a positive cash position of about $150 million, and no debt, even after this move, the business is valued at one time yearly revenues.
Let's first get rid of the most boring problem with Accuray – the revenue recognition system associated with sales previously done under the so called Platinum Plan. The company will keep recognizing some deferred revenues, linked to these old contracts written before 2005, over the next two quarters and in the first part of 2011.
For this reason, it may become harder for investors to track the real underlining performance of the company.
Accuray I/R is helping us with a visual presentation of this problem (click on the chart to enlarge):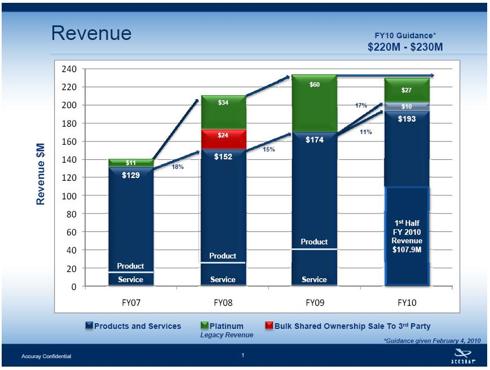 As we may notice, excluding the Platinum legacy revenue, the company's new guidance for 2010 would actually mean an organic growth of 11% to 17% .
We do over-simplify the problem (although this approach does not take service revenues into consideration, which are a very positive growth driver going forward), and we prefer to track and compare actual CK system installation to get a feeling of the market acceptance of Accuray's value proposition - and we are basically stable so far: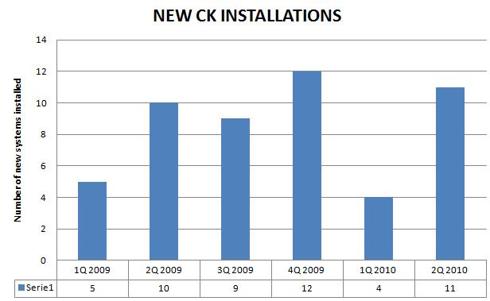 It's worth remembering that 2009 was the best year for Cks installations.
Margins are decreasing, compared to a year ago, although it plays an important part in this result the new product mix - with services, that do represent a lower margin sale, but at the same time a very interesting recurring revenue stream, getting a larger share of both revenue and backlog. (Gross profit were 45.3% in the 2Q 2010 and 51.0 % in the 2Q 2009).
During the conference call, the company said that they do expect margins to remain in the mid forty range going forward.
For the first time, Accuray replaced an existing Ck system with a new one. The CyberKnife is a relatively new technology, and this might become an additional revenue stream for the future: as a small reminder, there are 28 systems that were installed before 2005. For those who might be interested in knowing more about the history of the product, the first patient was treated in 1994 at Stanford, however very few systems were installed before 2002.
As a side story related to the origin of the company, and one of its founders, Dr. Adler, we also learned from the recently filed 10Q that Dr Adler terminated his cooperation with Accuray, something that may not come as a surprise if you read what happened during the last shareholders meeting, as reported by Matthew Rafat.
In April 2009, the company entered into a new consulting agreement with Dr. Adler, which terminated the prior consulting agreement discussed above.
This agreement has a term of one year; however, the company has received notice from Dr. Adler of his termination of this agreement, effective March 20, 2010.
One of the most positive information of the quarter was the number of CK system orders added to backlog, 18.
While the recent "backlog fiasco" invites to prudence, this is obviously very good news, as it bodes very well for future results. As we noticed previously, Accuray also stated that there were no cancellation of orders previously reported as part of backlog, which may be considered something obvious if we consider that the new, more strict criteria for backlog were introduced just in the previous quarter.
The company will need more time to regain trust from the investing community, and this is probably the reason why Oppemheimer's Amit Azan called this quarter "a step in the right direction", while reminding investors that "we will need to see consistent order totals for more than one quarter before we can get more positive on the name".
The rating remained underperform at Oppenheimer, while Zacks resumed the quarter with the headline: "Accuray disappoints".
Let's have a look at the updated backlog numbers (emphasis added):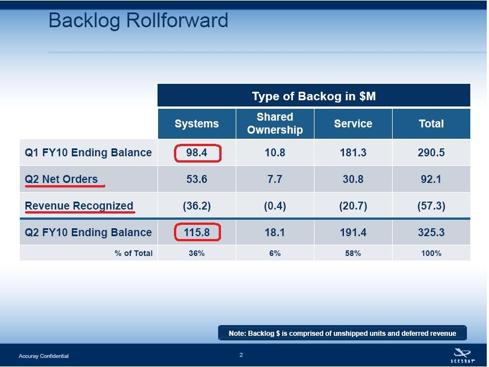 these numbers (both in terms of new systems booked and service revenues related to installed systems), if converted into actual sales/revenues, might finally put Accuray in the "growing stories" category for analysts and investors.
Another important information revealed during the conference call is related to the new VSI system configuration. Beyond important improvements like a 20% increased speed, etc., this new system represents a potential change in the approach of owning a CyberKnife:
In November of 2009, we announced the introduction of the CyberKnife VSI ™ system, which allows physicians to perform conventionally fractioned robotic image guided intensity-modulated radiation therapy, or Robotic IMRT, in addition to Robotic Stereotactic Radiosurgery procedures. Reimbursement for Robotic IMRT is expected to be similar to conventional IMRT.
Simplifying, the decision to buy this new CyberKnife version must not be supported uniquely by the desire to introduce radiosurgery (an unknown "market"), as the same device can be used to perform radiation therapy, an existing need for cancer centers, with even more accuracy compared to the traditional solutions. We believe this new marketing approach will be, at first, probably more important in the USA than internationally, but we welcome the new selling strategy, as it makes owning a CK a stronger business case and probably an "easier" decision for the buyer.
It is highly positive that the company announced at the conference call having already received 3 orders for the new device (which is also achieving a premium price compared to the existing model), with the first shipment forecasted for this quarter (which sounds like a very quick market response, if we consider that 18 to 24 months are believed to be a pretty standard time to get to the installation of a CK system).
Talking about the 18 systems added to backlog, we are not surprised to hear that there is an important presence of orders from outside the USA. As we already wrote in our previous article, digging the web for news about the CyberKnife revealed a lot of interest from many international Countries. yyy60 does a great job of finding new potential installations, which are then shared on the Investor Village Message Board.
Starting from these data, we have compiled a list of existing CK installations (which is updated at 1Q 2010 and is taken from the company's official page), adding potential new sites at the bottom (which is all speculation on our side). As you may see looking at the data, the number of international locations interested or in the process to acquire a CyberKnife was surpassing the US ones (and as a side comment, it may not be very easy to get information out of China and Japan, so the list may be more inaccurate for international locations).
With some skepticism due to previous history, we look forward to the second half of the year to find confirmation that the question mark can be taken away from our headline.
Disclosure: Author holds a long position in ARAY