Many of my clients specifically ask me to find stocks that pay high dividends. The ones they continue to ask about are tobacco companies, with Philip Morris International (NYSE:PM) frequently coming in at the top of the list. With this in mind, the following is a free cash flow analysis of Philip Morris International. This will strictly be a quantitative analysis as we already know that the tobacco industry has a lot of forces aligned against it and has to deal with such things as excessive taxation on its products, regulatory risk from governments all over the world and groups that are constantly protesting the health risks associated with smoking. On top of that we also have highly restrictive rules on how tobacco products can be marketed, with the latest shot across the bow coming in on the subject of "branding." Therefore we will just concentrate on the numbers here for those who are willing to take on the other risks as mentioned above.
This analysis will use the following six free cash flow ratios:
CapFlow
FROIC
Price to Mycroft Free Cash Flow
Mycroft/Michaelis Growth Rate
Free Cash Flow Payout Ratio
Free Cash Flow Reinvestment Rate
Those new to this analysis can find an introduction by going here that will explain in detail how each of these ratios is calculated. When used together, these unique ratios will generate a quantitative picture of a company's underlying fundamentals, including strengths and weaknesses.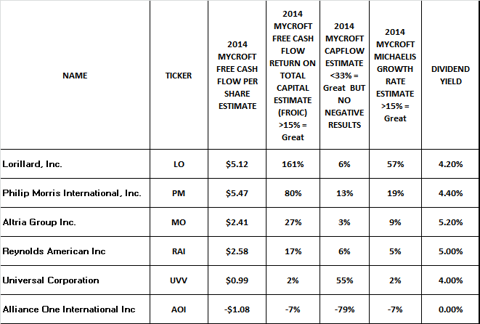 Click to enlarge
The "2014 Mycroft Free Cash Flow Per Share" estimates in the table above were generated by taking the trailing twelve months (TTM) free cash flow result for each company and then adding my Mycroft Michaelis Growth Rate into the equation in order to generate forward looking estimates for 2014. That growth rate is generated by using my FROIC ratio (Free Cash Flow Return on Invested Capital). Basically FROIC tells us how efficient operations are as it zeros in on how much free cash flow is generated for every $1 of total capital employed. For example Philip Morris International has a FROIC of 80%, which means that for every $100 of invested capital, it generates $80 in free cash flow. Now my Mycroft/Michaelis Ratio takes that 80% and multiplies it by the firm's free cash flow reinvestment rate. The reinvestment rate that I use is a free cash flow reinvestment rate instead of the standard one used by analysts that simply uses net income:
Free Cash Flow Reinvestment Rate = 100% - (Free Cash Flow Payout Ratio).
Or;
Free Cash Flow Reinvestment Rate = 100% - (Total Dividend/Total Free Cash Flow).
By replacing net income in the payout and reinvestment ratios with free cash flow, I am thus able to make my analysis more precise by incorporating capital spending (Cap Ex) into the equation.
Therefore from this we can determine that Phillip Morris International has a reinvestment rate of 18% and went on to use 82% of its free cash flow to pay out its dividend. Thus by taking 80% (FROIC) x 18% = 14.4%. From there we add the dividend yield of 4.4% and we have a Mycroft/Michaelis growth rate of 14.4% + 4.4% = 18.8% (rounded off to 19%).
Phillip Morris International's Mycroft Free Cash Flow per share of $5.47 was generated by taking its TTM free cash flow per share and multiplying it by (100% + 19% or 1.19). Once we have our result, we then take its current market price of $85.82 and divide it by $5.47 and get a Price to Mycroft Free Cash Flow result of 15.69. I consider a Price to Mycroft Free Cash Flow per share result of less than 15 to be good for purchase, and anything under 7.5 to be excellent.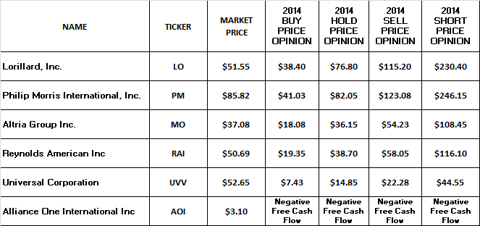 Click to enlarge
The higher you go above 15, the more overvalued a company becomes. I use a Price to Mycroft Free Cash Flow per share result of 22.5 as my sell price and 45 as my short price.
An appropriately priced stock should trade around a Price to Mycroft Free Cash Flow per share result of 15. This benchmark result was determined by backtesting.
Buy (opinion) = A Price to Mycroft Free Cash Flow per share result of less than 7.5 is considered excellent (50% below the initial Hold level) and anything under 15 is attractive.
The result I give as my Buy opinion in the table above uses a Price to Mycroft Free Cash Flow per share result of 7.5.
Hold (opinion) = 15 to 22.5 (I use 15 in the table).
Sell (opinion) = 22.5 or higher (50% above the initial Hold level). (I use 22.5 in the table).
Short (opinion) = 45 or greater. The Price to Mycroft Free Cash Flow per share result of 45 was determined by going back to the peak of the market (in the year 2000) and averaging the Price to Free Cash Flow per share results for the key players at that time. (I use 45 in the table).
Therefore with Philip Morris coming in with a Price to Mycroft Free Flow Cash per share of 15.69, it is assigned a "Hold Rating."
The CapFlow ratio result that you see in the first table above is an original ratio I created in order to tell me how much Capital Spending is used as a percentage of Cash Flow. A result of less than 33% is considered ideal and with Philip Morris International coming in at 13%, means that 87% of the company's cash flow is actually free cash flow and can be used to buy back stock. With so much free cash flow handy you can see why the company announced an $18 billion, three year, stock repurchase plan.
Now that we have Philip Morris International's final results, let us now compare them to its competition.
Lorillard (NYSE:LO) comes in with the best numbers in both the tables above, having a FROIC of 161%, meaning that for every $100 of invested capital it generates $161 in free cash flow. From a free cash flow point of view, this is a license to print money. Naturally, having such a high FROIC will guarantee a strong Mycroft Michaelis Growth Rate and Lorillard coming in with a growth rate of 57% is truly incredible. Its Price to Mycroft Free Cash Flow per share number of 10.06 makes it the only company on the second table above that is considered a buy using my system. As for the rest, Altria (NYSE:MO) is a hold as its growth rate is subpar, coming in at 9% and Reynolds American (NYSE:RAI) is almost a sell as it too suffers from a below par growth rate. Universal Corp (NYSE:UVV) with its 55% CapFlow and 2% growth rate is only trading where it is because of the fact that it has a 4% dividend yield. Once investors discover that its Mycroft Free Cash Flow per share is estimated to be $.99 a share (2014) and that the dividend per share being paid out is $2.04, then they may run for the hills. Finally I won't waste any time here with Alliance One International (NYSE:AOI) as it has a negative free cash flow and stocks having such a designation are an automatic disqualification in my work.
In conclusion tobacco stocks are in most cases strong free cash flow generators, but as a group, have low growth rates. As a whole the dividends of the group, except for Universal Corp, are relatively safe and are above average in this current low interest rate environment. If I had to choose just one stock out of the group it would be Lorillard. That said for those interested, please go back over the last year and do some serious due diligence and read up on the various potential regulatory nightmares that the company is facing. For someone with a long-term horizon, I would say Philip Morris International, though a hold currently, should be bought on any dips that may occur, because they are heavily entrenched in emerging and third world markets where regulation of its products and education as to the health risks due to smoking are both still in its infancy.
Disclosure: I have no positions in any stocks mentioned, and no plans to initiate any positions within the next 72 hours. I wrote this article myself, and it expresses my own opinions. I am not receiving compensation for it (other than from Seeking Alpha). I have no business relationship with any company whose stock is mentioned in this article.