Nuance Communications (NASDAQ:NUAN) traded sharply lower after reporting quarterly results that spooked investors. Shares are now 45% below a 52 week high, and are down around 15% in a month. In reporting a net earnings loss for the quarter, should investors have a contrarian view on Nuance by turning bullish? There are three things that suggest Nuance may be in the process of finding a bottom at current levels.
1) Bleak result temporary
Nuance lost $0.37 per share (GAAP), which pulled earnings down to $1.33 per share for fiscal 2013. This pales in comparison to the $1.73 per diluted share in earnings last year. Cash flow also declined to $395M, down from $473M last year. The company ended the year with $846.8M in cash. 9.805M shares were repurchased at an average of $18.81. This is at a price much higher than its recent price of around $13.58. Total revenue declined from $468.78M last quarter to $472.24M, while total cost of revenue increased to $198.74M.
Investors reacted by selling off shares: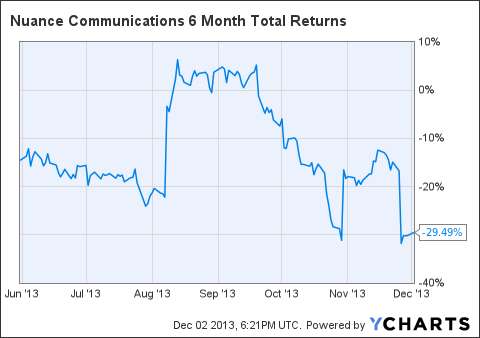 NUAN 6 Month Total Returns data by YCharts
On its press release, the company tried to put a positive spin on its growth initiatives, since it is entering new growth markets, developing new solutions, and steadying its recurring revenue. Nuance won new businesses or design wins with mobile customers. The healthcare segment remains the most important revenue generator as it accounted for $120.3M. Further customer wins would suggest an end to the revenue decline experienced in Q4.
2) Growth areas expanding
Expanding product solutions is central to Nuance's growth strategy. The company expanded its healthcare business, by encoding clinical information to management and billing activities. Dragon Medical Solutions continued to improve last quarter, and will provide meaningful growth to the company in the future. Clintegrity offers solid natural language processing solutions and is being well received by healthcare providers. By reducing and even eliminating documentation errors, customers save time and increase accuracy when using Nuance solutions.
Nuance stumbled in executing growth in e-subscriptions last quarter. An improvement in this area will contribute to better results in fiscal 2014.
Mobile and consumer markets continue to be important for Nuance, even though growth is decelerating here. In the enterprise space, Nina products will provide virtual assistance for mobile websites and applications. This will mean more costs related to research and development.
3) Recurring revenue
Investors should continue to expect revenue to decline in the short term, as Nuance shifts its business model from perpetual licenses towards recurring revenue sources. Cloud-based services will also contribute to recurring revenue. The growth rate for subscription-based revenue is expected to be slow. Nuance wants to take a moderate approach, which will result in high customer retention. In contrast, companies like Adobe Systems (NASDAQ:ADBE) shifted to a subscription model very aggressively for its creative suite. Its success led to Adobe shares reaching at a 52-week high and are up 50% in 2013.
Nuance is taking a slower approach compared to Adobe because of its more traditional customer base. For example, the automotive business provides steady sales, and Nuance does not want to disrupt the continuity by too great a level. In the mobile space, the virtual system solutions based on the Dragon product is being sold in new markets and channels. Competitive pressures will continue to be a factor as consolidation takes place. Nuance said that revenue from cloud services will not become meaningful to growth until the second half of fiscal 2014 at the earliest.
Risks
Bookings could come in lighter again next fiscal year. They were weaker than initially forecast in 2013, as acquisitions made the figure more difficult to predict.
Conclusion
Nuance shares have lost their premium built up over the last few months. It is no longer viewed as a mobile growth play. In addition, it is no longer benefitting from a Carl Icahn premium. Investors are recognizing that organic growth will not come from smartphones this year, but from the automotive sector. A transition towards subscription revenue will also hurt results, but Nuance is repositioning itself to as a stronger player in the natural language solutions market. With the premium now removed from shares, investors will be rewarded as Nuance transitions itself to reignite growth.
Disclosure: I have no positions in any stocks mentioned, and no plans to initiate any positions within the next 72 hours. I wrote this article myself, and it expresses my own opinions. I am not receiving compensation for it (other than from Seeking Alpha). I have no business relationship with any company whose stock is mentioned in this article.