Intel (NASDAQ:INTC) is becoming extremely focused in the fast growing smartphone and tablet semiconductor space. The company never had a big presence in the mobile industry, as Intel was generating billions of dollars in profits by selling processors for servers and PCs, where it has a monopoly-like position. But Apple's iPhone and iPad has decisively shifted the centre of gravity of the computing industry from PCs/notebooks to smartphones and tablets. The going in mobile has not been easy for Intel, as it has to fight an entrenched ARM (NASDAQ:ARMH) ecosystem. The biggest mobile OEMs Apple (NASDAQ:AAPL) and Samsung (OTC:SSNLF) also use proprietary custom made processors for their mobile devices. That leaves only the large PC and Asian OEMs as prospective customers for Intel. Qualcomm (NASDAQ:QCOM) dominates the high end mobile processor space with its high performing Snapdragons, while Mediatek is dominant in the low and middle segments. Intel has spent a tremendous amount of money and effort in the last two years to come out with a brand new x86 architecture (Silvermont) which is tailor made for low power mobile devices. Baytrail is Intel's first product made on its leading edge 22 nm FinFET node for the mobile segment. PC OEMs have already come out with some good 2 in 1 laptop hybrids and tablets using these chips at attractive price points. Intel is now planning an aggressive price strategy to help its OEM partners compete better with the leaders through very aggressive pricing. The company is targeting 40 million tablet processor sales for 2014, which is a > 300% increase over 2013 shipments. I think Intel's stock remains undervalued given its manufacturing lead, 3.5% plus dividend yield, dominance of the PC and server market and its imminent market share increase in the mobile market.
Intel Positives
a) Abandoning the TV venture
While I have been positive about most of Intel's efforts in the past, the OnCue venture did not make any sense to me right from the beginning. Though the amount of money spent on OnCue did not make a big impact on the financials of a company of Intel's size, it was a major distraction for the top management. The OnCue venture has little in terms of synergies with Intel's core areas and when the company is desperately trying to carve out a bigger share in mobile processors, this was one diversification that Intel did not need. I think it is a very good move on Intel's part to sell this service to focus on mobile and Internet of Things (IOT).
b) Getting very aggressive in the Tablet Processor segment - Price War?
Intel knows that it cannot approach the mobile processor market like the PC processor market. It has to fight as an underdog in this area, which means not only launching superior products but also competing on price. Intel plans to support its partners with $1 billion in incentives next year, as the company has set a target of 4x increase in tablet processor shipments. To increase its market share, Intel plans to sell processors for a wide variety of tablets targeting different price segments. Intel has not pushed its Cloverfield or Medfield chips as aggressively in the past because it knew that they were not good enough compared to the competition. With Baytrail, Intel has a solution, which is as good if not better than competition. All it requires is a marketing push to make Intel a big player in the mobile market. Intel is doing more than that by becoming very aggressive in pricing its processors. While the company is not officially accepting big discounts, it is very aggressively cutting processor prices (even giving some for free) according to DigiTimes.
Currently, Intel is offering its Bay Trail-T and Bay Trail-M processors for over US$20, but the sources said that some large brand vendors are able to acquire pricing below US$10 and Intel is said to also provide its mobile communication chips for free to help lower vendors' costs. However, Intel Taiwan has denied such offers.

Source - DigiTimes
Intel is also going to ship 14 nm products in 2014 and 2015 which will further improve both performance and battery power. The new products as well as the big marketing spend makes Intel's market share increase imminent in my view. Intel has not got any big tablet design win from the likes of Amazon (NASDAQ:AMZN), Google (NASDAQ:GOOG) or Apple yet. The company won Samsung's Galaxy Tab win with its older Cloverfield processor. I think that a big name design win could act as a positive catalyst for the stock price.
c) Expectations are irrationally low
Intel has performed pretty much as planned in 2013 in terms of product launches (Haswell, Silvermont, Baytrail etc.). The company is also getting design wins with Baytrail in time for the crucial holiday season. However, analysts are becoming negative on Intel due to its lack of traction in mobile processors as well as a low 2014 revenue growth forecast. Intel was not going to win a big chunk of mobile market share in 2013 as its products have launched at the end of the year. Intel has performed admirably, despite sharply falling global PC unit shipments due to strength in the servers. Intel is also planning for the future IOT by creating a separate division focused on ultra low power processor cores and wearable computing. In comparison to some technology stocks trading at hundred plus P/E multiples, Intel has a very big competitive moat. The decreased expectations make Intel a good buy in my view.
d) More powerful products for 2014 and 2015
Intel's new CEO had indicated that Atom will now become at least as important for Intel as its Core line of chips. Intel has changed its strategy to completely focus on mobile processors as the future of the computing market moves away from PCs. Intel is fully leveraging its manufacturing expertise to launch 14 nm Atom chips as early as 2014. Note this is a very aggressive schedule by Intel and will put pressure on its rivals such as Qualcomm and TSMC (NYSE:TSM). Intel will also upgrade its Silvermont architecture in 2014. Airmont will be released just one year after Silvermont. If TSMC and other foundries miss their schedule of moving to 20 nm and 16 nm nodes, then they might find their chips are at least 2 nodes behind Intel. This would give Chipzilla a big advantage in terms of performance and cost.
Merrifield - the next-up Atom processor for smartphones and tablets in early 2014.

XMM™7260 - also in the first half of 2014, Intel's next generation LTE solution will deliver advanced features like carrier aggregation, faster speeds and support for TD-LTE & TD-SCDMA.

Moorefield - a new quad core SOC for mainstream and performance smartphones and tablets expected in the second half of 2014.

Cherry Trail - also quad core, Cherry Trail is expected to be the first 14nm Atom SoC.

Broxton - in 2015 Intel plans to deliver a 14nm, 64 bit SOC based on a new, next generation Atom architecture (Goldmont) targeted for hero devices. Broxton is being designed for pairing with Intel's next generation LTE solutions

Source- Intel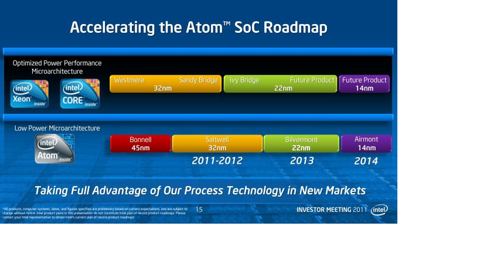 Source: The Verge
Risks
Smartphone will be a tougher cookie than tablets - Intel's first 22 nm processor for smartphones will be launched in 2014. Smartphones will be a tougher market for Intel to enter, as smartphones need a better communication solution than tablets. Qualcomm with the world's best communication patent portfolio and expertise has a very big edge over others. While Intel has the best manufacturing, QCOM has the best communication technology. Intel has been trying hard to build its expertise in telecommunications technology by buying up Infineon's (OTCQX:IFNNF) and Fujitsu's (OTC:FJTSF) assets, but the company still lags behind QCOM. Apple has also shown its semiconductor design expertise with the launch of the A7 processor. Intel has still got some way to go before it can displace QCOM as the top dog in the smartphone market. QCOM has a long history of building high quality integrated chip solutions (processors + modems + Bluetooth + GPS) for smartphones. While Intel is very good at building processors, the company is still some way behind in building SoCs.
PC shipment decline is a persistent cloud on the stock - One of the main reasons for Intel's negativity is the continuous decline in PC shipments. Since Intel gets most of it revenues from sale of PC processors, the company is facing strong topline pressure from this segment. The company's strong datacenter growth has helped offset this issue to a big extent, but Intel continues to face headwinds in this area. It will take time for Intel to generate enough revenues from processor sales to the tablet and smartphone market. Also the margins on smartphones and tablets may not be very high as the competitive intensity is quite high in mobile as compared to PC processors.
Stock Performance and Valuation
Intel's stock has pulled back to below $24 after the company gave tepid 2014 revenue guidance. The stock is cheap in my view with a very high dividend yield of 3.8%. The company has been steadily increasing its dividends over the last decade. Intel's stock trades at a low forward P/E of 11.9x with a P/B of 2.1x and P/S at 2.3x. The company's stock price should increase as the company's multiple increases with market share gains in mobile processors.
Summary
Despite its dominance in the PC and server processor, Intel has been hurt as the industry has shifted towards mobile devices dominated by ARM chips. However, Intel is moving aggressively into the mobile processor chip area. The company is complementing its product launches with some very aggressive pricing and marketing efforts. Intel is also planning an accelerated production schedule when it introduces the next generation of 14 nm chips, which will further increase its process lead over competitor's mobile chips. I think that Intel has probably got one of the most competitive moats in the technology industry. The company is clearly a long-term buy with its investments in mobile chips as well as IOT. The abandoning of OnCue is also a very good move. I think Intel's stock is a good buy at these prices.
Disclosure: I have no positions in any stocks mentioned, and no plans to initiate any positions within the next 72 hours. I wrote this article myself, and it expresses my own opinions. I am not receiving compensation for it (other than from Seeking Alpha). I have no business relationship with any company whose stock is mentioned in this article.