The nature of my last article on Amarin (NASDAQ:AMRN) was one that was critical of the company's plan to go up against the FDA to appeal the ANCHOR status of its one drug, Vascepa.
Although it seemed somewhat of a token move to show shareholders that the company still had some fight in it, I argued that it was a waste of time and resources, and that the company could better serve its shareholders by laying out a concise, cogent plan for massive restructuring and to have a go at continuing to sell Vascepa on its own.
Nonetheless, the company tried to take on the FDA, and reported via an 8-K that it didn't have much luck:
On November 21, 2013, Amarin received notification from the dispute resolution group of the Office of New Drugs at the FDA that it has not accepted for review, on procedural grounds, Amarin's appeal. Amarin and the FDA have communicated on the above matters, but Amarin has not been successful to date in convincing the FDA to accept its appeal for review at a level above the review division within FDA or in convincing the FDA that the appeal of the SPA rescission is a matter sufficiently distinct from the ANCHOR sNDA to warrant separate consideration under the formal FDA appeal process. Amarin plans to continue to interact with the review division of the FDA regarding the sNDA and the SPA. Amarin believes its appeal is procedurally correct and that whether the ANCHOR SPA agreement was lawfully rescinded is a distinct legal issue (from our pending ANCHOR sNDA) that is appealable under applicable regulations and guidelines. Amarin was also notified by the FDA that Amarin's request for a meeting at a high level within FDA regarding the appeal was not granted and that Amarin would first need to address the matter at the division level within FDA.
Amarin's stock, after being decimated post-ADCOM conference, has taken a small swing upward over the last week on news of its CEO Joe Zakrzewski's purchase on the open market - but, these token buys were with a small fraction of the cash that Amarin's CEO yielded when he sold off significant amounts of stock when Amarin received its initial approval from the FDA and the stock was trading near $14.
He purchased roughly $80,000 shares of stock of the company that has already made him a millionaire many times over. His current stake in the company is worth only a fraction of that - 226k shares valued a less than half a million dollars.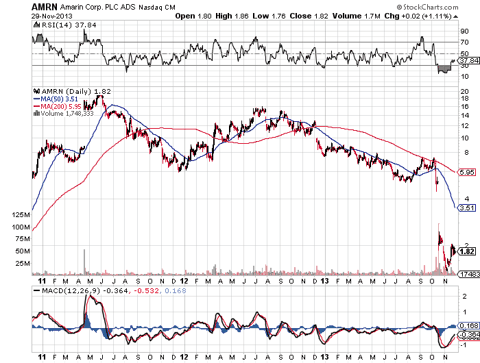 Amarin, meanwhile not to be outdone by themselves, said in their 8-K that they were still going to continue to pursue the FDA, a continued waste of time in this analysts opinion:
Amarin plans to continue to pursue the appeal of the ANCHOR SPA rescission and approval of the ANCHOR sNDA with FDA and to update investors as appropriate. There can be no assurance that Amarin will be successful in its appeal of the SPA agreement rescission or, more importantly, the approval of the ANCHOR indication sNDA.
In the midst of the confusion and seeming resolve of the company, the stock continues to be volatile, rallying up or down 10% every couple of days, it seems. However, the upside potential here for Amarin remains very low, which is why I would argue not to "follow the leader" and buy with the CEO on the open market.
In the article "Any Hopes Left for Amarin Bulls?", contributor Futuristics argues:
I feel investors should continue to hold Amarin stock until the target date set by the FDA.
In what is otherwise an extremely well written article, I have to disagree wholeheartedly. People expecting any type of positive catalyst from the FDA after it has basically acknowledged that it's going to need REDUCE-IT results before continuing to expand the label for Vascepa are missing the obvious: it's not happening for Vascepa anytime soon. Additionally, Amarin's focus has to be on now - as the cash burns, time moves forward.
Aside from that, recently prescription data for Vascepa - which was one of the catalysts behind me being bullish in the past - and an integral part of Amarin's restructuring - has flattened out over a two month period. Big Alpha research provided us with prescription numbers:
Courtesy of TakeVascepa.com which stores weekly TRx data, we are able to clearly see a lack of growth in TRx both new and refills in the past weeks. No point stating figures, clearly, it is flat! Worse, over the same 6-week period, refills actually increased from 3,078 in Oct 4 to 3,411 in Nov 9.

Weekly Scripts:

Nov 9 TRx 6,276

Nov 2 TRx 6,234

Oct 25 TRx 6,208

Oct 18 TRx 6,239

Oct 11 TRx 6,215

Oct 4 TRx 6,255
To conclude, Amarin remains an extremely speculative buy, and there's really no need to enter into a long position at this point. With waning prescription data, the company is going to have major trouble reducing its burn and monetizing Vascepa.
First, the company needs to prove they can continue to grow prescription data at a meaningful rate.
Then, they need to get over the fallacy of trying to outdo the FDA, a government organization with seemingly limitless resources, time and money.
Third, Amarin needs to present a clear, concise plan for curbing spending and a route to profitability that doesn't include ANCHOR.
Lastly, then the CEO can show us he means business by buying a significant amount on the open market. Then, maybe I'd listen.
Best of luck to all Amarin investors.
Disclosure: I have no positions in any stocks mentioned, and no plans to initiate any positions within the next 72 hours. I wrote this article myself, and it expresses my own opinions. I am not receiving compensation for it (other than from Seeking Alpha). I have no business relationship with any company whose stock is mentioned in this article.