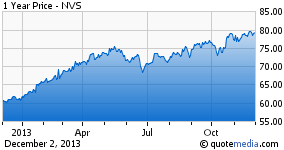 Glivec (imatinib mesylate) which is prescribed for the treatment of Ph+ chronic myeloid leukemia is one of the most profitable drug in Novartis (NYSE:NVS) marketed drug portfolio. The drug comprises about 8 percent of Novartis group sales but contributes much more to the bottom line (approximately 25-30% to groups net profit). With Glivec losing protection on its basic patent in 2015, investors expects generics (Sun pharma) to enter and this should dent NVS business margins.
Why Glivec is a high Margin product?
The annual cost of therapy for Glivec is a whopping $76000. The net margins that NVS fetches are extremely high because of two reasons
Being a wonder cure, or a gold standard for the treatment of patients diagnosed with Philadelphia positive Chronic myelogenous leukemia (Ph+ CML), the sales or promotional cost are much lower than what a company would spend otherwise. The typical SG&A spend is 25%, but for a specialty and pricey product like Glivec, the spend is as low as 5 -10 percent.
Glivec is not a biologic product, it is a small molecule available as a tablet, and hence the cost of production is negligible when viewed in context of its sales price.
Why is the Street expecting Generic Entry in 2015
The street currently expects Glivec generics to hit the market in the U.S. after the expiry of basic patent. The basic patent protecting the active ingredient on Glivec expires in the U.S. in July 2015 (includes expiry of pediatric exclusivity).
India based Sun pharma is supposed to be the first to file generic player and has already received a USFDA tentative approval for marketing generic Glivec in the U.S.
In 2007, Sun pharma first challenged patents on Novartis Glivec through a Para-IV filing and sought to bring a generic copy as early as 2015, when the patent on active ingredient expires. Sun filed a Para IV on patent 6894051 expiring on Nov 23, 2019 & 7544799 expiring on July 6, 2019, while it did not litigate the basic patent 5521184 expiring on July 4, 2015.
At that time, Novartis did not choose to Litigate Sun for the invalidation / non infringement claims made by it. Generally the innovator chooses not to litigate when it has no objections to the claims made by the generic company. Hence it is fair to assume that NVS was not seeking to protect Glivec from generic entry beyond the expiry of basic patent (2015) then.
But it seems things have changed now ...
Why Glivec Generics can be delayed now?
Though Novartis did not assert its right on the later expiring patents earlier, but recently there is a twist in the story.
In June this year, Sun Pharma filed a suit against Novartis, seeking a declaratory judgment that would allow Sun to start marketing Glivec generics, before U.S. Patent Number 6,894,051 expires. In the suit, Sun Pharma claims Novartis missed its 45-day window under the Hatch-Waxman Act to file an infringement suit after it was notified of Sun's abbreviated new drug application six years ago (2007). ,In its reply to the suit, Novartis has asserted that the patent 6894051 remains valid and Sun would be infringing the same.
According to Sun, until and unless it receives a court decision of non-infringement and/or invalidity on the '051 patent, it faces the risk of incurring substantial damages for patent infringement if it commences marketing its ANDA products before the '051 patent expires
Apart from this strategic shift on the Litigation front that Novartis has opted, it has also recently got fresh patents listed on Glivec, which in my view could also act as an additional barrier for Glivec generics in the U.S. These patents have been listed in over 40 countries including the U.S., Japan, France, Germany, U.K., Italy and Spain, claiming innovative features of Glivec , including crystal form (expiry 2018), tablet formulation (expiry 2023) and process (expiry 2023). The 7544799 patent which was also challenged by Sun has been delisted and instead a fresh patent RE43932 has been issued. The reissued patent has fresh claims on the best crystal form of Glivec, which we believe are likely to be leveraged by NVS for delaying generic entry.
We should learn about the proceedings in the next hearing on this case shortly.
Latest Statistics on Glivec Performance
In 3Q-2013, Glivec (USD 1.1 billion, -2% constant currency) saw a slight decline in sales. The sales decline was due to loss of patent exclusivity in Brazil, Russia, Canada, Turkey and Mexico, and increased competition in the Philadelphia chromosome-positive (Ph+) chronic myeloid leukemia indication.
Investment Implications
If the '051 patent on Glivec is held valid and enforceable by the court, generic entry would be delayed until 2019. From an incremental net profit perspective, the drug would add about $1.4b ($0.7 per share) in net income to consensus expectations from 2016 onwards. At the current price the stock trades at 12x 2016 EPS and in case of a positive hearing on the litigation, we should expect a 20 percent upside driven by a 10 percent expansion in Price earning multiple to reflect better growth rates (2013-2018) and an upside to consensus EPS by about 10 percent.
Disclosure: I have no positions in any stocks mentioned, and no plans to initiate any positions within the next 72 hours. I wrote this article myself, and it expresses my own opinions. I am not receiving compensation for it (other than from Seeking Alpha). I have no business relationship with any company whose stock is mentioned in this article.