Alcoa (NYSE:AA), the third largest producer of aluminum in the world, reported its third-quarter results in October this year. The company's primary metals segment focuses on aluminum production and contributed 33% of the company's total revenue. Aluminum companies have been operating under increased pressure due to the fall in aluminum prices since May 2011. After averaging almost $2,400 per metric ton in 2011, the average aluminum price was around $1,865 per metric ton as of October this year. However, the Economist Intelligence Unit, or EIU, forecast of aluminum prices looks favorable for aluminum producing companies.

Source: EIU
The EIU forecasts that the aluminum price will average around $2,171 per metric ton in 2015. In its third quarter presentation, Alcoa reported annual net income sensitivity of $240 million for every $100 change in aluminum price per metric ton; meaning the company's annual net income will fluctuate $240 million in direct proportion to a $100 change in the price of aluminum. Thus, if the average aluminum price rises from $1,865 to $2,171 as per the forecast and assuming that the annual net income sensitivity remains the same, Alcoa would report a rise in net income of $734.4 million in the next two years. At the current level of shares outstanding, this would mean a $0.68 increase in earnings per share in the next couple of years.
Going forward, the high forecasts for aluminum prices will largely depend on the worldwide demand for aluminum exceeding its supply. Last year, the global aluminum supply exceeded global demand by 506,000 metric tons. This put downward pressure on the price of aluminum, thereby shrinking Alcoa's revenue and gross profit margin in 2012 compared to 2011.
Company

Revenue decline

(2011-2012)

Gross profit margin 2011

Gross profit margin 2012

Alcoa

(5.01)%

17.9%

13.5%
In order to put upward pressure on the price of aluminum and increase profit margins, companies like Alcoa and Russian giant United Co. RUSAL, or UC RUSAL, are focusing on reducing the global aluminum supply by lowering production. Together, these companies contributed 16.5% of the total aluminum production last year. UC RUSAL planned to trim its annual production by 7% this year, and as of October this year, the company has already surpassed its target of 7% by cutting its aluminum production by 324,733 metric tons or 8% of 2012 production. Further, these steps resulted in cash savings of $40 per metric ton, helping the company post better third quarter results compared to the previous quarter.
On the other side, Alcoa will be reviewing its production capacity through August 2014 with plans to reduce its production by 460,000 metric tons per year, or mtpy. Out of the planned production cut, the company has already reduced its production by 146,000 mtpy this year, backed by permanent shutdown of two potlines at the Baie Comeau smelter and one potline at the Massena East smelter. Further, the company executed partial, temporary production cuts at both of its smelters in Brazil, reducing its total production by 128,000 mtpy. Thus, the company successfully reduced its average production cost per metric ton from $2,301 for first nine months of 2012 to $2,218 year over year. I expect further shutdowns to happen under the review plan, and this will help the company lower its production cost in the coming quarters. As seen in the case of UC RUSAL, I believe Alcoa will report improved margins with lower costs of production in the near future.
What else will drive the company's growth?
In the third quarter of 2013, Alcoa generated 17% of its third-party revenue from its aerospace end-market, mainly the commercial aircraft segment. The company expects the global sales of the aerospace end-market to grow 9%-10% in 2013. Alcoa is banking on the eight year production backlog of the large commercial aircraft segment. One of the major players in the large commercial aircraft segment, European Aeronautic Defense and Space (OTCPK:EADSY), announced a new metallic variant of its already running Airbus A330-300, targeting short and high-density routes. With this new variant, it aims to reduce aircraft weight by 200 tons. In its third quarter earnings presentation, Alcoa came up with solutions that would meet the goals of the new variant of Airbus A330-300, as seen below.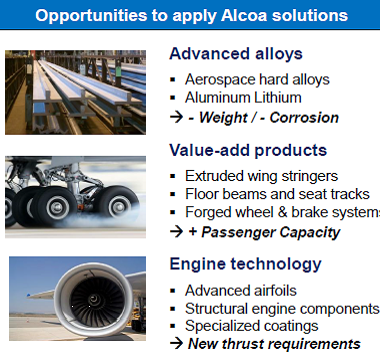 Under a $1.4 billion multi-year agreement signed with Airbus, Alcoa is providing aluminum lithium solutions primarily for the construction of Airbus A320, A350, and A380 aircrafts. As seen below, Airbus is already running a backlog for all these aircrafts, and keeping the agreement in mind, I believe Alcoa is well positioned to benefit from this opportunity in the future.
Order backlog

(October 2013)

A320

A350

A380

A330-300

3027

764

144

174
In the recently concluded Dubai Airshow, Airbus won orders worth $44 billion; Emirates Airlines placing fresh orders for 50 new A380 aircrafts. This will increase the current backlog of A380 aircrafts from 144 units to 194 units. In the longer term, Alcoa will benefit from the ongoing deal, as the company is providing top-notch aluminum based solutions for the Airbus A380. Alcoa expects its overall aerospace end-market to grow at a compounded annual growth rate, or CAGR, of 8% from 2012-2015. Going forward, I expect Alcoa to post similar growth in revenue from the aerospace end-market, thus providing an upside potential to its overall earnings.
Debt management
As discussed above, Alcoa has strong fundamentals to support its growth in the coming years. However, proper management of debt will aid its growth. In the last five years, the company has decreased its total debt to equity ratio from 0.9 in 2008 to 0.65 at the end of third quarter. During this period, the company's debt decreased from $10.5 billion to $8.3 billion.
On the other hand, Alcoa's biggest competitor, Aluminum Corporation of China (NYSE:ACH), also known as CHALCO, has traveled a completely different road. Its total debt-to-equity ratio increased from 1.06 in 2008 to 2.38 at the end of the third quarter of 2013. During this period, the company's total debt increased 70.6% from $9.57 billion to $16.33 billion. Although the company raised its debt to sustain growth, higher interest expense caused its bottom line to fall from a profit of $25.9 million to a net loss of $1 billion.
Based on solvency ratios, I analyzed the debt management quality of both companies over the last 3 years:
Parameter

Alcoa

CHALCO

2011

2012

Sept. 2013

2011

2012

Sept. 2013

Total debt-to-assets ratio

23.3%

21.9%

21.8%

53.8%

60.9%

48.3%

Current ratio

1.28

1.29

1.16

0.80

0.58

0.70
CHALCO's debt management has been unimpressive considering its current ratio. In the last three years, the company has been unable to post a current ratio greater than one. Going forward, this indicates that the company won't be able to finance its short-term obligations with its current assets, so it will require external financing. On top of that, CHALCO failed to generate positive free cash flows in the last five years, making it a highly risky investment.
Alcoa has been better in terms of debt management compared to CHALCO. Over the last three years, Alcoa has consistently maintained its current ratio above one, and the total debt-to-assets ratio has declined from 23.3% to 21.8%. As discussed, the company has good future prospects, and I expect its cash flow to grow, thus helping its debt management.
Conclusion
For the past two years, the aluminum market has seen the aluminum prices fall nearly 33%. This has forced aluminum producing companies to operate in a very challenging environment. However, with aluminum prices forecasted to rise, I expect Alcoa to report better earnings in the coming quarters. Also, the growing aerospace market should drive the company's revenue for years to come. Therefore, I recommend investors buy this stock with a long-term perspective.
Disclosure: I have no positions in any stocks mentioned, and no plans to initiate any positions within the next 72 hours. I wrote this article myself, and it expresses my own opinions. I am not receiving compensation for it (other than from Seeking Alpha). I have no business relationship with any company whose stock is mentioned in this article.