Royal Dutch Shell (RDS.A, RDS.B) is a favorite stock among dividend investors, including myself. The company has an outstanding track record and provides a stable dividend yield for investors. Shell announced ambitious mid-term financial targets to maintain the attractive dividend payments in the future. This plan includes a free cash flow and capital expenditures during the period 2012-2015. Shell is almost half way the mid-term time frame and I conclude that the company is not on track to achieve the mid-term financial targets, caused by production setbacks, for example: shale gas production within the United States. Further, Shell spent more on capital expenditures than expected, for example: the purchase of Repsol's (OTCQX:REPYY) liquefied natural gas portfolio. Shell is still able to achieve their mid-term targets, because it took several precautionary measures to achieve their mid-term financial targets.
Financial strategy
Shell disclosed their mid-term financial targets on their corporate website (see quote below):
In early 2012, Shell set out a new growth agenda, to deliver $175-200 billion of cash flow from operations excluding working capital movements for 2012-2015 in aggregate, some 30-50% higher than in 2008-2011. This assumes that the Brent oil price is in the range of $80-100 per barrel and conditions for North American natural gas and downstream margins improve relative to 2012. This cash flow is to finance a 2012-2015 expected net capital investment programme of $120-130 billion, an increase of some 10-20% compared with the 2008-2011 level, and funding a competitive dividend for shareholders. Shell is on track to deliver these targets.
First, Shell expects to deliver $175-200 billion of cash flow from operating activities, excluding working capital movements. To achieve this goal, Shell needs to deliver an annual $43.75 billion of cash flow from operating activities per year for the period 2012-2015. The company delivered $42.75 billion of cash flow from operating activities in 2012. However, Shell delivered only $29.75 billion of free cash flow from operating activities for the first nine months of 2013. It is likely that the operating cash flow for 2013 is lower compared to 2012. The lower than expected cash flow for 2013 is caused by disappointing shale gas production in Texas and production shutdowns in Nigeria.
Second, Shell expects to spend $120-130 billion on their capital investment program during the period 2012-2015, after the deduction of disposals and divestment of assets. The company invested $31.5 billion for 2012 and another $25.5 billion for the first nine month of 2013. The total capital expenditure will be around $33 billion for 2013. The average net capital expenditure is in line with the company's financial targets. However, Shell has little opportunities left to respond to attractive investment opportunities. To keep the total capital expenditure under control, Shell needs to sell some of their own assets, before the company can invest in new businesses.
Precautionary measures
Shell considers several options to improve operating cash flow, without increasing the net capital expenditure to achieve their mid-term financial targets. One of the most important measures is the divestment of underperforming assets. The money earned with the divestment of these underperforming assets can be used to invest in more profitable assets. This is the best strategy for Shell going forward, because it could improve the operating cash flow with a neutral effect on the net capital expenditure. Shell is currently looking to divest four oil blocks in Nigeria and its stake in the Eagle Ford shale formation in South Texas, according to the Wall Street Journal.
Further, Shell is very active with innovation and implementing new techniques to decrease the capital expenditure for its projects. For example: Shell builds a floating LNG facility in Korea (for more information see this article and this article). According to Shell's head of operations in Australia the liquefied natural gas technology can deliver up to 30 per cent-plus reduction in up-front capital costs over traditional land-based LNG plants. These techniques help Shell to control their capital expenditure in the future. Shell is a leader in innovation and implementing new techniques among the major Oil & Gas
competitors, such as Exxon Mobil (NYSE:XOM) and Chevron (NYSE:CVX).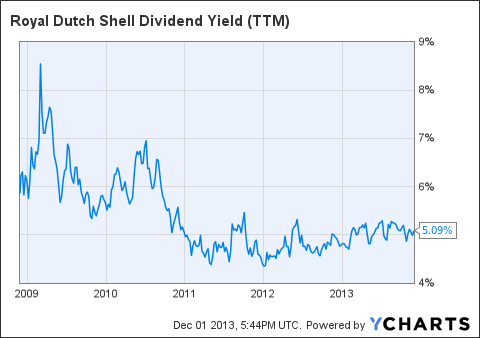 RDS.B Dividend Yield (TTM) data by YCharts
Conclusion
Shell is famous among dividend investors. The company provides a high and stable dividend. The current yield is 5.1% (see graph above). The mid-term financial targets support the dividend payments in the future. I expect that Shell will achieve these financials targets, because of the company's proven track record and the precautionary measures. This proves that the company recognizes that some projects are not as profitable as expected. Shell will divest these assets and reinvest the funds in more promising projects. In my opinion, Shell is a must have stock for a dividend portfolio and I anticipate that the company will keep increasing the quarterly dividend payments in the upcoming years.
Disclosure: I am long RDS.A. I wrote this article myself, and it expresses my own opinions. I am not receiving compensation for it (other than from Seeking Alpha). I have no business relationship with any company whose stock is mentioned in this article.