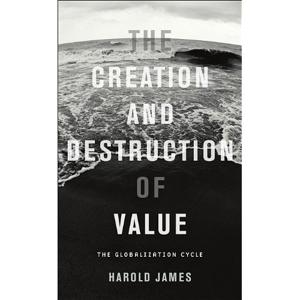 The book, subtitled "The Globalization Cycle", was written by Harold James, renowned economic historian, and was published in 2009. He is known for his 2001 "The End of Globalization", which was reviewed in Foreign Affairs:
He finds evidence for the two most common explanations for economic collapse: rising volume and volatility of capital flows triggered unsustainable booms and busts, and widespread fear of globalization provoked a social and political backlash. But he also offers a third view: People and institutions were overwhelmed by a globalized world's pressures and consequences — and the institutions that handled economic integration not only were burdened by crises but became the channels through which long-standing political resentment flowed.
James concluded, however, that an anti-globalization alternative model is not available today (well, in 2001). Since the book was well written, I decided to read James' take on the financial crisis. To be honest, I am not impressed. That is why I turn this review into a discussion of issues from the book that I find mis- or underrepresented. Of course, this is unfair to Harold James, since his book makes some valid points as well. It is very reasonable, for instance, to divide 1929 (stock market crash) from 1931 (bank failure) or the focus on the point in time when CIC did not get involved with Lehman (p. 221). It is at least possible that 1929 will be what we saw in 2007/08, and this year might be our 1931. I have always argued that you should be prepared for the worst, and thinking things through to develop worst case scenarios should be something every policy-making institution should consider. Obviously, they don't, but that's another story.
"The interplay of millions of independent decisions is radically indeterminate, producing outcomes that no rational observer could predict. As a consequence, the stock market crash of October 1929 remains a historical puzzle, with no economic historian having been able to provide a completely satisfactory and convincing explanation". p.37
Hmmm… how about the Debt-Deflation Theory of Great Depressions, Irving Fisher, 1933? What about Hyman Minsky and his "Minsky moment"? How about the "animal spirits" of Keynes' General Theory (revived in Akerlof/Shiller)? What about the Austrians' claim that low interest rates lead to overinvestment?
And by the way, after reading "The Black Swan", I would say that with hindsight you can explain a bubble. It is just that when you are in it you can't see it. As Richard Bookstaber put it, the turkey cannot see his death coming on Thanksgiving Day, but the butcher can. What is a black swan to some is not hard to figure out for others. So I think Harold James approaches the problem backwards: it is the development of the bubble that is irrational, not its bust. Since the question of why we had the bubble is no minor question for a book explaining the financial crisis, it strikes me as odd that the author goes against conventional wisdom and declares that financial crisis cannot be explained – even after the fact. A lot of academics work in this field, and there are a lot of theories on what happened, let's say, in Asia in 1997.
On p. 48 Howard James than says that crises go against the market efficiency hypothesis. Well, that theory was unrealistic from the beginning, and taking it at face value seems to be very naïve. The New Yorker has recently visited the people from the Chicago School of Economics, and they delivered a very poor showing. Oddly, Howard James mentions a number of books that explain 1929 and other events at the end of the same page, stating that they "seem to be widely consulted as guides to contemporary financial panics. It might be plausible to think that this is one area where historical study has had a really formative influence on the behavior of a very large number of market participants."
This is where I was first left speechless. First the author claims that the reasons for a financial crisis cannot be found, than argues that books that look for them are having a lot of influence? Well, wouldn't it be worth it then to introduce your readers into some of the best theories? I think it would, Harold James did not.
This subject becomes more odd on p. 53,: "The rise [of the Dow Jones Industrial Average index] was a response to loose monetary policy, and produced a euphoria that led many people to believe that the boom would go on forever." So, Howard James is out of the closet: he's an Austrian. Since he does not explain what leads him to believe that "the government did it" nor does he portray competing theories (like those I described above), this book is turning into something that seems to me more like a historical narrative based on some assumptions which are outside of the book than a scientific endeavour to explain what happened.
"There were two alternative philosophies about avoiding a repetition of "1931." One argued that the character of the crisis lay in the dramatic reversal of credit flows." p. 95
The other explanation by Gottfried Haberler was the fixed-exchange rate system. The Bretton Woods System that was established after WWII created fixed exchange rates and made capital flows between private firms almost impossible. Again, a very promising route to the underlying problems of the world economy is cut off.
"Financial innovation was thus one of the drivers of the expansion of capital flows into the United States, as the U.S. financial system distributed its bright new products around the world. Securities had become a standardized product for which deep and liquid markets existed." p. 154
Somehow the irony of this is lost on me.
"The most obvious culprit for the credit boom, however, is the Federal Reserve System's policy of rapid interest-rate cuts in order to deal with the recession of 2001, combined with its reluctance to raise interest rates."
Well, the most obvious culprit often turns out to be just a bystander. Again, Howard James is free to voice his ideas, but where's the proof? Where are the discussions of alternative theories? Why does he not mention the war on terror by the administration of George W. Bush and the issuing of more and more government debt, which was increasingly bought by China?
"There are two ways of approaching the story of the current account. The first is as the outcome of levels of saving and investment, in which a surplus of savings would produce a current account surplus and cause the export of the difference between savings and investment, and a savings deficit would need to be financed by inflows from abroad. The second considers the current account as combined investment income minus net payments for goods and services." p. 191
I think I have never seen a more complicated and unclear passage about how the real and monetary sides of economic imbalances play out. Oddly enough, it seems that the thought that the current account might drive the capital account never occurs to Harold James.
"The long-term propensity of the late twentieth-century United States to import capital could be explained either through supply factors (changes in global supply of savings, as a result of more widespread development outside the established industrial countries), or demand factors (why the United States is an attractive investment)." p. 194
Again, the possibility that China wants to create jobs by exporting to the US never comes up. This might also explain the ("oddly enough, …") fact of relatively low yields that the US pays to its debtors compared to what the US pays to its foreign debtors (p. 195).
"Hence the globalization collapse becomes a story of changing values in both the usual senses of the term, as monetary and ideal values are shaken". p. 231
That is a typical "animal spirits" argument and it is strange that Howard James starts his last chapter with a whole paragraph on this topic.
"The foundational belief [during the époque du trois pour cent] is that market prices send an intelligible signal, and that signal has political implications. Markets have limited the capacity of governments to behave badly." p. 233
This is very clever political economy at its best. There should have been more of this in the book, more institutions interacting to solve the problems of the day, creating the problems that we have today. The book could have led down a different road, one that would lead through more history and less economics. Here is what Howard James should have written (to please me, I admit):
"Markets have limited the capacity of governments to behave badly. Following this objective, institutions were changed in order to liberalize markets and diminish the role of the state. However, the neo-liberal world that was created solved one problem by creating the other: governments have not limited the capacity of markets to behave badly. The pendulum swinging between government-led and market-led capitalism seems to have reached a high point again."
To conclude, the book is good and provides you with a lot of ideas. However, it could have been better. Interesting roads were not taken, and the solutions of the Great Depression were not discussed in context with today's problems. I certainly would have liked to see the discussion of the past and today framed in terms of the Impossible Trinity. And it's a shame that the discussion of international problems is so short in the book. Not much on the inter-war gold standard, not much on the US taking over from London as the banker of the world, not much on the Bretton Woods System which was supposed to generate stability again (and it did).