The Australian dollar (NYSEARCA:FXA) has been sliding against the U.S. dollar for about six weeks. The currency now looks set to retest the presumed W-bottom printed over the summer (that is summer in the Northern hemisphere).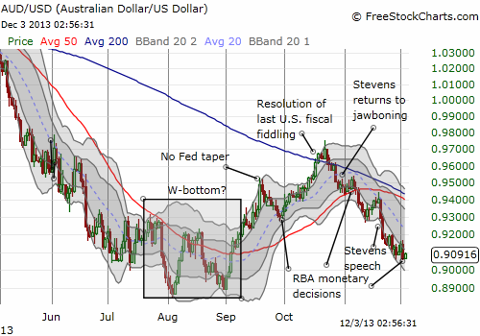 Click to enlarge
The Australian dollar continues to sink under the pressure
Source: FreeStockCharts.com
After Reserve Bank of Australia (RBA) Governor Glenn Stevens reminded the market that currency intervention remains in the toolkit for currency devaluation, I half-expected some semantic fireworks in the December statement on monetary policy. Instead, the RBA said nothing new and left the Australian dollar hanging for the year with a very familiar, almost wistful observation: "The Australian dollar, while below its level earlier in the year, is still uncomfortably high. A lower level of the exchange rate is likely to be needed to achieve balanced growth in the economy." The Australian dollar barely budged in response.
Traders are now left looking for new catalysts to grease the skids for the Australian dollar. Stephen Koukoulas, Managing Director of Market Economics and former Senior Economic Advisor to former Australian Prime Minister, Julia Gillard MP, made an interesting proposition in pointing to bulging levels of foreign debt. In "Foreign debt surges but does anyone care?," Koukoulas does not quite say that current levels of foreign debt are ruinous, but he does suggest that ratings agencies and thus traders may soon grab onto it as a reason for sending the Australian dollar lower:
One of the least reported bits of news in today's economic data and policy flurry will be the lift in net foreign debt to $829.1 billion in the September quarter…

I generally don't get too fussed about net foreign debt when the overwhelming majority of it is driven by the private sector, as Australia's foreign debt currently is. But it can be a different story for the credit ratings agencies and some global investors.

In the olden days, a lift in net foreign debt of the scale seen in the September quarter would have sparked concern in markets - the Australian dollar would have been sold and there would be all sorts of pontificating about Australia living beyond its means and being in hock to the rest of the world.

Thankfully that lame debate does not happen now. At least I don't think it does.
I decided to look at the overall time series to get familiar with the story. From my read, I do not yet see a reason for concern. Foreign debt is growing at a near constant rate. The debt is high as a percent of GDP, but it has been hovering around current levels for the past seven years now. I plotted the charts below using statistics from the Australian Bureau of Statistics: Balance of Payments and International Investment Position, Australia, September 2013 and "Australian National Accounts: National Income, Expenditure and Product, June 2013."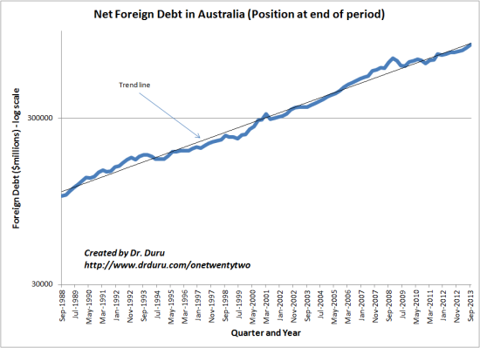 Click to enlarge
Net Foreign Debt in Australia (Position at end of period)
Source: Australia Bureau of Statistics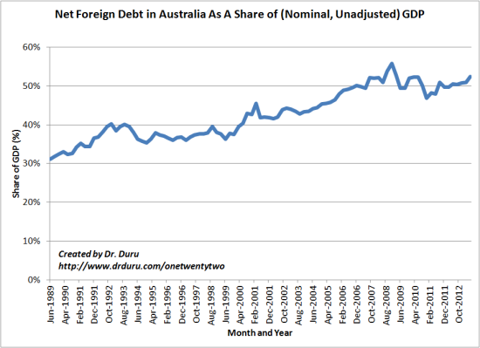 Click to enlarge
Net Foreign Debt in Australia As A Share of (Nominal, Unadjusted) GDP
Source for GDP: Australia Bureau of Statistics
The foreign debt is plotted using a log scale to show clearly the linear trend in growth. Interestingly, the brief periods above trend since 1988 were 2006 to 2008 (the run-up to the global financial crisis), 2001 (recessionary conditions in major economies outside Australia), and 1989 to 1993 (Australia's last recession was in the early 1990s). So, I can understand Koukoulas's caution if foreign debt continues to soar from current levels.
To calculate the percent of GDP, I took the value of foreign debt for a given quarter and divided it by total GDP over a rolling four quarters. GDP for the September-ending quarter will be released Wednesday (Australia time), so I used the forecasted growth to create an estimate. I used unadjusted GDP (no adjustments for trend, seasonality, or inflation) since the debt is also in unadjusted, nominal terms.
With this latest potential catalyst past, I have closed out my latest trade short AUD/USD. I have just been following the trend downward, fading half-hearted rallies and accumulating if the opportunity arises. I have also decided not to hold such positions for too long as I suspect a major relief rally could erupt at any time. The GDP print may decide my next bias for at least the remainder of 2013.
Be careful out there!
Disclosure: I have no positions in any stocks mentioned, and no plans to initiate any positions within the next 72 hours. I wrote this article myself, and it expresses my own opinions. I am not receiving compensation for it (other than from Seeking Alpha). I have no business relationship with any company whose stock is mentioned in this article.