The industrials sector has been running hot all year. Thanks in part to improved operating performance across the sector coupled with optimism that the long elusive economic resurgence is finally drawing close, industrials rank among the best performing stock market segments in 2013 with a +33% return year-to-date. But given such robust gains in recent months, it is worthwhile to consider whether industrials are running too hot and may be at risk for a pullback.
Industrials share a particularly close relationship to the broader market. Since the beginning of 2001, the Industrials Select Sector SPDR (NYSEARCA:XLI) has a +0.97 weekly returns correlation with the S&P 500 Index (NYSEARCA:SPY). This ranks industrials as easily the most correlated sector to the overall market from its SPDR peer group over this time period. This close relationship is part of what makes the recently strong surge by the sector so notable.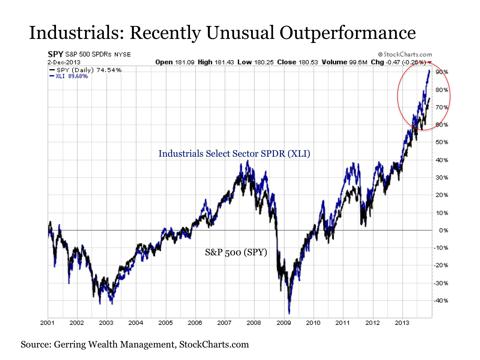 Industrials are currently enjoying by far their widest cumulative returns outperformance relative to the S&P 500 Index since the start of the new millennium. At +16%, this is more than one-third greater than the previous high for relative outperformance at just over +12% in the spring and summer of 2011. And while this outperformance gap managed to hold for a few months during this previous episode, the sector eventually regressed back to the trend set by the overall market.
Thus, the risks for industrials are even greater today following their recent strong run. Not only is the sector at risk for a sharp pullback given the trajectory of its rise since the beginning of 2013, but it also faces the added downside risk of regressing back to the trend implied by the broader market. In short, the risk-adjusted return outlook for the industrials sector appears even less attractive for the industrial sector than the broader market.
Several industrial names in particular highlight the magnitude of the sector's recent deviation with the broader market. It should be noted that all of the names mentioned below are high quality names that I have owned on a number of occasions in the past. And they are all names that I might actively consider owning in the future at the right price. My primary concern with each is that they may be running too far ahead of themselves in the current market environment.
The first is Boeing (NYSE:BA), which has deviated dramatically from what has traditionally been a historically close relationship with the broader market. Perhaps the recently strong run this year is justified given Boeing's massive order backlog. But with the price-to-earnings ratio of 23.8 that is 42% above the 16.8 five-year historical average, a price-to-sales ratio of 1.2 that is 71% above its 0.7 historical average and a price-to-book ratio of 11.3 that is more than double the 5.6 average over the past five years, it is reasonable to question whether Boeing might be approaching frothy levels following an incredibly dramatic run in 2013.
(clic to enlarge)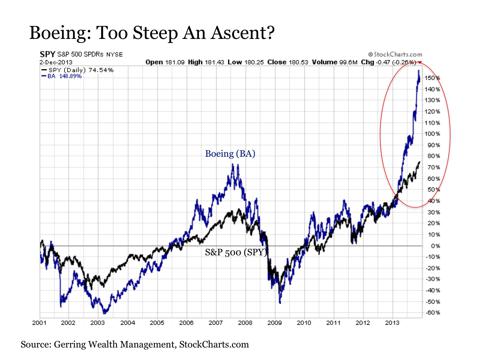 Honeywell (NYSE:HON) is another company that has vaulted well ahead of the market over the last 18 months. It is a company that I have long followed and is one of my first stock purchases nearly two decades ago when it was operating under its pre-merger AlliedSignal name. While Honeywell is clearly running its business better in recent years, the fact that it is trading at 21.9 times earnings, that is roughly one-third more than the five-year historical average of 16.6, at 1.8 times sales that is nearly two-thirds higher than its 1.1 historical reading and 17.6 times cash flow, that is also nearly two-thirds above its 10.6 five-year average raises questions as to whether Honeywell has powered higher far too quickly at this point.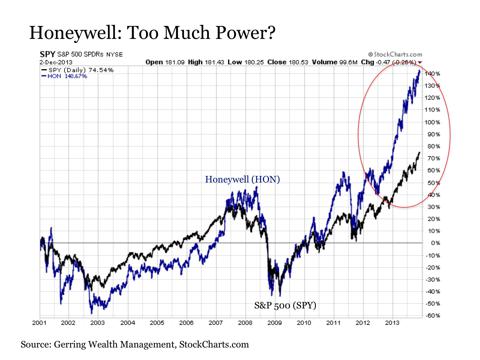 Yet another example is Emerson Electric (NYSE:EMR), which ranks among my favorite stocks that I have owned several times over the past couple of decades. But once again, while Emerson has done fine work in restructuring their business for future growth, the fact that the stock is trading at 24.3 times earnings, 2.0 times sales and 4.5 times book value, all of which are readings that are 25% to 40% above their five-year historical averages suggests that the recent magnitude of outperformance over the broader market may not be sustainable. After all, the last two instances Emerson enjoyed a comparable lead over the S&P 500, it eventually found itself most, if not all, of the way back to the long-term trend implied by the broader market when it was all said and done.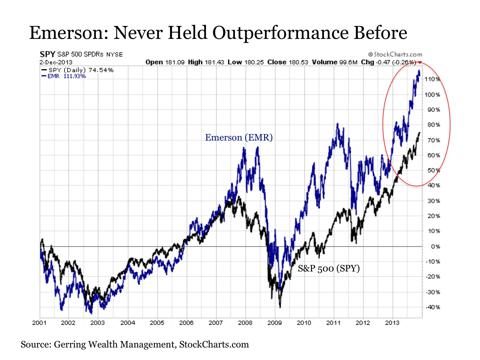 The last stock under scrutiny in this regard is Dover Corporation (NYSE:DOV), which is another long-time favorite. Following already strong post crisis performance relative to the market, momentum clearly took over starting in the summer of 2012, as Dover's outperformance gap over the broader market has reached unprecedented proportions for the new millennium. While at 16.5 times earnings it is only moderately overvalued relative to its five-year historical average of 14.6, it appears more dear when considered on a 1.9 times sales basis versus its 1.3 historical average and 2.9 times book value reading versus its 2.1 five-year average.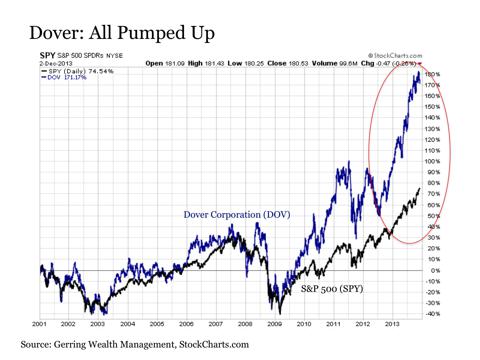 Perhaps the exceptionally strong surge above the broad market average is justified for the industrial sector as a whole, as well as for all of the individual names from within the sector listed above. But the fact remains that each has traditionally maintained a very high correlation with the overall stock market for many years. Thus, a regression back to the mean should not be ruled out moving forward. And the fact that each is meaningfully overvalued relative to their historical averages across a variety of metrics only increases the probability of such a downside outcome.
As a result, investors exposed to the industrial sector may be well served to keep a particularly close eye on positions to protect against unpleasant risks as we move into the New Year. And those considering initiating a new allocation to industrials may be well served to wait for potentially better entry points once sector valuations have become a bit more reasonable.

Disclosure: I have no positions in any stocks mentioned, and no plans to initiate any positions within the next 72 hours. I wrote this article myself, and it expresses my own opinions. I am not receiving compensation for it (other than from Seeking Alpha). I have no business relationship with any company whose stock is mentioned in this article.
Disclaimer: This post is for information purposes only. There are risks involved with investing including loss of principal. Gerring Wealth Management (GWM) makes no explicit or implicit guarantee with respect to performance or the outcome of any investment or projections made by GWM. There is no guarantee that the goals of the strategies discussed by GWM will be met.