Over the past few years, we've seen a fast escalation of interest in companies that manage big data and provide cloud storage and backup capabilities. While companies such as Carbonite (NASDAQ:CARB), IBM (NYSE:IBM), and Oracle (NASDAQ:ORCL) certainly make great investments on their own, investors have overlooked a key component of the future of the technologies they provide. Their increasing need for reliable storage will most directly affect hard disk drive (HDD) manufacturers.
When it comes to the hard drive space, Western Digital (NYSE:WDC) and Seagate Technology (NASDAQ:STX) dominate the discussion--and for a good reason. These two companies are solid investments with great fundamentals and large investments in research and development. Not surprisingly, I will spend some time covering these two giants of the industry in this series, as well as some of the less-visible companies such as Fusion-io (NYSE:FIO) and OCZ Technology (NASDAQ:OCZ).
However, I'd like to begin the series by analyzing the current revenue leader for solid state technology: SanDisk (SNDK). For this reason, I'll focus on SanDisk for the first part of this series.
Before we get into the business fundamentals, it's important to recognize what solid state technology is and why it's the future of data storage. A solid state drive (SSD) is a hard drive with no moving parts, to put it simply. They provide three main advantages over normal drives that are still using spinning platters:
SSDs are less likely to fail because of physical damage (lack of moving parts greatly reduces risk of damage).
SSDs are able to read and write much faster because the drive does not need to "spin up" before use, and electricity is much faster than a spinning platter.
SSDs use considerably less power because they don't waste energy in moving parts.
Large businesses with data farms are mainly interested in SSDs because of their low power usage and low latency. Several technology blogs have reported that companies such as Amazon (NASDAQ:AMZN), Facebook (NASDAQ:FB), and Dropbox have already begun migrating to hybrid datafarms, using hard drives and solid state drives simultaneously for speed and cost effectiveness. As the world's thirst for big data increases, so will demand for solid state storage.
Businesses aren't the only ones taking note of SSD technology, however. As these drives are becoming more affordable, mainstream consumers are beginning to take note. Computer manufacturers are beginning to offer SSDs as an upgrade feature in their products. In fact, as we'll see throughout this series, retail sales of solid state drives have seen immense growth, with some companies such as SanDisk, reporting a 200% increase in SSD sales over 2012 (Source: Q3 Earnings Call).
There's no question that hard drives will be replaced by solid state drives eventually, just as LCD screens replaced clunky old CRT monitors. The question is, where can investors turn to take advantage of the changing market conditions?
SanDisk
SanDisk is a natural starting point for this series because they are the current leader in retail revenue in the flash storage industry. Consumers are familiar with the brand name because of their prevalence in the flash drive market, and this prevalence seems to be transferred well to larger forms of solid state storage. Revenue streams have been growing consistently over recent quarters, led by a 200% growth in SSD solutions according to their 2013 Stockholder Meeting Presentation:
| | Revenue Mix Q1'12 | Revenue Mix Q1'13 | Y/Y Rev Growth |
| --- | --- | --- | --- |
| Retail - non SSD | 31% | 36% | 29% |
| OEM - Removable | 25% | 9% | -62% |
| Embedded | 20% | 23% | 30% |
| SSD Solutions | 7% | 20% | 202% |
| Wafers and Components | 8% | 4% | -37% |
| License and Royalty | 8% | 8% | 3% |
| Total | 100% | 100% | 11% |
While OEM storage revenues are dwindling, it's important to note that SSD sales comprised 20% of the quarterly retail revenue for SanDisk (according to the Q3 Earnings Call) and they are rapidly growing.
SanDisk is also focused on increasing its exposure to enterprise clients with its focus on complete vertical integration. They produce all hardware memory products, as well as the necessary management software for their use, in-house. This reduces cost and increases efficiency. Their recent acquisition of SMART Storage System also gives them access to the proprietary Guardian Technology which allows for better SSD management, leading to a longer lasting drive.
During the Q3 earnings release, Sanjay Mehrotra (CEO), stated that they are ramping up research and investments for drives capable of serving special needs customers. For example, they are accelerating investment in ULLtraDIMM, a product aimed towards low latency uses such as high frequency trading. At the recent Flash Memory conference in Needham, MA, SanDisk revealed the difference in latency between the fastest group of SSDs currently available (PCIe SSDs) and their ULLtraDIMM interface:
PCIe vs ULLtraDIMM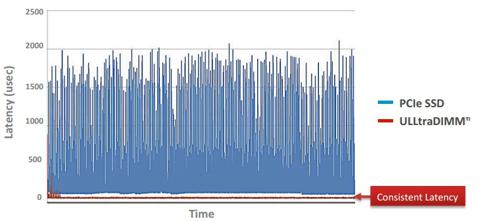 Click to enlarge
There's no question that SanDisk realizes the future of storage is the SSD market. They've pointed out in their guidance of 2014 that they expect 25% of their revenue to come from solid state storage. They've also stated that they expect a 2-6% growth in revenues quarter over quarter (between $1.65 billion and $1.725 billion) to finish the year beating 2013 guidance estimates.
Investors should take note that SanDisk also made their first-ever dividend payment for Q2, and they have announced a dividend of $0.22 per share for Q3. In fact, their major expenditures in the most recent quarter included a dividend payment ($51 million), a share buyback ($1 billion) and the acquisition of Smart Technologies ($304 million), all good signs for a long-term investor. Most of the fundamentals for SanDisk make it a very desirable stock, and not surprisingly, institutional ownership is up significantly for 2013.
While it's great to see increasing revenues, sales, and profits, SanDisk has a few red flags that investors should be aware of. One of the key red flags is that SanDisk seems to be expensive compared to other companies in its industry when looking at key ratios:
| | SanDisk | Industry |
| --- | --- | --- |
| Price/Earnings | 17.8 | 14.2 |
| Price/Sales | 2.54 | 0.93 |
| Price/Book | 2.45 | 2.19 |
| Price/Free Cash Flow | 11.8 | 12.5 |
All ratios except for price to free-cash-flow show a company trading at a premium to its industry. It's up to the investor to decide if it's presence as the market leader and innovator in the flash storage space are worth the premium. However, if an investor should decide to buy in, technical analysis shows that we may be seeing a temporary pullback.
SanDisk Chart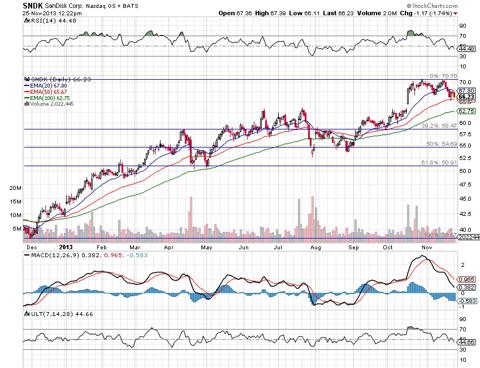 Click to enlarge
The price has moved below the 20-day moving average, however the 20-day moving average is above the 50-day moving average for now. The RSI indicator is straddling its mid-line, as is the Ultimate oscillator. The MACD seems to show a slowing down of the upward trend so apprehensive investors may wait to see if the trend has changed or if this is simply a correction. For investors interested in more customization, SanDisk options contracts are available.
It should be noted that technical analysis was simply used to gauge for a short-term pullback in price--it is NOT a tool that should be used to determine if a company is worth investing in for the long term.
NOTE: While Intel (NASDAQ:INTC) and Samsung have both made significant strides in solid state technologies, I will not cover them in this series because of their inherent diversity of products and because their flagship products are in markets other than data storage. There are many more companies that produce solid state drives, however I limited my search to only include companies whose primary industry is hard drive manufacturing. I also limited my search to companies which are publicly traded on a US exchange.
Disclosure: I have no positions in any stocks mentioned, but may initiate a long position in SNDK over the next 72 hours. I wrote this article myself, and it expresses my own opinions. I am not receiving compensation for it (other than from Seeking Alpha). I have no business relationship with any company whose stock is mentioned in this article.