The primary aim of this article is to compare China Mobile Limited (NYSE:CHL) and its competitors from a business and financial perspective. The comparison will help investors in gaining a clear perspective regarding future performance, in terms of business and stock, of the entire Chinese telecom industry. The companies considered are China Mobile, China Unicom (NYSE:CHU) and China Telecom Corporation Limited (NYSE:CHA); all belong to the wireless communication industry. China Mobile is one of the world's largest telecom service providers. It was incorporated in 1997 and is based in Hong Kong, China. It provides its services to approximately 755 million customers in China and Hong Kong. China Mobile provides voice and data services including 3G and WLAN services. It generates approximately 69% of its revenue through voice services and around 30% from data services. China Unicom is involved in the provision of cellular, fixed line and broadband services in China.
The company was incorporated in February 2000 and is headquartered in Hong Kong. China Unicom provides its services to around 384 million customers. Data services, including 3G and wireline broadband, are also provided by the company. A substantial amount of Unicom's revenue is generated from mobile services including 3G services which make up around 50.4% of the total revenue. Fixed line business generates around 33.3% of the revenue and broadband contributes around 18.7% in the fixed line revenue. Telecommunication products revenue is 15.6% of the total. China Telecom provides wireline and mobile telecommunications services primarily to the people of China. The company was incorporated in 2002 and is based in Beijing. It provides wireline and wireless telecommunication services including, but not limited to, CDMA. It has around 277 million subscribers. Interestingly, the company has uniform revenue distribution with voice services contributing around 32.7%, internet services contributing around 30.9% and other services including VAS contributing around 32.7% of the total revenue.
Financial Performance
The financial performance of these companies is analyzed below. Performance metrics like revenue, earnings, cash flow and dividends are evaluated to arrive at a conclusion.
Revenue

China Mobile is largest, in terms of gross revenue, of the three companies being considered. The main reason behind China Mobile's leading position in terms of revenue is its larger subscriber base. More subscribers translate into more revenue; hence, the dominating position. The table summarizes the revenue position of the companies.
In growth terms, China Unicom is ahead of the competition. But, it will take time to catch up with China Mobile even if we assume the CAGR continues in future. China Mobile's data service revenues are growing at a greater pace than its voice services revenue. China Unicom's 3G revenues are growing at a higher pace as compared to its broad band revenues. China Telecom's Mobile voice and internet revenues grew at a greater pace than all other revenue segments in the previous two years.
Earnings
EBITDA: Earnings have also been favorable for China Mobile and it posted higher earnings than the other two companies, indicating its dominating position as far as the Chinese telecom market is concerned.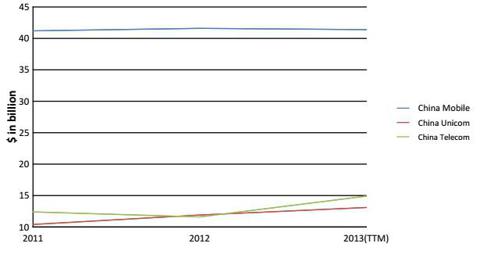 The graph clearly shows that China Mobile is in the leading position in terms of earnings. Unicom has shown stable growth over the period of two years while China Telecom has shown a mixed trend but grew quite nicely during 2013 to beat China Unicom in absolute earnings.
EPS: China Mobile has outperformed both the companies in terms of EPS. The table below shows the relative EPS performance of both companies

China Unicom has performed well in growth terms but given the very low EPS of the company in 2011, the growth is not satisfactory when compared to the other two companies. China Mobile is in the most favorable position, given its high EPS.
Cash Flow and Dividends
China Mobile generates around $37 billion in cash flows, which is almost 3x the cash generated by either Unicom or China Telecom; in fact China Mobile generates more cash than the other two companies combined. This fact points toward the dominating position of China Mobile in the Chinese market.
As far as dividend payments are concerned, the dividend yield of China Mobile is around 4% which is higher than the industry average of 3.5%. China Unicom's dividend yield recently touched 1%, which is not impressive, given the industry average. China Telecom's dividend yield is also lagging behind the industry average and stands at around 2%. The table below summarizes the cash and dividend position of these companies.

The three companies have a higher cash flow generation than dividend yield, indicating that all these companies are capable of maintaining their dividends in the future. China Unicom can even increase its dividend yield because it has the highest cash flow yield of the three companies. As China Unicom is generating 32.9 cents per dollar of investors' money and it is paying only 1.15 cents per dollar, it seems there is a real potential for increasing dividend yield. However, China Mobile has generated the highest cash flows and is the more suited candidate for stock investment.
Drivers of the performance
Subscriber base
China Mobile: It has around 755 million customers at the end of the third quarter of 2013. This figure was 726 million in the first quarter. China mobile recorded around 4% subscriber growth in two quarters which projects to 8% annually, assuming non-cyclical industry. This customer base includes 169 million 3G customers making up around 22.5% of the total customers of the company.
China Unicom: The company has around 384 million customers of which 112 million are 3G customers. China Unicom posted around 13.9% in subscriber growth in the recent two quarters which projects to 27.8% annually. This is a promising growth factor.
China Telecom: China Telecom has around 278 million customers of which 97 million are 3G customers. It posted a subscriber growth of 30.9% in the recent two quarters. This projects to around 61% annually.
The growth factors of China Unicom and China Telecom are promising, yet they are behind China Mobile in absolute terms.
4G and China Mobile
China Mobile is working on introducing 4G technology in China. Being the first company to introduce 4G could really boost the future growth of China Mobile. The much hyped deal with Apple is also expected in the near future. Both these developments are a competitive advantage for China Mobile and will help it to retain its leading position in the industry.
Conclusion
China Mobile is the largest telecom operator in China and this fact is not likely to change in the coming future. The largest subscriber base and positive operating cash flows will assist the company in materializing ideas like 4G, which will in turn help the company to grow its subscriber base further and retain its dominating position. The possibility of a deal with Apple will also create a favorable scenario for China Mobile. So, the business performance of the company is expected to improve in the future. On the other hand, above average dividend payments mean satisfied investors, rendering inclined valuation of the company shares. So, China Mobile is the best bet as far as these three companies are concerned. It does not mean that the other two companies have no future. On the contrary, the smaller players have more room to grow by taking away China Mobile's market share. Their current growth rates are promising and if the management deploys appropriate strategies, both the companies have real potential of retaining, rather increasing their subscriber base.
Disclosure: I have no positions in any stocks mentioned, and no plans to initiate any positions within the next 72 hours. I wrote this article myself, and it expresses my own opinions. I am not receiving compensation for it (other than from Seeking Alpha). I have no business relationship with any company whose stock is mentioned in this article.