By Chris McKhann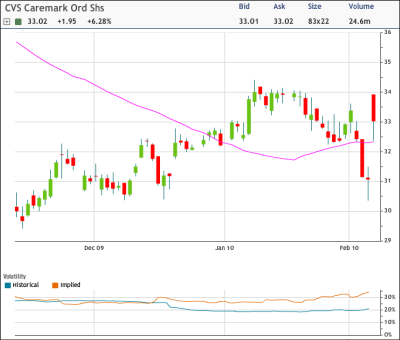 Shares of CVS Caremark (NYSE:CVS) are active after a positive earnings release this morning, but puts are dominating the option trading despite the stock's jump.

The pharmacy services company is trading at $33.02 this afternoon, 6.28 percent higher on the day, though down from its open at $33.92. Despite the gap higher, shares are only where they were last Tuesday. The $34 level has proved to be resistance since CVS gapped lower on the last earnings announcement back in November (click here for transcript).

The biggest options volume of the day is in the August 28 puts, where optionMONSTER's systems show one block of 6,000 bought for $1.05. This volume is against open interest of 3,129 contracts, indicating that it was buying to open new positions, not close existing ones.

This put buying could be protective insurance against long shares, but it is not clearly tied to any stock trading today. This position would require shares to drop below $27 by expiration to be profitable, a level not seen since March.
Disclosure: No positions