By Chris McKhann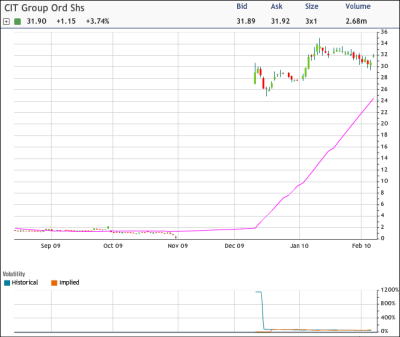 Shares of CIT Group (NYSE:CIT) initially jumped on the news that John Thain will take over as its new chairman and CEO, but not everyone is buying into the surge.

CIT was up by 3.74 percent on the day, trading at $31.90. It had been trending lower after hitting a high of $36 on January 12.

Within a span of 25 minutes this morning we see two blocks of 2,000 July 32 calls and one block of 4,000 sold for $4.85 against open interest of just 23 contracts. We also see a block of 2,000 July 35 calls sold for $3.65 against open interest of 118 contracts.

This high premium reflects the relatively high implied volatility in these options. The average implied volatility sits at 59 percent, while the 30-day historical volatility is 35 percent.
All of this call selling is likely done against long stock in a covered call position, which would protect against the unlimited loss potential of just being short the calls.