One of the 'Top 25 Overvalued Stocks on the Market' reported third-quarter results recently. GameStop (NYSE:GME) represents the latest firm that we highlighted as significantly overvalued to engage in a large pricing correction toward our fair value estimate.
Third-quarter results at the world's largest video game retailer weren't the problem. Total global sales advanced 18.8%, while comparable store sales rose 20.5%. Sales of new software increased 43.1% thanks to strong performance from Grand Theft Auto V. Hardware sales also performed well, jumping 15.3% thanks to a strong sell-thru of Nintendo 2DS and 3DS. Pre-owned sales, however, declined 2%. The strong overall performance led to 675 basis points of market share gains. GameStop's net earnings jumped 45.3%, to $68.6 million, while the company's adjusted earnings-per-share leapt 52.6%, to $0.58, the latter bolstered by share buybacks. The company ended the quarter with $649 million in cash and no meaningful debt.
But its outlook for the fourth quarter, while strong and in-line with our expectations, came in below consensus. For the fourth quarter of fiscal 2013, GameStop expects comparable store sales to range between 2%-9% expansion, while diluted earnings-per-share is expected to range from $1.97-$2.14 per share. The company raised its full-year diluted earnings per share guidance range to $3.08-$3.25 (was $3.00-$3.20); the updated range is in-line with our $3.22 per share forecast. We think the Street was looking for a stronger outlook for the holiday season. In any case, the outlook was in-line with our expectations, which in part explains why shares are falling to our fair value estimate.
Valuentum's Take
The electronic game industry is intensely competitive. In the US, GameStop competes with behemoths Wal-Mart (NYSE:WMT), Target (NYSE:TGT), Amazon.com (NASDAQ:AMZN), and Best Buy (NYSE:BBY). However, we think the biggest long-term threat to GameStop will eventually be digital delivery of games. If Sony (NYSE:SNE) or Microsoft (NASDAQ:MSFT) eventually cut physical game sales out of the supply chain and switch primarily to digital distribution, GameStop will be left holding the bag. This won't happen anytime soon (at least not with the next generation consoles, PS4 and Xbox One), but it is an eventuality, in our view. Even in a quarter like this one, where new video game hardware and software revenue surged, roughly 36% of the company's gross profit still came from pre-owned video game products. The risk of this profit lever eventually going away or being substantially reduced over time is just too great for us to be interested in shares for our Best Ideas Newsletter portfolio.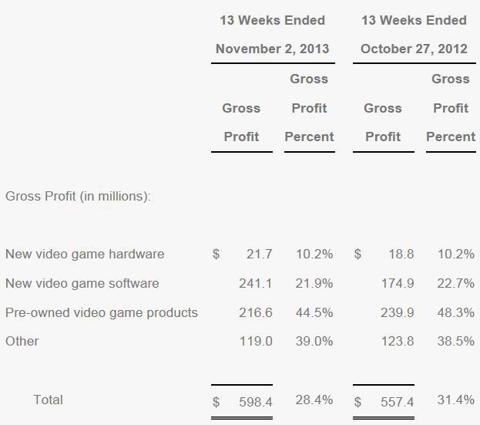 Image Source: GameStop
Disclosure: I have no positions in any stocks mentioned, and no plans to initiate any positions within the next 72 hours. I wrote this article myself, and it expresses my own opinions. I am not receiving compensation for it (other than from Seeking Alpha). I have no business relationship with any company whose stock is mentioned in this article.
Additional disclosure: MSFT is included in the portfolio of our Dividend Growth Newsletter.