Adoption of 3D printing is on the rise with its application now extended to manufacturing final products. 3D printer manufactures like 3D Systems (NYSE:DDD) and Stratasys (NASDAQ:SSYS) are leading the race to grab this new market opportunity. Use of 3D printing for final part production increased to 28.3% of overall 3D printing applications in 2012 from a 3.9% share in 2003.
This share is expected to rise with General Electric (NYSE:GE) announcing the use of 3D printing to make more than 85,000 fuel nozzles for its new Leap jet engine. This process is more efficient than its previous system of manufacturing nozzles from 20 different parts. This technology also makes the finished product lighter and stronger to withstand extreme temperatures. GE's adoption of 3D printing isn't new; last year, its subsidiary, GE Aviation, acquired Morris Technologies. This company now manufactures parts for GE's jet engines by deploying 3D printing manufacturing techniques. To meet the current demand for jet engines, GE plans to invest in the development of new 3D printing technology for fulfilling the demand of jet parts. As part of its investment, GE will triple its current 3D printing staff and expand its factory floor fourfold in the next five years.
This announcement has created new opportunities for 3D printer manufacturers. GE Aviation's business development leader for additive manufacturing stated that the existing printers aren't efficient enough to meet the demand, and GE would have to buy 60 to 70 expensive machines to achieve its targets.
I think both the companies 3D Systems and Stratasys have a wonderful opportunity ahead. 3D Systems might have an edge, as the company has a good relationship with GE, and its market leadership position as a 3D printing solution provider will help it earn a big slice of this market opportunity.
However, Stratasys is also a tough contender that has also been providing its 3D solutions to GE. Since the acquisition of Makerbot this year, the company has expanded its addressable market, with entry into the growing low-end consumer segment. Stratasys reported Non-GAAP revenue of $126.1 million for the third quarter of 2013, representing a 39% year-over-year increase. Last year, the company acquired Objet, and the combined company is now one of biggest 3D printer companies. The acquisition of both Makerbot and Objet resulted in the strong revenue growth for this quarter.
How is 3D Systems getting ready for "Project Ara"?
Google's (NASDAQ:GOOG) Motorola Mobile unit recently signed a deal with 3D Systems that names 3D Systems as hardware partner for its "Project Ara," which aims to create modular smartphones. 3D Systems will provide its additive manufacturing (3D printing) expertise to support large scale production for 3D-printed modules and user-customizable smartphones.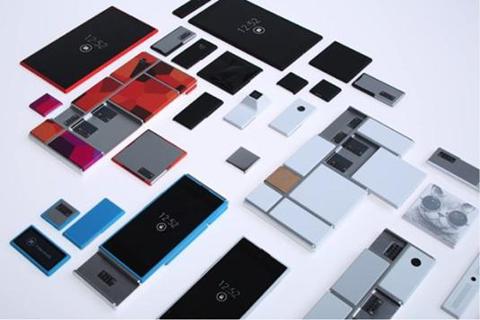 Project Ara, Source:www.theregister.co.uk
Motorola Project Ara announced last month to provide users with a simple way to customize their phones with the help of 3D printing.
As part of the deal, Motorola appointed 3D Systems for creating multi material printing capabilities to build handset modules like chassis, battery, etc. Motorola isn't first one to enter the modular handset market; there were a few trials earlier, but due to high prices involved, customization has remained a future concept. This is expected to change with 3D printing. Use of this technology will help make this project commercially successful.
Choosing 3D Systems doesn't come as a surprise; the company has been providing its technology for various manufacturing applications, which also involves customized jewelry. 3D Systems' ready to print technology has been solving complex manufacturing problems across various industry verticals, and now it's time to grab the opportunity in the mobile customization segment. I believe that being a hardware partner to Motorola in Project Ara will help it capitalize on a new market opportunity, as customization is the future of mobile devices.
Strong move toward the consumer segment
3D Systems is known for its Cubify printers in the consumer segment. Recently, the company launched a product in 3D Scanning, therefore providing end-to-end service from scan to print. The company launched Sense 3D Scanner, which claims to be the only 3D scanner to deliver instant physical photography for capturing scan-able moments.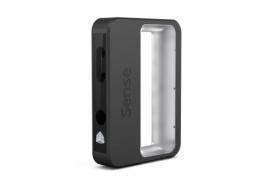 The Sense is priced at $399 and will position 3D Systems in the scanning market, thus competing against Stratasys. Makerbot, which is owned by Stratasys, launched Digitizer, priced at $1400. This is a rotating desktop 3D Scanner for scanning a small object. Unlike Digitizer, Sense takes an altogether different approach; instead of keeping the object on a scanner, this handheld device automatically conducts object recognition. Through its software, the device scans the object multiple times for making a 3D printable file. This product will be tough competition to the already available 3D scanning products, including Makerbot's Digitizer, and Sense's much cheaper price might give it an edge.
Both 3D printer manufacturers have now locked horns in 3D scanning with their respective product launches. Makerbot started shipping its product in October, while 3D Systems' Sense is now available for purchase. Although the official sales figure hasn't been released, both products are expected to receive a good response from the market.
Conclusion
3D Systems' Motorola Deal and the launch of its 3D scanner have created bright prospects about the company's chance to grab the 3D printing opportunity. In addition, GE's decision to use 3D printing to manufacture its fuel nozzle has added to this market opportunity. I believe the company has a strong upside potential and will sustain its revenue growth in the future. Its trailing twelve month P/E currently stands at 162.68, while it's forward P/E for the year ending December 31, 2014 is at 59.18. Its PEG (for an expected five years) ratio of 3.19 is much lower than Stratasys' 6.44. Considering the earnings growth rate, this indicates the company is undervalued, and therefore I recommend a buy.
Disclosure: I have no positions in any stocks mentioned, and no plans to initiate any positions within the next 72 hours. I wrote this article myself, and it expresses my own opinions. I am not receiving compensation for it (other than from Seeking Alpha). I have no business relationship with any company whose stock is mentioned in this article.