"I also want to show you UTX, United Technologies because its board of directors just approved a 10.4% increase in its first quarter dividend to 43 cents a share." — Fox Business Network 2/8/2010
Dividend investors continue to delight in the shareholder-friendly actions of United Technologies' (NYSE:UTX) board, as they have increased the dividend from $.39 to $.43. The change will become effective as of their first quarter payout in March for shareholders of record on Feb 19th. Despite the nearly 20% drop in earnings per share results for the full year from 2008 to 2009, they maintained the impressive streak of yearly dividend increases. We would expect UTX to raise dividends in-line with earnings growth into the future. With consensus analysts' estimates calling for EPS growth of 12% in fiscal 2010 and 14% in fiscal 2011, future dividend raises could be significant.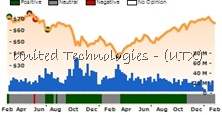 United Technologies has avoided much of the difficulty that have befallen competitor and fellow Dow component General Electric (NYSE:GE) due to their highly leveraged financial unit. Instead, United Technologies who does not have a finance unit has worked diligently on their core products making everything from elevators to jet engines to air conditioners. This focus on its traditional business lines has proved a wise move and allowed UTX to greatly outperform GE over the long term. For example, over the past ten years UTX stock is up 157% versus a 67% decline for GE. This outperformance is also evident in dividend payout history as well; remember, last year GE slashed its dividend by 68% in order to conserve cash.
The dividend announcement from United Technologies makes us view the stock more positively, but we are content to leave our neutral or Fairly Valued rating on UTX at this point. The company has been much less affected by the credit crisis than GE, but it is not immune to a weak economy as sales and earnings have both declined over the past year. These fundamental factors are showing steady improvement, but we think the price adequately reflects this improvement. For example, historically speaking UTX has normal traded between .97x to 1.45x times revenue per share and the current price-to-sales is near the middle of that range at 1.18x. Similarly, their price-to-cash earnings have historically ranged between 9.8x and 14.7x, and the current level is 11.7x.
We view the current valuation of UTX to be in-line with what we think is justified by the fundamentals. However, as today's announcement demonstrates, this is a great stock for income-oriented investors.