The yen and Japanese equities are among the stand out developments this year among the high income economies. The yen has lost about 15.5% against the U.S. dollar and almost 19% so far this year against the euro, the strongest of the major currencies. The Nikkei has risen 51.5% year-to-date, while the smaller-cap JASDAQ has advanced nearly 81%.
The Great Graphics here were created on Bloomberg and show co-movement of the yen (white line) and Nikkei (yellow line). The top chart is a daily line chart and it covers the past six months. The bottom chart is a weekly line chart and depicts developments over the past five years.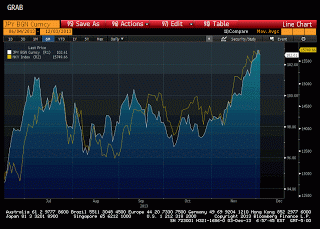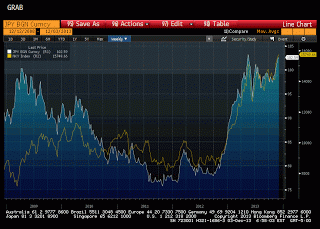 Just like the dollar made new highs against the yen since May earlier, so did the Nikkei. Since November 8, when the Nikkei bottomed near 14000, it has bounced 12.5%. During the same period the yen has fallen 3.5%.
Our near-term concern remains how Japanese investors will adjust positions ahead of the increase in the capital gains tax from 10% to 20% on Jan 1. Given the unrealized profits on this year's outsized move and the heightened economic uncertainty due to next year's retail sales tax hike, we have thought Japanese investors would be tempted to book some profits. For their part, foreign investors accelerated their purchases of Japanese equities last month. The four-week average stands at JPY631 bln, the highest since late April.
Disclosure: I have no positions in any stocks mentioned, and no plans to initiate any positions within the next 72 hours. I wrote this article myself, and it expresses my own opinions. I am not receiving compensation for it. I have no business relationship with any company whose stock is mentioned in this article.