On February 8, Morningstar greeted its ETF readers with a spotlight on a "valuation attractive" segment, consumer staples. The virtues of consistent dividend returns from the likes of Procter & Gamble (NYSE:PG), Coca-Cola (NYSE:KO) and Wal-Mart (NYSE:WMT) were discussed as well.
CNBC viewers who watch the rantings and ravings of J. Cramer have also been receiving admonishments. His concern? White House plans for the banking establishment signify a need to stick with the "never-go-away" companies like Altria (NYSE:MO) and Johnson & Johnson (NYSE:JNJ).
It doesn't matter what expert, writer or analyst you follow. When the markets begin dropping, the popularity of consumer staples stories increases tenfold.
It should be noted, however, that the 3 months of going nowhere has applied to "staples" in equal measure. Here are the returns in relation to the S&P 500 SDPR Trust (NYSEARCA:SPY):
Consumer Staples ETF Alternatives Over Last 3 Months
Approx Dividend Yield
3 Month %
S&P 500 SPDR Trust (SPY)
2.0%
0.09%
iShares DJ Consumer Goods (NYSEARCA:IYK)
1.9%
1.68%
Vanguard Consumer Staples (NYSEARCA:VDC)
2.7%
0.44%
Select SPDR Consumer Staples (NYSEARCA:XLP)
2.8%
0.00%
PowerShares Dynamic Consumer Staples (NYSEARCA:PSL)
1.1%
-0.70%
iShares S&P Global Consumer Staples (NYSEARCA:KXI)
2.3%
-1.38%
Of course, the argument in favor of consumer staples stocks in tougher times or down markets is that they lose less. Since the January peak for the S&P 500, the major benchmark has shed twice the percentage pounds as the SPDR Select Consumer Staples Fund. (Click to enlarge)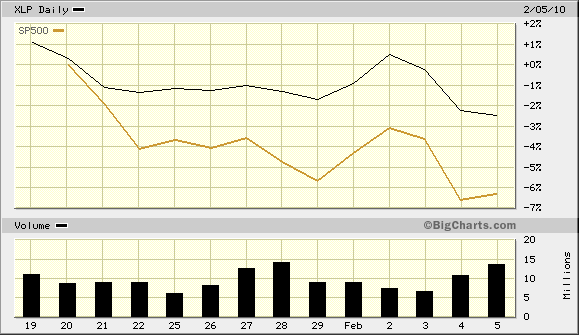 The "less risky" nature of "Consumer Staples" may also be verified by independent risk measurement site, RiskGrades.com. The web site curerntly shows the S&P 500 SPDR Trust as 1.6x as risky as Select SPDR Consumer Staples.
Nevertheless, by the time investors make the shift to more defensive holdings, will they prosper going forward? Or might they be more likely to become defensive at a time when… as Buffett would exclaim… "This is the opportunity to become greedy when everyone else is fearful."
The quintessential question may be: "What do you believe is going to happen next?" If you feel that an 11-month bull market is likely coming to an end, and that broader stock assets are headed for a 20% hair cut, Consumer Staples ETFs will help you weather than storm. However, if you're of the mindset that a 10%-12% correction is about as much damage that we're going to see, getting defensive after an 8% pullback from market highs is likely to hurt more than it helps.
Disclosure Statement: Gary Gordon, MS, CFP is the president of Pacific Park Financial, Inc., a Registered Investment Adviser with the SEC. The company and/or its clients may hold positions in the ETFs, mutual funds and/or index funds mentioned above. The company does not receive compensation from any of the fund providers covered in this feature. Moreover, the commentary does not constitute individualized investment advice. The opinions offered herein are not personalized recommendations to buy, sell or hold securities.