According to the latest data released by Synergy Research, Amazon (NASDAQ:AMZN) has clearly maintained its lead in the IaaS (infrastructure as a service)/PaaS (platform as a service) market, which passed the $2.5 billion milestone during the Q3 2013, up from $2.25 billion in Q2 2013. Amazon alone generated 15% more revenues than the nearest four competitors namely Microsoft (NASDAQ:MSFT), IBM (NYSE:IBM), Salesforce (NYSE:CRM), and Google (NASDAQ:GOOG) (see the chart below). Despite the huge scale, Amazon surpassed the industry's growth rate of 46%, as the company grew by 55%. For the time being, competitors can only follow the company to see it moving ahead but can't overtake it.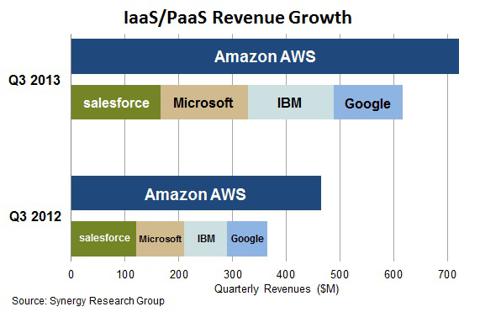 Click to enlarge
IaaS/PaaS Market:
The Public IaaS/PaaS market is expected to show an exceptional growth (see the chart below), in the years to come, due to the benefits like: instant availability, scalability, rising Internet penetration, the availability of high data-transfer speed, changing corporate culture, cost-effectiveness, rising awareness among business users, etc.
According to IDC, IaaS and PaaS market is expected to grow at the CAGR of 27.2% and 29.7%, respectively during 2013 to 2017 (see the chart below).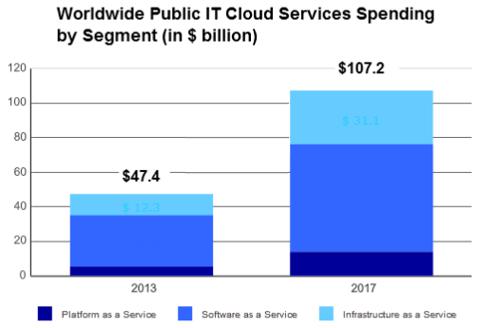 Click to enlarge
Reasons behind success of Amazons IaaS/PaaS:
Industry characteristics:
The IaaS/PaaS industry is a unique industry in terms of revenue generation. Most of the players offer these services as an on-demand, scalable, pay as you use basis. So in most of the cases the revenues are recurring but not committed to a single player, which means most of the revenues stay in the industry but the customer can any time change its service provider. However, changing a service provider is not easy, hence the customer needs good reasons to change its service provider like lack of service-quality, unfavorable pricing, etc.
These key characteristics of the industry is the prime reason behind the proliferation of Amazon's IaaS/PaaS services as when it comes to customer service and pricing, the company always stays ahead of its competitors in all the businesses where it has a presence.
As mentioned in the annual report 2012:
In 2012, AWS announced 159 new features and services. We've reduced AWS prices 27 times since launching 7 years ago, added enterprise service support enhancements, and created innovative tools to help customers be more efficient.
So, the company is taking care of all the aspects of the business (from service offering to pricing). Amazon was the early entrant in the IaaS/PaaS space. The company is using its early mover's advantage to good effect. It already has a huge customer-base and the company is an expert in customer retention.
Another thing that contributes to the company's success is its pricing strategy. The company offers multiple pricing for all of its services, which allows customers to choose the preferred and most cost-effective pricing option. This helps to attract small enterprises, which is one of the largest customer segments.
The company is also moving up the value chain and today the company offers the most complicated, cutting-edge technologies to serve new-age demands like big data analysis, DaaS (desktop as a service), security, etc.
The company is well aware of the fact that growth needs the infrastructure backing. So, the company is investing heavily in the related infrastructure. The company spent about $3.8 billion, $1.8 billion, and $979 million in 2012, 2011, and 2010 in all its business and a significant part of these investments goes to IaaS/PaaS related infrastructure.
Valuations:
Valuation of the latest deal:
The latest deal in the industry attracts significant valuation. IBM acquires SoftLayer, which is a provider of managed hosting, dedicated servers, and infrastructure as a service. IBM made the acquisition for about $2 billion i.e. about 4x* 5x** of its latest yearly revenue.
*SoftLayer revenue according to Barron's:
We estimate that SoftLayer is on pace to generate $400 million in annualized revenue, with the company previously disclosing it was generating around $335 million in revenue as recently as 2012.
**SoftLayer revenue according to Barclays:
SoftLayer is on pace to generate $400 million to $500 million in revenue this year.
Considering the above valuation, Amazon's IaaS/PaaS business deserve to be valued at 6x-7x of its yearly sales as Amazon offers services far beyond IaaS/PaaS. It offers some of the most complex cloud services (discussed above) that deserve premium valuations. So the valuations for the business stood at about $15 billion - $17.5 billion (based on estimated revenues of $2.5 billion in trailing twelve months). Valuations (6x-7x) are lower than Salesforce.com, which is currently available at nearly 8.5x based on TTM revenues.
Conclusion:
In Iaas/PaaS space, the company is not only maintaining its lead but also is increasing the lead against most of its competitors. The company is improving its revenues briskly and is moving up the value chain rapidly. It is transforming itself from an IaaS/PaaS provider to a much more integrated player as the company is introducing more and more advanced services. Vertical integration will not only improve the company's revenues but will also improve its margins, which will further increase its competitive position in the industry and also its scale and valuations.
Disclaimer: Investments in stock markets carry significant risk, stock prices can rise or fall without any understandable or fundamental reasons. Enter only if one has the appetite to take risk and heart to withstand the volatile nature of the stock markets.
This article reflects the personal views of the author about the company and one must read offer prospectus and consult a financial adviser before making any decision.
Disclosure: I have no positions in any stocks mentioned, and no plans to initiate any positions within the next 72 hours. I wrote this article myself, and it expresses my own opinions. I am not receiving compensation for it (other than from Seeking Alpha). I have no business relationship with any company whose stock is mentioned in this article.