Who doesn't love smoothies? I know I do, and I have yet to meet someone who had just drank a fruit smoothie and wished they hadn't. That being said, there are plenty of investors who have not been loving Jamba, Inc. (NASDAQ:JMBA) lately - the purveyor of those Jamba Juice smoothie/juice shops you've probably seen popping up in your neighborhood in recent years. When reading up on JMBA you may come across statements like "the smoothie market is becoming saturated" and "the management is awful." It's up to you to formulate your own opinions regarding any investment decision you make, but hopefully in this article I'll make a believable bullish case for an investment in Jamba, Inc. right now, while shares are down and hated by both analysts and investors alike.
Introduction
Founded in 1990, Jamba, Inc. is a California-based company which owns and franchises Jamba Juice stores throughout the US and internationally via its wholly owned subsidiary, Jamba Juice Company. Jamba Juice Company is a restaurant retailer of "better-for-you" beverages and food offerings, which include fruit smoothies, fresh squeezed juices, hot teas, hot oatmeal made with organic steel cut oats, fruit and veggie smoothies, Fit'n Fruitful smoothies with optional boosts, frozen yogurt, breakfast wraps, side salads, sandwiches, flatbreads, and a range of baked goods and snacks. As of November 2013, it operated 849 company-owned or franchised stores worldwide, with over 50% being franchises. Total number of locations served by JambaGO machines was up to 1800 (self-serve smoothie machines at places like malls and gas stations). Also, Jamba Juice has a retail consumer products program that includes over ten license agreements covering a variety of consumer packaged goods - "CPG." You can learn more about Jamba, Inc. here.
Why The Recent Downturn?
Shares of Jamba, Inc. are down 25% in the past 6 months. Average brokerage recommendation is down to 2.33 as opposed to 1.6 just 2 months ago. This is certainly due to the fact that JMBA recently lowered guidance in October, then followed that up with an earnings miss in November.
In their most recent quarterly earnings report on Nov. 4th, a lot was down: net income, revenues, comps (same-store sales), and consequently operating margin was down as well. Why? Management had a number of reasons, including uncertain economic and political environments which led to a decrease in consumer discretionary spending. There was reference to their lack of marketing/poor advertising in the past. Also pointed out was the fact that it was an unusually cool summer with more adverse weather than is historically normal, especially in their major market of California. A majority of Jamba Juice's sales are frozen smoothies, which people tend to buy less of when the weather isn't hot and sunny. It doesn't take a genius investment mind to realize that Jamba's management isn't throwing false blame around - look at the overall non-cyclical retail industry the past 6 months, especially restaurants, i.e. Ruby Tuesday (NYSE:RT), Cosi (NASDAQ:COSI), Potbelly (NASDAQ:PBPB) or even McDonald's (NYSE:MCD). Look at the mall-located retailers, i.e. Aeropostale (NYSE:ARO) and American Eagle (NYSE:AEO). These are just a few names, but they're all down for somewhat similar reasons - right now, people are still concentrated on "needs" more than "wants." They're just not out shopping and eating as much. But that may be changing soon as the economy tries to improve...
Consumer Discretionary Spending Improving
The first industries to benefit from an improving economy are usually the automobile, financial, and travel industries. We're already seeing this as companies like Ford (NYSE:F), General Motors (NYSE:GM), Priceline (NASDAQ:PCLN), and various financial institutions are climbing to multi-year or all-time highs. Profits and earnings are increasing at a rapid pace. As the economy continues to improve and people get more comfortable with spending, soon to follow are companies like Jamba Juice.
A recent report from analysts at Schwab shows that they believe consumer discretionary stocks are a more attractive investment than consumer staples for 2014, upgrading them to "market perform" from "underperform." Staples are looking "pricey" they say, while noting positive upticks in consumer spending overall, especially in discretionary areas. This is becoming a general consensus across the financial industry as the job market improves flooding more money into the consumer markets.
History Tends to Repeat Itself
Fundamentals and technicals are coming up, but here's the major reason I like JMBA to increase by 50% by next summer. Taking a look at the stock price of Jamba Juice over the past 5 years, you'll notice a pattern:
(click to enlarge) (chart source: Google Finance)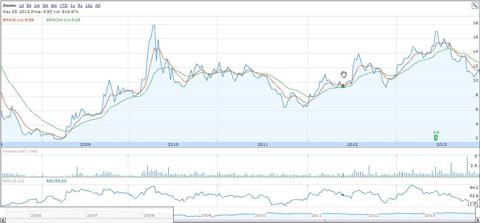 JMBA's price tends to dip to its lowest yearly level in late November or early December. This is where we are at right now with the stock being only about 10% above it's 52 week low. Notice, however, that what follows almost every year is a dramatic rise in share price to a peak around the summer time months. In my opinion this is no coincidence, as that's when Jamba Juice is making the most money selling their smoothies. This is also when analysts and investors are most aware of the company. I have every reason to expect this trend to continue again this coming year. It's impossible to time the purchase and sale of a stock exactly right, but take a look at some of the possible gains to be made in years past buying JMBA in the winter and selling come the following summer: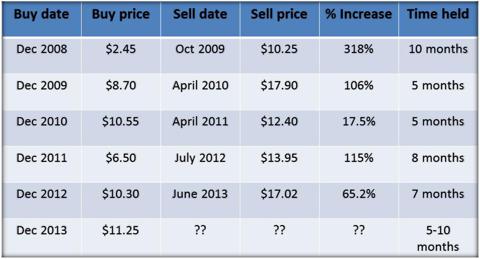 Improving Fundamentals
Despite JMBA's most recent quarter negatives, there were also a few positives I took away from both the report and the earnings call transcript:
Management was on track to meet its goal of opening 70 new stores in 2013, and fully confident in opening another 60-80 new stores in 2014. (This will represent an additional increase of 10% of total stores)
The increase in JambaGO stations is more easy money - they function similar to a Vending Machine or Redbox. They plan to add another 1000 JambaGO locations in 2014. (This represents an increase of 55% of machines next year!)
Franchise and other revenues were up 15.8% YoY.
CPG and JambaGO revenues were up 14.3% YoY.
Most recent yearly earnings results (Jan 2013) saw Jamba, Inc. post its first operating profit ever.
JMBA is debt free!
Take a look at this table that also highlights some improving fundamentals over the past 3 years: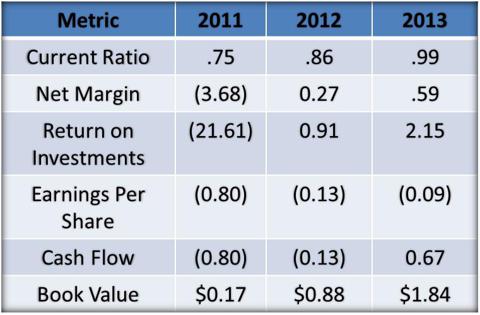 Source: Reuters Global
Recent Positive Events
Insider Activity - Jamba, Inc. management has consistently purchased more shares than sold over the past 5 years, typically during the later months of the year when share price is bottoming. The most recent purchases came on 11/7/13 ($10.79) and 9/4/13 ($12.73) - whereas the most recent sales came on 8/2/13 ($15.31 avg price). They are buying low and selling high, further enforcing the trends my table above points out. It's always smart to "follow the money."
New Ad Agency Hired - November 2013. As I pointed out earlier, one of the reasons which management cited for declining sales this year has been the lack of and poor marketing campaigns. LatinWorks is an awarded advertising agency who will spearhead Jamba's new national and local marketing campaigns, specifically highlighting Jamba Juice's newer, healthy fresh fruit and vegetable juices and smoothie choices to the growing organic- and health-conscious market.
Market Outlook and Conclusion
It is my belief that at the current share price, Jamba, Inc. represents a significant opportunity for investors. The frozen yogurt/smoothie industry is still in its early stages, and competitors are popping up everywhere - a testament to a growing market and continued money to be made in the segment. JMBA is finally profitable and still in rapid growth mode as they continue to add new Jamba Juice and JambaGO locations worldwide every year, as well as expand their CPG products into supermarkets and groceries. Despite the recent selling, 6 analysts covering the stock still maintain a $13.63 average price target on the stock. Sales are expected to grow at 11.4% in 2014 and 20% long term, while EPS is expected to grow at an average of 300% over the next 2 years. (Source: Reuters Global)
I recommend buying JMBA in the low $11 range with the goal of a 50% return in 5-10 months. Here's a couple technical signals that indicate a good entry point right now:
Low volume selling we're seeing (down 6% today on low volume as of submission time on 12/2) is one of my favorite buy signals.
RSI has been between 20-40 for the past 2 weeks, indicating JMBA is oversold.
10 Day EMA is approaching the 50 day EMA.
Jamba, Inc. may offer long term value beyond the 2014 summer, but that was not the focus of this article. Essentially, what you have in Jamba, Inc. is a chance to own shares in a company that has shown steady growth and fundamental improvement over a period of years for the same price you could have bought it for 4 years ago. Moreover, shares of Jamba, Inc. have demonstrated year after year that they bottom in the winter and peak in the summer. Theirs is a seasonal business, and now is the season to consider investing in JMBA, not when analysts are screaming "buy buy buy" during the summer peaks.
Disclosure: I have no positions in any stocks mentioned, but may initiate a long position in JMBA over the next 72 hours. I wrote this article myself, and it expresses my own opinions. I am not receiving compensation for it (other than from Seeking Alpha). I have no business relationship with any company whose stock is mentioned in this article.