The share price of Camtek Ltd. (NASDAQ:CAMT) has been fueled in recent days by what appears to be a distortion of the facts on various social network platforms. Specifically, CAMT is being misrepresented as a manufacturer of 3D printed circuit boards (PCBs). This has resulted in CAMT being hyped as the next undervalued 3D printing stock. 3D Analytics has completed a thorough review of CAMT and determined the stock is grossly overvalued. Consequently, we're assigning a sell rating on the stock with a $2.50 price target.
GreenJet
3D printing, according to Wikipedia, "is a process of making a three-dimensional solid object of virtually any shape from a digital model. 3D printing is achieved using an additive process, where successive layers of material are laid down in different shapes. 3D printing is also considered distinct from traditional machining techniques, which mostly rely on the removal of material by methods such as cutting or drilling (subtractive processes)."
In 2009, Camtek acquired Printar Ltd. According to a news release announcing the acquisition, "Printar Ltd. is engaged in manufacturing, sale and marketing of direct digital material deposition systems and inks for the Printed Circuit Board ("PCB") industry, with two major fields of activity: Solder Mask, an epoxy layer selectively covering the PCB, while leaving the connecting pads uncovered ("SM") and Legend, applying the identification nomenclature on the PCB, commonly used in the PCB industry ("Legend")." Printar Ltd. is the company that developed the GreenJet product in 2007.
Solder mask, according to Wikipedia, "is a thin lacquer-like layer of polymer that is usually applied to the copper traces of a printed circuit board for protection against oxidation and to prevent solder bridges from forming between closely spaced solder pads." Here is a video that shows the conventional process for applying the solder mask to a PCB. Current solder mask systems coat the entire board (using a conformal process) with a blanket of ink. After the solder mask is applied, the extraneous material is removed. By contrast, GreenJet selectively applies the solder mask to the PCB and non-functional areas are not coated.
Dymax, according to its website, is "a world-class leading manufacturer of 100% solvent-free UV light-curing industrial adhesives and light-curing systems for the medical, electronic, optical, glass, plastic, metal, masking, and packaging OEM markets worldwide." Dymax has created light-cure conformal coatings to meet the demands for the changing PCB market. Dymax states on its site that "each year the electronics industry is faced with new product designs that call for smaller printed circuit boards to function in more aggressive and rigorous service environments. As demands change, conformal coating is becoming increasingly adopted to ensure PCB reliability in environments where moisture, condensation, dust, dirt, salts, chemicals, abrasion, thermal shock, mechanical shock, and other factors can all affect circuit performance." With changes to the PCB market trend, we feel the GreenJet value runs the risk of disappointing investors.
GreenJet was developed in 2007, and until recently, the product had been described as a "digital inkjet solder mask deposition system." But in November 2013, both during a conference call and on a Form 6-K, the company described it as a "digital 3D printing system" used for the deposition of solder mask designated for the printed circuit board industry. When contacted about this, Camtek told us that instead of applying the solder mask using conventional methods, GreenJet can "stack multiple layers of solder in three dimensions (3D)," thereby giving the PCB manufacturer the option to apply a thicker or thinner coat of solder anywhere on the panel. For better examples of true 3D printing, one need look no further than products developed by companies such as 3D Systems (NYSE:DDD), Stratasys (NASDAQ:SSYS), and Optomec. True 3D printing can create a 3D object of any shape, whereas GreenJet controls the thickness of solder by stacking multiple layers. Using "3D" for a product/description is nothing more than the latest fad to get others more excited about this product.
3DPrintingStocks.com
Gary Anderson is the author for 3DPrintingStocks.com. On Nov. 7, 2013, CAMT released Q3 earnings and held a conference call. During the conference call, Camtek CEO Roy Porat said the company plans to launch the new "3D inkjet solder mask printer [GreenJet] next year." After the release, the stock had no reaction to earnings or the GreenJet product launch. It wasn't until 15 days later that Anderson highlighted CAMT as the next undervalued 3D printing stock, causing the stock to spike up more than 330% over three days on record volume. In a blog post dated Nov. 22, Anderson writes that Camtek has announced the 2014 launch of "a 3D printer that manufactures PCBs (printed circuit boards) for the commercial market. This will be the world's first commercial grade 3D printer for circuit boards." This statement is misleading because GreenJet does not manufacture PCBs. Instead, it applies solder mask onto a PCB. Ray Rasmussen, a knowledgeable writer from PCB007 (a website dedicated to providing information on PCBs), was also confused after reading all the misleading statements on social networking platforms.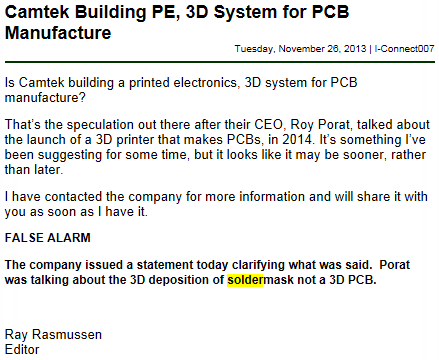 As another example, Sigma Labs, Inc. (OTCQB:SGLB) is a penny stock that has a history of being promoted that has not made a dime in profits. Anderson has written three blog posts -- one on Nov. 18, one on Nov. 21, and one on Nov. 26 -- promoting SGLB. In 2011, Penny Stock Guru was compensated $100,000 to email bullish newsletters such as the one below (see the fine print at the bottom). The stock hit a high of $0.265, then came crashing down to $0.01. Now, SGLB is being promoted by Anderson as the next 3D printing play. We believe investors should be skeptical of Anderson.
Click to enlarge images.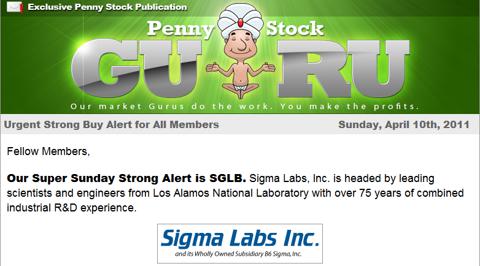 Peer Group Comparison Shows CAMT Is Significantly Overvalued
On Nov. 12, 2013 (after his evaluation of recent Q3 earnings, the aforementioned conference call and the GreenJet product launch), Jay Srivatsa, an analyst for Chardan Capital Management, gave CAMT a $2.50 price target with forward-looking EPS of $0.25.


We feel $2.50 is reasonable price target if the company can turn things around, because CAMT hasn't made $0.25 EPS in the past five years.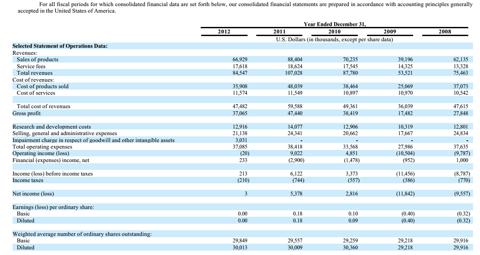 Source: Camtek.
2013 has been no different for CAMT, as the company is struggling to turn a profit. Revenues are down 7% from 2012 and EPS has dropped from 0.11 down to -0.02.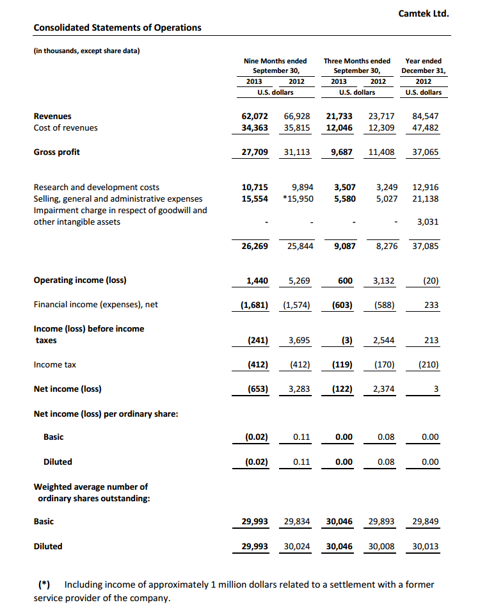 Source: Camtek.
According to CAMT, its main competitor in the PCB industry is Orbotech Ltd. (NASDAQ:ORBK).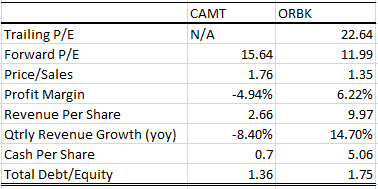 CAMT is overvalued when comparing the current trailing and forward P/E ratios and price/sales. CAMT also has a negative profit margin and decreasing quarterly revenue growth (yoy). Thus, CAMT should be assigned a valuation lower than that of ORBK. Using the $0.25 EPS estimate for CAMT to the forward P/E ratio of 10, CAMT would be valued at around $2.50 per share. This $2.50 is based on whether CAMT can turn things around with its new GreenJet product.
After talking with ORBK, we learned that it doesn't have a product that applies solder mask because management feels manufacturers of circuit boards would not be willing to replace their current equipment to apply the solder mask. ORBK does offer a product called Symbion P36 Plus, which inspects boards in 2D and 3D to "enable 100% board coverage and precise measurement of Solder Paste Deposit Volume, Area, Location and Shape." But please don't think that just because ORBK has a product that inspects printed circuit boards in 3D that it is the next big 3D printing stock. We have our doubts that GreenJet will be a successful launch in this current economic environment and amid rapidly changing demands in the PCB market.
Litigation With Rudolph Technologies, Inc.
In looking through the latest 20-F, we found that CAMT has been ordered to pay around $8 million for the infringement of '298 Patent. CAMT has appealed the court's judgment and is awaiting a trial date. This potentially would have a large impact on CAMT's cash position. It also would cripple 2014 EPS figures if CAMT were to lose the appeal and be forced to pay the $8 million plus interest, as the company hasn't even made a total of $8 million in profits over the past five years.

Conclusion
Many investors were misled into buying CAMT for the wrong reasons. With 2007 technology finally coming to market in 2014, we believe it will be difficult for CAMT to increase revenues and earnings substantially after the launch of GreenJet into the market. It is difficult predict how successful GreenJet will be in the current environment, and we feel using the $0.25 EPS estimate for CAMT is more than fair. At these levels, investors are paying a huge premium for a struggling company that has a new product that may not even prove to be successful. That and the current litigation risk make it very risky to invest in CAMT, especially when its stock is trading at these lofty levels. Thus, we assign a sell rating to the stock with a $2.50 price target. We believe this price target is more than fair given that $2.50 was the high of its range before the stock recently spiked over 300%.
Disclosure: I am short CAMT. I wrote this article myself, and it expresses my own opinions. I am not receiving compensation for it. I have no business relationship with any company whose stock is mentioned in this article.