Portfolio construction takes many forms and one of the most popular is to lay out a Strategic Asset Allocation (SAA) plan and then find the appropriate securities to fit those asset classes. A different approach is to take a group of dividend aristocrats, supplement them with dividend oriented Exchange Traded Funds (ETFs), and add a few additional ETFs that are known to have low correlations with equity securities. Examples of low correlated ETFs are: TIP, TLT, JNK, DBC, GLD, BIV, BND, and LQD.
The core of the following portfolio comes from twenty (20) dividend aristocrats plus several dividend oriented ETFs, and the low correlated ETFs mentioned above.
Security Rankings: The first step in this portfolio building process is to select possible securities for investment, then rank them based on performance and volatility. Ranking the thirty-three (33) securities relies on three metrics. 1) Price performance over the past three months - 50% weight. 2) Price performance over the past six months - 30% weight. 3) Volatility ranking - 20% weight. Low volatile securities receive a higher rank.
The following table shows the ranking based on 12/02/2013 data. In addition to the ranking, the table shows whether the security is priced above or below several exponential moving averages and if the security has a positive or negative acceleration momentum.
SHY is color coded red (see column one) as it is our cutoff ETF. We do not invest in a security that is performing below SHY.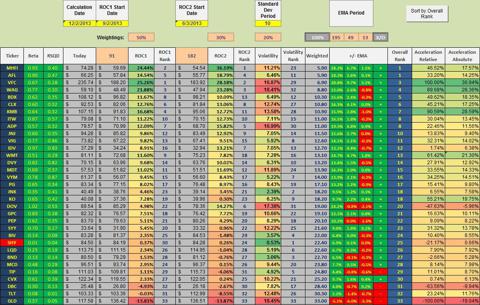 Click to enlarge
(Click to enlarge)
Correlation Cluster: The following screen shot divides the securities into different clusters based on correlation relationships. Building a diverse portfolio is not a function of the number of companies held in the portfolio, but rather the correlation between those companies or securities. The following diagram breaks the 33 securities into 10 clusters if a correlation of 0.39 is used as the cutoff value. Anything above 0.80 is considered highly correlated so 0.39 is a low correlation value.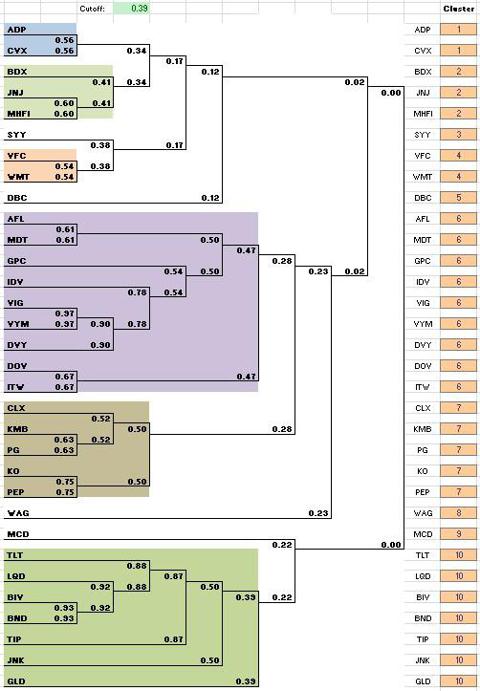 Click to enlarge
(Click to enlarge)
Buy Recommendations: The following table includes a wide array of signals one can use to reduce portfolio risk. Before going through those, focus on the securities recommended for purchase at this time.
Seven individual companies made the cut as did one ETF, JNK. Those seven stocks have these tickers; Automatic Data Processing (NASDAQ:ADP), McGraw-Hill (MHFI), Sysco (NYSE:SYY), VF Corp. (NYSE:VFC), Aflac (NYSE:AFL), Clorox (NYSE:CLX), and Walgreen (WAG). In the above diagram, DBC is the only security in cluster five, but it is not recommended for purchase as it is performing below SHY. The same is true for MCD, the only security in cluster 9.
This worksheet not only identifies the securities for purchase, but recommends the number of shares to hold based on the size of the portfolio. The table also includes what one might call "risk flags." 1) Is the security performing less well than SHY, our cutoff ETF? 2) Does the security have a negative acceleration percentage? 3) Is the "Golden Cross" negative? In other words, is the 13-Day Exponential Moving Average (EMA) priced below the 49-Day EMA? 4) Is the price of the security below the 195-Day EMA? These are all risk warnings the market may be weakening for a particular ETF or stock.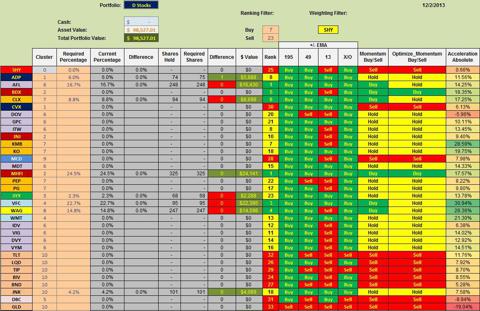 Click to enlarge
(Click to enlarge)
Cluster Rankings and Weightings: In the following table the recommended stocks and ETFs are extracted from the Buy Recommendations table in order to show their ranking with each other. This table provides a quick look at recommended purchases for this group of securities. From this list of 33 securities, here we have the best list based on current data.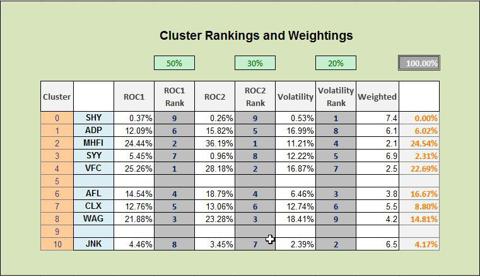 Click to enlarge
(Click to enlarge)
While Cluster Weighting Momentum (CWM) can be shown to work over the most recent bear and bull markets, well it perform well in the future? That question is being tested and evaluated using a number of portfolios tracked on the ITA Wealth Management blog. It is much too early to know if the CWM model adds alpha to any portfolios, but the trends look positive when measured against customized benchmarks set up for each portfolio. The real test will come during the next bear market as CWM is set up to reduce portfolio risk.
Disclosure: I am long WAG, TIP, TLT, JNK, LQD, BIV, BND. I wrote this article myself, and it expresses my own opinions. I am not receiving compensation for it (other than from Seeking Alpha). I have no business relationship with any company whose stock is mentioned in this article.