After listening to the full webcast of Alcoa's (NYSE:AA) investor day on November 7, I wanted to share my impressions and take-aways. Alcoa's stock price has ticked up over the last few weeks and diverged from the trend in aluminum prices. It will take more time to see how this dynamic plays out as I discussed in my previous article. In the meantime, Alcoa's investor day gave investors more information about the company and its new targets. Here are my eight impressions and take-aways.
The Transformation
Alcoa has two sides of its business: upstream (mining and production of aluminum) and downstream (manufacturing of value added aluminum products, mostly for the aerospace, industrial and automotive industries).
The upstream segment has the most exposure to aluminum prices and has suffered as aluminum prices dropped over the last few years. As a result, Alcoa's management is focusing more on the downstream business in its communications with investors.
This can be seen in the investor day agenda. At the 2012 investor day, the first presentation was "Aluminum Market Fundamentals." However, the 2013 investor day started with presentations about the downstream business and the "Aluminum Market Fundamentals" presentation was bumped to after the first break. This is very indicative of the way Alcoa's management is positioning the company to investors.
CEO Klaus Kleinfeld called the transformation "open heart surgery."
Considering the weakness in aluminum prices, it makes sense that Alcoa's management is focusing more on the downstream business.
However, I continue to view the upstream business, and aluminum prices, as the key swing factor for the company in the short/mid term. Over the long term, the transition to more value added products seems like a good move.
"Focus On What We Can Control"
The phrase "focus on what we can control" was used a few times as Alcoa's management emphasized that they are focused on productivity, innovation and other things that they can control. Aluminum prices are out of their control.
Alcoa's team is doing a good job on the things that they control, but investors should also pay attention to the dynamics that they can't control.
Revenue Growth Drivers
Alcoa set new targets for its Engineered Products & Solutions (EPS) and Global Rolled Products (GRP) segments:
EPS 2013-2016 revenue growth: $1.2 billion ($900 million from market share gains and innovation)
GRP 2013-2016 revenue growth: $1.0 billion ($900 million from market share gains and innovation)
The vast majority of revenue growth is expected to be driven by market share gains and product innovation and not growth of the market itself.
EBITDA
The new targets for EBITDA for EPS and GRP were more vague:
EPS: "Exceeding Historical EBITDA Margin % in 2016"
GRP: "EBITDA margins at or above average historical highs"
It would be nice to get more information about the EBITDA margin targets going forward.
Productivity
In 2009-2012 Alcoa generated $5.5 billion of productivity gains. Another $825 million of productivity gains were achieved in 2013 YTD.
These gains helped offset weakness in aluminum prices and a soft market. The big question is: can Alcoa continue to achieve productivity improvements going forward.
Management's response was that additional productivity gains are certainly possible. It has 17,000 ideas of additional productivity gains in its pipeline. Furthermore, its productivity improvements are driven by lots of small actions, which make ongoing improvements more sustainable.
The following is the breakdown of productivity gains YTD: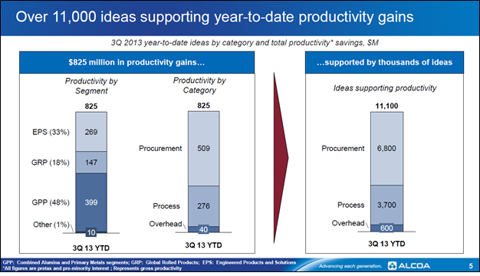 (Source: CFO presentation from Alcoa's 2013 Investor Day)
Most of the productivity gains come from procurement and about half of the gains are in the GPP (upstream) segment.
Working Capital
Similarly, Alcoa's management has driven down the working capital over the last few years. The decrease in working capital frees up cash for the company to use elsewhere. Although management said that it can achieve further improvement on working capital, Klaus Kleinfeld said that the pace of the reduction in working capital may decelerate:
"Right now I have to put a caveat to the working capital side, right? Because on the working capital side, we've got 20 days out, right? And there is a limit to how much you can do, right? We actually saw it and we have this discussion last time here that we might -- we might find a slope that's not as stiff as the one that we've seen before. Actually I have to tell you, we are ourselves surprised on how far we could drive that down... So I'm pretty optimistic that they will be continued that we will continue to see movements there but most likely with probably a little bit of a decelerated situation."

(Source: transcript of CEO remarks at Alcoa's 2013 Investor Day, emphasis mine)
It is not surprising that the pace of working capital reductions may slow, but this is the first time I have heard management talk about it.
End Markets Still Strong
There was a lot of discussion of the growth opportunities in the aerospace and automotive markets, but this is not new.
It's Hard To Reduce Capacity
CEO Klaus Kleinfeld was asked about the thought process on curtailments. His full answer is in the appendix below, but the main point is that it is a complicated process. There are many operational and commercial implications that needs to be thought out. On top of that, there may be an electricity contract that would make curtailments unattractive. And, in some cases there are labor issues related to curtailments or closing facilities.
It is important to consider all this when thinking about the declining price of aluminum and the supply/demand situation.
Curtailments are difficult and aluminum prices may need to experience a more dramatic fall before there are deeper cuts to the industry's capacity.
Conclusions
Alcoa is doing a good job of focusing on what it can control. Its productivity improvements have been impressive and Alcoa seems positioned to achieve further gains. Furthermore, the downstream businesses have growth opportunities driven by the increasing aluminum content in airplanes and cars.
However, investors need to also focus on what is outside of Alcoa's control. Currently, LME aluminum is trading at $1,742.50 per metric ton, which is a new low.
Appendix
Klaus Kleinfeld's comments on curtailments:
"First we don't think of this as being a digital process. I mean, it's not -- you're totally shut or you're only open, right? Because the reality there a multiple steps in between. And that's as the simplification [you do the smelter]. You can say as a first step, you can say I stop relining the pots, right? So you can do that pretty much anywhere. And it's going to cost a little bit of an issue in matching it but usually it can be done.

The next thing you say, I'm going to curtail part of the line. So you have to look at what you have to modify, whether you have a cross over so you can shut it off or you have to install the cross over then you do that.

The next thing is you say, I got the full line, right? The next thing is going to say I'm going to curtail more than one line and then it comes to the point of where you say, well, now doesn't make any sense anymore, I'm going to close the whole thing. And then comes the decision I'm going to prominently close it which has the implication of writing it down, right? And finding something else to do with it, right?

So this is -- this is the steps that we go through, right? And so, we go through basically every asset, right? Every asset is broken down into that granularity, right? Because this is the level on which we can make the decisions. And when we make the decisions, we look into what are the cash implications of it, right? The cash implications that we have for instance -- I mean, Bob, mentioned that.

I mean, sometimes we have a power contract that obligates us to either have full or in part [to take or pick] contract where we have to buy the power for a certain point in time and can't sell into the market or there is no market, right? Sometimes you have the option, you can sell it in the market but in reality there is no market in that region, right?

So that [are the stuff] that comes into it, then we look into other some obligations for instance. I mean, obligations in terms of how expensive are layoff cost, right? What are some obligations that we have through the contractual dimensions that we've signed at one point in time and in terms of for instance -- I mean, employment guarantees that have not been very often not been signed in regards to a certain plan but sometimes in regards to a certain region.

And if you bridge those ones, you often have implications on other ends, right? Then you look what implications do you have for instance on remediation cost? What implications do you have on ramp up cost, right? Let's assume you want to ramp this up again. And so, all these factors go in, we have a big, big -- it's a big multi various spread sheet which we use -- which we have build during the downturn already in 2009. And this is the mechanic that we use through the -- and in the end it's a relatively simple mechanic.

But the mechanic sound simpler than comes to negotiation part I know because you also have to see that some of this elements you've been influence. And I mean, as you know, we are currently having a big negotiations publicly since two weeks in Canada, right? Where we have a situation where the [L rate] potentially would hit, we've made it very, very clear we're not accepting it.

And this would be -- I mean, then the end of all our Canadian operation if we are forced to accept the other rate, right? And the interesting thing that you saw there, I mean, pretty much politicians from all around Canada and certainly from Quebec came to our site and said, yes, you're absolutely right and we are going to find a way that this is not going to happen because we cannot miss the -- you are reminding us that the word has moved on. In Canada it used to be very attractive when it came to electricity cost and has become from a very attractive position into a non-attraction position. And that's not good for Canada, right?

So this is very national, national point that we're addressing there and there's very good cooperation with the partnership, so."

(Source: transcript of CFO presentation at Alcoa's 2013 Investor Day)
Disclaimer: The opinions expressed above should not be construed as investment advice. This article is not tailored to specific investment objectives. Reliance on this information for the purpose of buying the securities to which this information relates may expose a person to significant risk. The information contained in this article is not intended to make any offer, inducement, invitation or commitment to purchase, subscribe to, provide or sell any securities, service or product or to provide any recommendations on which one should rely for financial, securities, investment or other advice or to take any decision. Readers are encouraged to seek individual advice from their personal, financial, legal and other advisers before making any investment or financial decisions or purchasing any financial, securities or investment related service or product.
Information provided, whether charts or any other statements regarding market, real estate or other financial information, is obtained from sources, which we and our suppliers believe reliable, but we do not warrant or guarantee the timeliness or accuracy of this information. Nothing in this article should be interpreted to state or imply that past results are an indication of future performance.
THERE ARE NO WARRANTIES EXPRESSED OR IMPLIED AS TO ACCURACY, TIMELINESS, COMPLETENESS, OR RESULTS OBTAINED FROM ANY INFORMATION IN THIS ARTICLE OR ANY LINKED WEBSITE.
Disclosure: I have no positions in any stocks mentioned, but may initiate a long position in AA over the next 72 hours. I wrote this article myself, and it expresses my own opinions. I am not receiving compensation for it (other than from Seeking Alpha). I have no business relationship with any company whose stock is mentioned in this article.
Additional disclosure: I may trade any of the securities mentioned in this article at any time, including in the next 72 hours.