ProShares, the issuer responsible for pioneering leveraged and inverse ETFs, has filed prospectuses for 16 new funds. Expansion is nothing new for ProShares–the company has launched a handful of new ETFs over the last year–but the filing was interesting because it detailed plans for 300% leveraged ETFs. ProShares' current product line, which consists of more than 90 funds, includes only two ETFs with 300% leverage, the UltraPro S&P 500 (NYSEARCA:UPRO) and UltraPro Short S&P 500 (NYSEARCA:SPXU).
Historically, ProShares has focused on inverse, 200% leveraged and 200% inverse leveraged ETFs, although the issuer expanded its offerings outside this area last year when in introduced the first 130/30 ETF. Several of the proposed funds, which are based on domestic and international equities and fixed income ETFs, would compete directly with existing products from Direxion.
Direxion's 3x leveraged and inverse leverage Russell 2000 ETFs (TNA and TZA, respectively) had almost $600 million in aggregate assets at the end of January, while the company's 3x and -3x emerging markets ETFs (EDC and EDZ, respectively) had more than $500 million in assets. ProShares also filed prospectuses for 300% funds based on the MSCI EAFE Index, a benchmark covered by Direxion's DZK and DPK.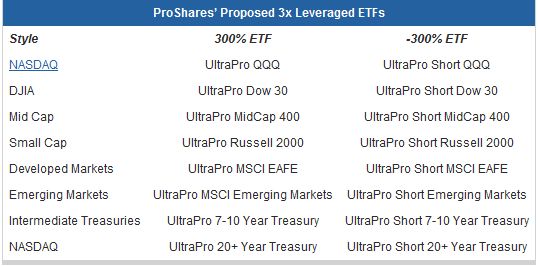 Despite facing a firestorm of criticism last year and the implementation of regulatory changes in December of 2009, leveraged ETFs have continued to surge in popularity. According to data from the National Stock Exchange, leveraged and inverse leveraged ETFs saw almost $10 billion in net cash inflows last year.
Disclosure: No positions at time of writing.