Chad Brand is the founder and President of Peridot Capital Management LLC, an RIA firm based in Pittsburgh that focuses on investment management and consulting services for individuals.
We had the opportunity to ask Chad about his single highest conviction holding in his portfolio and the investment thesis behind it.
• • •
Seeking Alpha (SA): What is your highest conviction stock position in your fund - long or short?
Chad Brand (CB): Peridot Capital has recently been increasing our long position in Pinnacle Entertainment (NYSE:PNK), a small cap regional gaming company.
Pinnacle focuses on the local casino market, as opposed to Las Vegas. Although Pinnacle is based in Las Vegas, they have no properties there (their only presence in Nevada is a property in Reno). In addition to the Reno location, Pinnacle owns and operates casinos in Louisiana, Indiana, and Missouri.
SA: How much is this an industry pick as opposed to a pure bottom-up pick?
CB: Though the gaming and travel industries appear to be set for a rebound in 2010, Pinnacle is really a bottom-up company-specific investment idea. I do not have a strong sense that the Vegas tourist market will snap back meaningfully in the short term, so I prefer a regional player like Pinnacle, as consumers will have to travel less to visit their facilities. Pinnacle stock is attractive due to its meager valuation and growth opportunities through upcoming new property openings, rather than due to any macro economic call.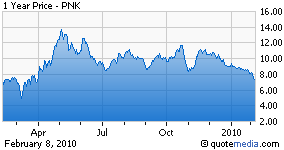 SA: How is Pinnacle positioned vis a vis its competitors?
CB: Pinnacle has chosen to focus its attention on a few states, building several properties in each, rather than try to reach every part of the U.S. casino market. As more and more states legalize gaming and gaming licenses are increased to raise local tax revenue, there will surely be additional competition in the regional casino market, but Pinnacle is very focused on strong markets and building premium properties. Their track record is very good, so there are reasons to believe they will continue to grow the company and do so profitably for shareholders.
Currently, Pinnacle owns three properties in Louisiana, two in Missouri, one in Nevada, and one in Indiana. In March 2010 they will open a third property in the St Louis market (River City in St Louis county, which will complement the company's two downtown properties). In 2011 Pinnacle plans to open Sugercane Bay, a sister site adjacent to its current L'Auberge property in St Charles, Louisiana. The company also has plans for another new property to serve the Baton Rouge, LA market, to open no earlier than 2012.
These growth plans set Pinnacle apart from its competitors, most of whom are not looking to add properties given current economic and credit market conditions. Pinnacle's strong balance sheet and track record gives it the ability to continue to grow, as they remain a small player in the gaming industry.
SA: Can you talk about valuation? How does valuation compare to the competitors?
CB: Valuation is the main reason I am so bullish on the prospects for Pinnacle's stock going forward. Right now, Pinnacle shares trade at $7.16 per share, giving the company an equity market value of $430 million (about 60 million total shares outstanding). Add in net debt of $880 million and the enterprise value comes in at $1.3 billion.
Based solely on their existing properties, Pinnacle stock trades in-line with the industry at about 6.8 times trailing EBITDA (2009 EBITDA should come in around $190 million). From that perspective, Wall Street is assigning absolutely no value to any of Pinnacle's future projects. If the credit markets were closed and there were no signs that they could build anymore properties anytime soon, perhaps that would make sense and the stock would be considered fairly valued. However, that is far from the case today.
Pinnacle is going to open its St Louis county project, River City, in March. It is expected that the property will be more profitable than their downtown casino Lumiere Place, which currently earns between $40 and $50 million in annual EBITDA. Pinnacle believes its total St Louis market will exceed $100 million annually once River City opens and achieves optimal efficiency.
Assuming $50 million in annual cash flow from the new project, assigning a 7 times EBITDA multiple on that property pegs its value at $350 million, or nearly $6 per share. Given that the casino will open so soon, I cannot understand why Wall Street is assigning no value to it. The entire company is now being valued for around $7 per share, so it is easy to see how undervalued the company appears to be based solely on this one new casino. Book value today is about $8.25 per share, so the stock also trades at a 10% discount to the stated value of its assets, which gives me even more confidence in the stock.
And River City is not the only future growth opportunity for Pinnacle. Assuming the credit markets and economy continue to improve, it is very reasonable to think that Sugercane Bay and the Baton Rouge project could expand the company's cash flow in 2011 and 2012. Those properties would only increase the value of the company even further.
SA: What is the current sentiment on the stock? How does your view differ from the consensus?
CB: Pinnacle and the other regional gaming companies are largely being ignored. Negative sentiment toward consumer related businesses is likely the reason, coupled with the fact that investors prefer the glitz and glamour of larger casino companies like MGM and Las Vegas Sands (NYSE:LVS) that have exposure to the growing Macau gaming market. I am simply excited about these new properties in Missouri and Louisiana and the fact that investors don't seem to be assigning any value to them when they should prove to be quite profitable for Pinnacle.
SA: Does Pinnacle's management play a role in your position?

CB: Interesting that you ask about management. Pinnacle recently announced that its CEO, Dan Lee, has resigned. That came after an embarrassing story about Lee surfaced, in which he traveled to Missouri and had a controversial meeting with some local lawmakers before a hearing there. Evidently Lee was told by the Board to stay in Vegas but instead he got pretty aggressive with some voting members hours before a vote was scheduled. Reports indicate that was one of a handful of reasons that led to him leaving. I am confident that a competent replacement will be found and the rest of the development and operating team at the company has done a solid job, so I have no reason to doubt they can do so going forward.
SA: What catalysts do you see that could move the stock?
CB: For me it will really be all about these new properties and the reaction to them once they start bringing in meaningful profits. Right now, Pinnacle is spending a lot of money to build these casinos (which is reducing current earnings) and has not received any returns yet. Once that changes, EBITDA will increase and the stock price should follow suit.
SA: What could go wrong with this stock pick?
CB: If the economy takes another leg down and the existing properties bring in less money, that would affect cash flow and bring down the stock. Given how resilient they were in 2008 and 2009, it would take quite an economic shock for that to happen.
More likely, if the new properties perform below expectations that would hurt the thesis. This could happen if Pinnacle overbuilds capacity in any one area, or if more and more gaming licenses being issued by the states result in more competing properties and therefore less of the gaming pie is available for each company.
SA: Thank you very much for sharing your thesis, Chad.
CB: My pleasure.
Disclosure: Chad Brand's Peridot Capital is long PNK
If you are a fund manager and interested in doing an interview with us on your highest conviction stock holding, please email Rebecca Barnett: rbarnett@seekingalpha.com