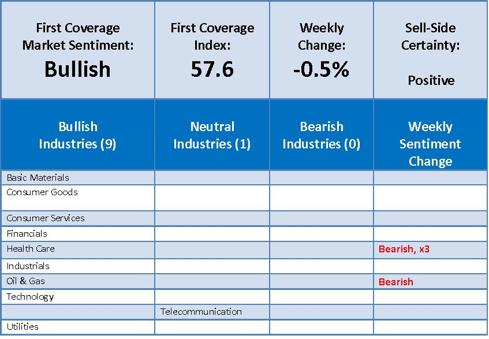 Foreign Issues Make it Hard to Fathom Where the US Market is Headed
The dominant factor in the market at the moment seems to be the budget and debt problems of a handful of European countries. It has become hard to discern what current market thinking is relative to our myriad of domestic issues. Even though it has been peak reporting time for earnings and those reports in general have been reasonably good, the market seems to still be searching for direction. It is still not clear if the recent pull back in the market is the start of a substantive market correction. Particularly in times like this, when the market itself is providing little direction to investors, sell-side sentiment can be useful in providing help in which industries make the most sense. There are some pronounced sell-side sentiment trends to the upside in two industries and to the downside in two.
Positive Sentiment Trends Continue in Technology and Consumer Services
Last week we said that there were strong upward trends in the Technology, Consumer Services, and Oil & Gas industries. After a 7% drop in sell-side sentiment last week, the Oil & Gas industry fell off the upward trend list. The drop broke not only a two-month upward trend, but also a broader seven-month upward trend in sell-side sentiment.
Even though sentiment for Consumer Services was only up 1% last week and for Tech was barely above flat with the week before, the solid two-month uptrend in both industries remain unbroken. Sentiment for Consumer Services also remains in a broader eight-month uptrend, while sentiment for Tech appears to be ready for an upside breakout of a flattish seven-month channel.
For most Tech and Consumer Services companies, fourth quarter earnings reports and guidance for the next quarter or year have been good. Companies in most industries are still reluctant to add capacity or employees, but pent up demand for upgrading computer as well as network hardware and software seem to be causing many to spend in this area, even in the face of economic uncertainty. Even if the economic recovery proves to be slower than the consensus forecasts, it should be a good year for most Technology companies. For those who want to play it safe in times of uncertainty, Consumer Services are a traditional haven in times of a weak economy. Therefore, it seems sell-side sentiment and fundamentals are both favoring these two industries.
Sentiment Continues to Rise in Telecomm and Basic Materials
Although sell-side sentiment only rose a little less than 1% in both Telecomm and Basic Materials last week, it was enough to reinforce the possibility that we mentioned last week of an upside breakout in sentiment for both. Telecomm had seen a sharp fall in sell-side sentiment from early November through early January, but seems to have reversed that trend. Sentiment for Basic Materials has been in a very volatile channel since mid-October, but appears poised for a breakout to the upside.
Negative Trends in Sentiment Continue for Financials and Health Care
Sell-side sentiment for both Financials and Health Care continued their strong downward trends of the last two months, with both registering sentiment declines of about 3% last week. No doubt the political uncertainty in both areas has been a big factor.
Sell-side sentiment for the Industrial industry did manage to rise almost 2% last week, but that, and a 1% gain the week before, is not yet enough to declare a reversal of the downward trend of the prior six weeks.
Stocks to Watch
Over the last week, the following stocks had the largest bullish and bearish sentiment shifts amongst the sell-side.
Bullish:
Bearish:
Until next week …
Disclosure: NO POSITIONS