US retailers released their January same-store-sales last week.
Sales at stores open at least a year, the retail industry's main performance benchmark, rose 3.3% in January over the prior year, according to Thomson Reuters and Retail Metrics Inc. The index doesn't include retail behemoth Wal-Mart Stores Inc. (NYSE:WMT).
Not a great improvement given the very depressed sales last year. It is therefore important to compare sales over two years and watch for improving trends month/month. For example, The Gap (NYSE:GPS) and The Limited (LTD) had similar SSS growth rates this January, 5.0% and 6.0% respectively. However, in January of 2009, The Gap's SSS declined 23% while The Limited's dropped 9.0%. So, compared to January 2008 sales levels, The Gap is now –19% while The Limited is –4%, a huge relative discrepancy between two retailers in similar niches.
The basic trends observed throughout 2009 remain: high-end stores and mass department stores continue to struggle while discounters keep gaining share.
Among department stores, Macy's (NYSE:M) is performing relatively better lately. Among discounters, TJX keeps outperforming strongly. BJ's shows consistency not seen in Target (NYSE:TGT) nor Costco (NASDAQ:COST). Meanwhile, Aeropostale (NYSE:ARO) keeps on trucking: its January 2010 SSS are 23% above their 2008 levels.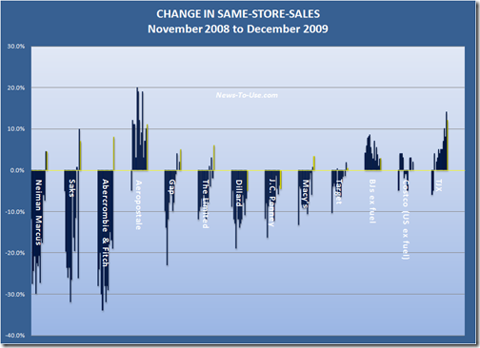 Disclosure: NO POSITION