Analyzing a single stock in the market can be daunting - there are more performance metrics to take into account than an NFL draft class. To make things simpler, investors tend to classify stocks in two major groups to help narrow their focus: Growth and Value.
Growth stocks are identified as companies with earnings expected to grow at an above average rate. They typically come with high price-to-earnings multiples reflecting the market's expectation of increasing profits, and don't usually offer dividends, instead investing excess capital into the company. Because these are companies that need to grow at a faster pace, they tend to be smaller in size - less than $2 billion in market capitalization.
Value stocks on the other hand usually have the opposite qualities. They trade at lower price-to-earnings multiples relative to their fundamentals and are thus thought of as discounted. They are characterized by low price-to-book ratios and often offer higher than average dividend yields. These stocks can be found in any size category but all share the same low metrics.
The oil and gas industry is full of stocks that can be identified as either growth or value plays by investors. Drilling and exploration companies are often found in the growth category, while integrated operations and refiners typically yield value stocks.
The refining sector is a downstream business, meaning that these companies operate after the production phase and are involved in the refining, distribution, and sale of energy products. This gives oil and gas stocks a negative correlation with oil prices. If prices are high, margins are squeezed and if prices drop, the spread widens.
The recent move in oil below $100 a barrel means that refiners, who have been discounted partly thanks to decreased earnings, now have an opportunity to grow while still being available at lower price-to-earnings multiples.
Delek Logistics Partners (NYSE:DKL) is an oil and gas refiner with a market cap of $723 million. Roughly 33% of the outstanding shares are owned by Delek Group, giving the Israeli company considerable control in Delek Logistics - but this has come down from over 50% last year. Delek started trading publicly just over a year ago, and now looks like a perfect storm of growth and value. Its location along the Gulf Coast makes Delek a prime target for investors looking to profit off of the resurgence of refineries.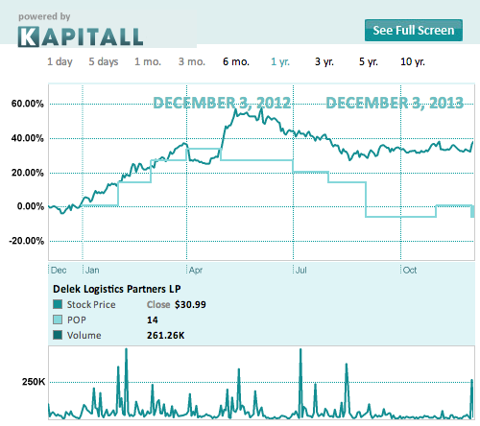 (Click to enlarge. Sourced from Zacks Investment Research.)
Delek has engaged in operations to smooth out margins by buying from cheaper inland sources in an effort to reduce costs. Eying opportunities for growth, it has also invested in a pipeline project, a rail facility, and several refinery improvements. Quarterly earnings growth from last year has risen over 128% and has a price-to-earnings-to-growth ratio of just 0.81 fitting neatly into a growth stock portfolio.
As a fairly new company for investors to trade, the company has gone largely unnoticed - a boon for value investors. It trades at a mere 8.88 times earnings and offers a high dividend yield of 5.38%. Delek's payout ratio is a scant 36% which means the majority of excess capital is put back to work in growth projects. Perhaps the most appealing aspect of this dual nature stock is the fact that it carries no long-term debt giving it defensive characteristics in addition to everything else.
For investors looking to have their cake and eat it too, it's hard to pass up Delek Logistics. As a company with limited historical information though, there is no track record established as a reliable reporter of earnings and steady dividend payer. The large third party control held by Delek Group could also negatively affect the stock price and may be a big factor as to why it trades at a discount. However, if future expectations can be met, this could be a highflying stock at fire sale prices.
Disclosure: I have no positions in any stocks mentioned, and no plans to initiate any positions within the next 72 hours.
Business relationship disclosure: Kapitall is a team of analysts. This article was written by Daniel Cross, one of our writers. We did not receive compensation for this article (other than from Seeking Alpha), and we have no business relationship with any company whose stock is mentioned in this article.