Introduction:
Robert Klein recently posted an article at MarketWatch titled: "What Is Your $1 Million Payday Really Worth?" Klein says this:
It's fascinating to me as a retirement-income planner to see how people decide when they're going to retire, assuming that they plan on retiring one day. One of the more interesting approaches that I come across from time to time is what I refer to as the million-dollar payday. Although there are variations, it goes something like this, "When I have a million dollars in savings and investments, that's when I'm going to retire."

While I appreciate simplicity, bells and whistles immediately go off in my head when I hear this pat answer. Nine times out of 10, the individual or couple making this statement hasn't had a retirement-income planning analysis prepared to determine whether this dollar amount will provide sufficient after-tax income to meet projected lifetime financial needs.
Now, as Klein points out, "when" you achieve this goal makes all the difference in the world. Someone who achieves this goal by age 55 will be too young to begin drawing Social Security benefits and you might have to have that million dollars last 30 or 40 years.
On the other hand, if you achieve this goal at age 70, you not only will have the million dollar accumulation to help fund your retirement, but if you have waited until age 70, you and your spouse can collect your maximum Social Security benefit and this million dollars, with Social Security might give you a comfortable retirement that will serve you well for the rest of your lives.
I know that there are some people who have a million dollar net worth, some on their way to achieving this milestone and some that will never get there. I'm not really writing about amassing a million dollars, though, but more concerned about the whole notion of retirement and funding that retirement with enough money to live on comfortably.
What I Know:
As someone who is rapidly approaching retirement, I find that every day, it seems as though I am taking more time to look at my current financial situation, my existing investment portfolios, and my other investment holdings.
Not only do you have to consider what you are going to do with your various investments, but you have to get familiar with all of the nuances of Medicare as well as different strategies for taking advantage of Social Security benefits. Perhaps I should have gotten started on this planning earlier, but it is what it is and over the next six months, all of this should begin to come into better focus for me. But, I'm pretty sure that I will get a surprise or two along the way.
My retirement portfolio has been profiled in articles that I've written and published at Seeking Alpha. I've identified my personal retirement portfolio as "The Portfolio For The Common Man" and here is a link to an earlier series of articles that discussed this portfolio.
While there have been some changes to the portfolio and there have been some new additions, the fundamental strategy for this portfolio is still in place. That is an ever increasing income stream to use in retirement that will outpace inflation.
In this two part article, I mentioned my "mantra points" for my own personal investment style. As an investor, I am guided by the following principles:
1. I want to identify companies that have paid and have been increasing their dividends for at least 5 years in a row. A company that is growing their dividend annually for at least this 5 year period is a DG stock. Anything else is just a stock that pays a dividend.
2. I want to purchase companies that are priced at a value to their intrinsic worth. If a DG stock is "overvalued" I am not a buyer, plain and simple. How do we know if a stock is "overvalued?" For me, I use standard investment metrics like PE ratios, etc. As confirmation, I use FAST Graphs.
3. I will consider selling stock in a company if the company has failed to increase the dividend, has cut the dividend, or has eliminated the dividend.
4. I will consider selling a stock when there appears to be a better opportunity to increase my income stream and reduce risk. I will also consider selling a stock once the fundamentals of that company no longer meet my investment criteria.
5. I will rebalance my portfolio on at least an annual basis. I will take profits off the table by bringing the holdings within the portfolio back into a relative balance with the other holdings.
6. I believe that "Total Return" is a metric that I will use to evaluate the performance of individual holdings within my portfolio. However, total return is not a primary driver in my decision to sell or hold a particular stock. All total return is, to me, is a snapshot of how an individual stock has performed over a particular point in time relative to the other holding within my portfolio.
What You Should Know:
My retirement portfolio is held in a Traditional IRA account at my brokerage, Charles Schwab. It normally has 35 stocks in the portfolio, but I have recently added some new positions to the portfolio. At the time of writing the article, back in September of 2012 my portfolio was made up of these particular companies. The information contained in the table below are from that 2012 article and represents the way things were at that moment in time: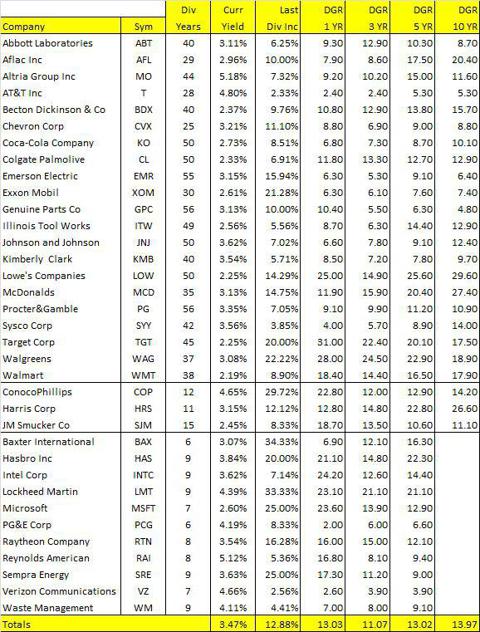 The stock list is divided into three parts. The first part is Dividend Champions, the second group is Dividend Contenders, and the third group is made up of Dividend Challengers.
Lessons I've Learned:
As a general practice, I reinvest dividends received from my holdings back into the individual stocks that I own as they are paid. I have been accumulating shares in my portfolio since beginning in 1984 with my five largest holdings, Coca-Cola (NYSE:KO), Johnson and Johnson (NYSE:JNJ), Procter and Gamble (NYSE:PG), Kimberly Clark (NYSE:KMB), and Colgate Palmolive (NYSE:CL).
As individual companies presented buying opportunities over the years, I've added new money to existing holdings as well as the more recent additions. Again, going back to the "mantra" that I use, value happens all the time and adding to the holdings has made sense at different times during the holding period of this portfolio.
Late last year, we found value in Safeway (NYSE:SWY), CA Technology (NASDAQ:CA), Staples (NASDAQ:SPLS), Western Union (NYSE:WU), CSX Corporation (NYSE:CSX) and Norfolk Southern (NYSE:NSC).
We have since sold our positions in Safeway, Staples, and Western Union. We continue to hold and have added to our positions with CA Technology, CSX Corporation, and Norfolk Southern.
In June of this year, we added Holly Frontier (NYSE:HFC), Caterpillar (NYSE:CAT), Deere (NYSE:DE), Questcor Pharmaceuticals (QCOR), Qualcomm (NASDAQ:QCOM), Capital One Financial (NYSE:COF), Oracle (NASDAQ:ORCL), Schlumberger (NYSE:SLB), and Joy Global (NYSE:JOY) all of which are dividend paying stocks. We also took positions in two companies that do not pay dividends, F5 Networks (NASDAQ:FFIV), and Cognizant Technology (NASDAQ:CTSH). This group of companies is up 16% since June. While we discussed these companies as being part of another portfolio, we felt strongly about these companies to add them to my own retirement portfolio. Here is a link to the article that discussed these companies.
While some of these new positions represent "thinking outside the box" and have been purchased for not only dividends, but capital gains, nonetheless, we feel that they represented value at the time of purchase and we remain convinced that these companies will continue to deliver results moving forward.
Getting back to the notion that a million dollars isn't what it used to be It becomes somewhat academic to many investors. It really doesn't matter if your portfolio is a million dollar portfolio or not. The object for DG investors is to create an income stream that is large enough, when tied into Social Security, to provide a comfortable retirement and one that will grow income at a rate that continues to outplace inflation.
What Needs To Be Done:
It is never too early to begin an investment portfolio. Whether you begin with a 401k at work, like I did, or fund a Roth IRA or another retirement account vehicle.
I did not begin this journey until I was 34 years old. Before then, I was a grocery clerk, working in a supermarket that was a union shop. The extent of my retirement planning in those early days was to work in the union for 20 or 30 years and then take a union pension. I thought I was brilliant with that plan.
Then I took a job with Coca-Cola and a whole new world was opened up to me. Investment programs like the 401k; Coca-Cola's pension plan and hanging out with other guys who worked for large companies, caused me to take a hard look at what I wanted my "golden years" to be like.
Regardless of your own investing strategy, it seems to me that buying companies at a value to intrinsic net worth of the company is going to give you a head start in building a potential one million dollar portfolio.
Can there be a balance between DG and Growth? Sure. If you purchase a particular company as a growth candidate and it performs the way you expect it to, the value of your total portfolio changes with the increase in the price of that underlying stock. In the case of purchasing SWY, WU, SPLS, and taking those profits gave us more money to invest in the other stocks we purchased in June.
In a way, managing the portfolio and taking advantage of situations as they present themselves, making the decision to purchase additional companies and accelerate the overall value of the portfolio is what gets you to the eventual end game.
Disclosure: I am long AFL, MO, T, BAX, BDX, CAT, CVX, KO, CL, COP, CSX, DE, EMR, XOM, GPC, HRS, HAS, ITW, INTC, SJM, JNJ, KMB, LMT, LOW, MCD, MSFT, NSC, ORCL, PM, QCOM, QCOR, RTN, RAI, SRE, SYY, TGT, VZ, WAG, WM, WMT, CA, CTSH, JOY, COF, FFIV, HFC. I wrote this article myself, and it expresses my own opinions. I am not receiving compensation for it (other than from Seeking Alpha). I have no business relationship with any company whose stock is mentioned in this article.