(Editors' Note: This article discusses a micro-cap stock. Please be aware of the risks associated with these stocks.)
MusclePharm (OTCQB:MSLP), the Denver, CO-based manufacturer of sports nutrition products, appears to be on a roll. It's on track to break $100M in sales this year for the first time. This represents an eye-popping 290% CAGR from 2009's modest total of ~$1.4M. Its products are sold in over 15,000 retail outlets in 110 countries and over 100 online channels. In July, it announced a 3-year endorsement deal with Arnold Schwarzenegger that could extend for as long as 9 years if certain sales milestones are met. In October, it launched the Combat product in 430 Costco stores. The company has beefed up its balance sheet, raised capital and hired new managerial talent in preparation for its planned up-listing to a major US exchange in early 2014. Considering MSLP's tiny market cap of $74M, this stock looks like a sure multibagger in the next 12 months. On the surface, everything looks great.
Superficial knowledge of a potential investment appears sufficient for many retail investors. After reading a glowing press release or two and a quick perusal of the website, they seem to lunge for their computers to place their buy orders. After all, sales are growing at an ultrafast clip and one of the world's most famous celebrities has signed on to promote the brand. Hello, jackpot! If MSLP is good enough for "Ahnold" then it should be good enough for us regular Joes. I'm an old-fashioned type of investor, though. I believe that I should educate myself about a company's business, management and markets before committing my hard-earned capital. After all, many "sure things" have a nasty habit of falling flat. In this case I find it surprising that MSLP's market cap, its bulletin board status notwithstanding, is so modest considering all the good news. Could the market be this inefficient? Why does it seem to be ignoring the Austrian Oak's stamp of approval?
I decided to look closely at MusclePharm. What I found makes me want to "run for the choppa!" This situation is, yet again, a "Get Rich or Die Tryin'" scenario where insiders have accumulated sizable low basis positions in preparation for an impending liquidity event. Tardy retail investors will be faced with the sizable headwinds of dilution and insider selling. It's a familiar refrain. There is more to the story, however. When I looked closely at management's behavior since the company's formation in 2008, I began to question certain executives' priorities, judgment and business acumen. I also came away with the impression that certain executives have been more focused on building their own net worth instead of a sustainable investment-worthy enterprise. Since I need to have full confidence in management's skill, vision and commitment to building shareholder value before I consider deploying capital, MSLP falls short of consideration. Let's look at the situation in more detail.
Here are the firm's financial results: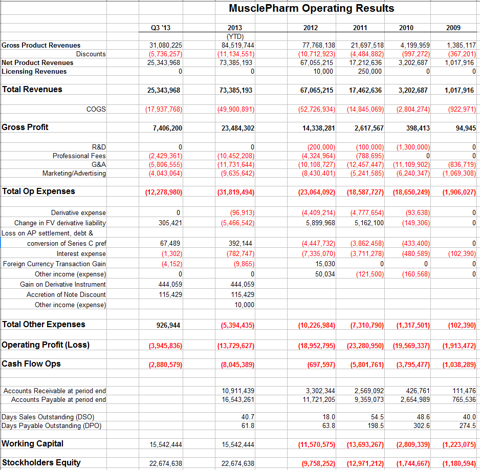 It should be clear why MSLP's market cap is where it is. Despite its impressive top line growth, it has never been profitable and its operations have never been cash flow positive. Until recently, it has always been cash poor exemplified by its chronic working capital deficits. Here is how the company describes its funding activities (2012 10-K, p25): Our primary source of operating cash had been through the sale of equity and debt which included the issuance of secured and unsecured promissory notes, some debt had conversion rights to equity and a recent bridge loan in the fourth quarter of 2012.
As a matter of clarification, MSLP does not break out the "operating expenses" line items on the Income Statement. Everything is lumped into G&A. I had to do this myself in order to isolate certain expenses. Also, it nets advertising credits against revenue instead of including it in advertising expense. Since the company does not disclose the specific amounts of these credits, I could not add it to ad expense. License revenue, for some reason, is disclosed under "other expenses" so I moved it to revenue. Professional fees, the monies paid to product endorsers, are combined with R&D. I found a disclosure in the 10-K about the amounts invested in research and development so I was able to list them as a separate line item. R&D investments for this year will not disclosed until the 2013 10-K is filed.
Note the miniscule amount of R&D spending. This appears a bit light for a company that purports to have a commitment to a systematic and scientific approach to product development. Here's how it describes its method (2012 10-K, p5): New products are derived from a number of sources, including our management, trade publications, scientific and health journals, consultants and distributors. Prior to introducing new products, we investigate product formulations as they relate to regulatory compliance and other issues. Each of our products is the end result of a six stage process involving recognized nutrition scientists, doctors and professional athletes. The specifics of this six stage process are not disclosed, but my impression is that it is significantly less robust that an ethical drug developer.
The Nature of the Nutrition Supplement Business
According to the company, the global vitamin and nutrition supplement market is $75B. In the US, 20% of the adult population regularly uses vitamins. Domestic consumers also spend over $30B per annum on nutritional supplements. Sports nutritional supplements represent 12 % of the total or $3.6B. According to the Nutrition Business Journal, this is the fastest growing segment in the industry, with a forecasted CAGR of over 9% until 2020. Clearly, there is substantial demand for the products by professional and amateur athletes as well as millions of weekend warriors.
Predictably, a sizable growing market attracts many participants. Competing product manufacturers are Optimum Nutrition (a subsidiary of Glanbia Nutritionals), Iovate Health Sciences, Bio-Engineered Supplements and Nutrition, EAS, Weider Nutrition International and Twinlab.
Direct selling firms also vie for retail customers. Leading firms are Amway, Nature's Bounty, Sunrider, New Vision USA, Herbalife, USANA and Melaleuca.
The retail space is crowded as well. Brick and mortar firms offering supplement products are GNC, Vitamin World, Vitamin Shoppe, Great Earth Vitamin and Vitamin Cottage. The online channel numbers over one hundred but is dominated by bodybuilding.com, vitamins.com, GNC.com and vitaminshoppe.com.
What is fascinating about this business is the fact that 99.9% of the products are unnecessary. All a person needs to do to build muscle mass, increase endurance or maintain a healthy lifestyle is eat right and exercise properly. There is not a shred of scientific proof that vitamins and nutritional supplements deliver benefits over and above a balanced diet and sensible exercise for healthy individuals.
Let's look at protein supplements, for instance. Everyone knows that protein is essential in building muscle mass as well as an important workout recovery nutrient. If any supplement delivers incremental nutritional value this one does, right? Not so fast. Here's what bodybuilding.com has to say on the subject: The biggest advantage of protein supplements is not that they can build more muscle than chicken or egg whites or any other whole food protein, the biggest advantage is convenience. Consuming small frequent meals is the optimal way to eat, regardless if your goal is muscle gain or fat loss. To keep your body in constant positive nitrogen balance, you should consume a complete protein every 3 hours. For many people, eating this often is nearly impossible. This is when a high quality protein supplement is the most helpful. Aside from the convenience, the truth about protein supplements is that they offer few advantages over protein foods. There is no scientific evidence that you cannot meet all of your protein needs for muscle growth through food.
I salute bodybuilding.com for its realism and candor. I visited the site expecting to find heavily biased hype and hyperbole, but instead found a lot of common sense advice and useful information under the nutrition tab. Well done.
Unfortunately, the same cannot be said of the manufacturers. If you read the product descriptions, you get the impression that they are super foods that will enable you to leap tall buildings with a single bound. Let's look at a few of MusclePharm's offerings (2012 10-K, p4):
Assault: Fuel pre-workout power for long-lasting energy to enhance focus and build lean muscle mass
Battle Fuel XT: Herbal formula to enhance athletic performance and support testosterone production
MusclePharm Bulletproof Nighttime Recovery Matrix: Promote deep sleep, optimize recovery, support growth hormone/testosterone output
Carnitine Core: Promote energy for muscle gain and fat loss
Combat Powder: Enhance digestion of nutrients and maximize response to intense training
Hybrid N.O.: Increase muscle fullness and vascularity
Re-Con: Promote post-workout growth and repair, replenish nutrients
MusclePharm Shred Matrix: Multi-level weight loss system; increase metabolism, decrease body fat, appetite balance and weight management
Z-Core PM: Mineral support formula to support natural testosterone levels, deep sleep and healthy libido function
Clearly, some of the descriptions not only test the boundaries of the "truth in advertising" standard but also come close to stating actual medical claims. Terms like "enhance focus", "increase muscle vascularity" and "support testosterone production" give the products an air of scientific credibility, but, again, these are not benefits that cannot be gained by eating a well-balanced diet and adhering to a healthy lifestyle.
To date, the FDA has directed its attention to product safety, including monitoring products for banned substances and GMP. Labeling accuracy, other than a list product ingredients and related information, has not been a priority. If the agency ever decides to hold the nutritional supplement and vitamin makers to the same standard of scientific proof of efficacy as medical product manufacturers, it would eviscerate the industry.
MSLP's Value Proposition
Considering the intense competition and the fact that the products aren't really necessary for most athletic needs or weight loss, how will MSLP grow and prosper? In my view, it is a 100% marketing issue. It is about building its brand. Here is how the company describes its approach (2012 10-K, p3): Our core marketing strategy is to brand MusclePharm as the "must have" fitness brand for workout enthusiasts and elite athletes. We seek to be known as The Athletes Company®, run by athletes who create their products for other athletes, both professional and otherwise. We believe that our marketing mix of endorsers, sponsorships and providing sample products for our retail resellers to use is an optimal strategy to increase sales.
I think this strategy is spot on right, especially the use of endorsers and sponsorships. This has been the cornerstone of successful sports-related brand-building for years. If you refer back to the financial results spreadsheet, you will note the rapid increase in "professional fees" expenses as evidence of MSLP's commitment to this aspect of its strategy.
The challenge for the company is its ability to extend its brand and expand product consumption beyond its core constituency of body builders. In 2012, for example, bodybuilding.com and GNC accounted for 33% and 12% of revenues, respectively. In 2011, the proportions were 41% and 14%. Body builders are enthusiastic consumers of anything that they believe will help them bulk up. For example, they were the first athletes to use anabolic steroids back in the 1960's. Their affinity for anabolic agents persists today evidenced by the references to testosterone in several of the company's product descriptions. I do not perceive that other sports enthusiasts or weekend warriors will have the same desire for the breadth of MSLP's current products. Most of the sales will probably come from no more than two or three. This is the impetus behind the company's move into a line of gels and liquids which are popular with amateurs.
Company History
MusclePharm LLP was formed on April 22, 2008. The founders are Brad J. Pyatt, a former professional football player and Cory Gregory, a bodybuilder and former personal trainer. Mr. Pyatt received 60% ownership in consideration of his contributions to product formulations and his contacts with business owners and other professional athletes. Mr. Gregory received 40% ownership in consideration of his relationships with Dr. Erik Serrano, a noted sports nutritionist and future advisory board member, Louie Simmons, a noted bodybuilder and strength coach, his business contacts and his connections with potential investors. Neither men put up any cash.
Investors were successfully recruited, however, because they raised enough start-up capital to formulate products while the number of owners grew to twelve. In the summer of 2009, the company began selling products in 485 Vitamin Shoppe stores.
On February 18, 2010 MusclePharm completed a reverse merger with a shell company, Tone in Twenty, a defunct personal training business. 26M common shares were distributed to the twelve MusclePharm LLP owners. Mr. Pyatt's stake was now 13.27% and Mr. Gregory's was 9.83%, although both men controlled 51% of the voting shares by virtue of their combined ownership of 51 Series B Preferred Shares.
In 2011, events began to get interesting. Jeremy DeLuca joined the management team as President and Chief Marketing Officer. Mr. DeLuca and his brother Ryan were co-founders of bodybuilding.com. He joined MusclePharm in the midst of a federal criminal investigation concerning the violation of the Food, Drug and Cosmetics Act by the introduction of misbranded drugs into interstate commerce. Specifically, bodybuilder.com sold certain products that contained steroids or synthetic "clones" of steroids between 2006 and 2009. Mr. DeLuca authorized the sale of these products despite being informed by his in-house FDA Compliance Officer that the ingredients did not qualify as dietary supplements. The case was settled in May, 2012 with the company paying a $7M fine and Mr. DeLuca paying a $600k fine in order to avoid going to prison. In consideration of his guilty plea on six counts he received three years probation. None of this seemed to bother Mssrs. Pyatt and Gregory, though, because they gave Mr. DeLuca a 10.2% stake in MSLP in addition to his executive position and ~$1.8M in salary, bonus and stock awards. Here's a snippet from Wikipedia about bodybuilding.com:

On February 14, a 13 G/A was filed by Socius Capital registering 10.1M common shares that represented a 9.9% stake in MSLP. Socius entered the picture in 2010 when it paid the company's outstanding debt of $375,000 to World Extreme Cagefighting. This was the remaining balance of a $500k sponsorship deal that began on November 18, 2009. In consideration of paying the bill, MSLP issued it 7.8M common shares.
All three Socius principals are convicted felons. Michael S. Wachs was convicted on misappropriating $20.8M of client money for his personal use. Richard Josephburg had been convicted 21 times for fraud, conspiracy and tax evasion and did a stint in prison. Terren S. Peizer was a key player in Michael Milken's shenanigans at Drexel. He avoided prison by turning state's evidence and testifying against his former mentor.
On September 1, MSLP signed a contract with Zuffa Marketing LLC, the owner of UFC as one of five primary sponsors and its official supplement provider. On September 16, the company's COO, Leonard K. Armenta, resigned amid accusations by Quinton "Rampage" Jackson that he was a spy for the Jon "Bones" Jones camp before their scheduled September 24 bout in Denver. Mr. Armenta's alleged role in the "Spy-gate" scandal has never been conclusively determined. I'm not making this up.
On October 11, a Prospectus was filed for the planned sale of 40M common shares held by JMJ Financial, an investment vehicle for Justin Keener. This represented a 11.49% stake in the company. He entered the picture in 2010 on the basis of funding a $1.64M promissory note that eventually converted into 12.7M common shares. Mr. Keener ran afoul of FNRA earlier in the year by refusing to turn over his financial records pertaining to trades of millions of shares of sub-penny stocks that he executed through his account at a trading firm named Gordon where he was one of the principals. FNRA suspended him from associating with any FNRA firms and planned to permanently bar him if he failed to produce the records and testify before an investigative committee within three months of the hearing panel's decision. Another principal at Gordon was Cobblestone Trust whose trustee was Pauline Fife. Her husband, John M. Fife, was barred by the SEC from being an investment advisor for 18 months for using fraudulent tactics to purchase variable annuity contracts so he was disqualified from being the trustee. Mr. Fife's name entered the MSLP picture on January 22, 2013 when a 13-G/A was filed for Intermountain Capital Corp. The reporting "person" was JFV Holdings, Inc., an investment vehicle for John M. Fife. Interestingly, zero shares were declared.
Also in 2011, another colorful character emerged. Drew Ciccarelli, a notorious penny stock promoter and email spammer, amassed a 7.27% stake through two wholly-owned entities, TSX Ventures LLC and Five Star Consulting LLC. Mr. Ciccarelli and his partner, Gabe Nix, operate a series of stock-promoting websites through Global Marketing Media LLC. Here is some legal entertainment from GMM's base in Charleston, SC if you are interested. In June, the company extended a sportswear licensing agreement to Mr. Ciccarelli via MusclePharm Sportswear LLC. MSLP terminated the agreement in November, 2013.
MusclePharm used its common stock as currency because it had no cash. It issued shares to retire debt, compensate executives and pay some of its expenses. Predictably, the share count skyrocketed. On the date of the reverse merger (2/18/10) 26,070,838 shares were issued and outstanding. By the end of the year, the number was 118,649,439. By the end of 2011, it was 281,484,658. By the end of Q3, 2012 the number had ballooned up to 1,610,071,688. On November 26, 2012 the company executed a 1:850 reverse split and then immediately authorized 100M shares.
The reverse split was one of the action items that MSLP had to execute in order to qualify for an up-listing to either NASDAQ or NYSE MKT. It appears to me that the company's plan to clean up its operations and pursue certain acquisitions was driven by two consultants, GRQ led by Barry Honig and Melechdavid, Inc., led by Mark E. Groussman. Both firm's one-year contracts commenced on July 19, 2012. Notable actions included establishing independent directors, hiring accounting professionals and installing more robust reporting processes and procedures, hiring managerial talent, expanding the advisory board, moving product inventory onto the balance sheet and raising enough money to achieve a working capital surplus and positive shareholder equity. Each firm was paid with enough shares of common stock to establish a 4.2% stake in MSLP. Both men had worked together previously on a reverse merger involving American Strategic Minerals.
Both consultants invested additional capital in the company through, I believe, participation in a Series D Convertible Preferred Stock offering completed on February 4 for 1.5M shares @ $8. Each was convertible into two shares of MSLP common. Per a 13G disclosure filed on April 11, 2013 Mr. Honig's stake had grown to 5.83%. On April 15, another 13G was filed disclosing Mr. Groussman's 8.36% stake.
Sometime in the early part of the year, another prominent investor came into the picture. Dr. Phillip Frost, a Forbes 400 billionaire entrepreneur and CEO of OPKO Health, joined MSLP's Advisory Board. He is also the largest shareholder in Biozone Pharmaceuticals.
As 2013 comes to a close, almost all of the preferred stock and warrants from the Series A, C and D issues and the promissory notes have been converted to common shares under very attractive terms. All of the insiders are now superbly positioned for a big payoff when the up-listing occurs in 2014.
The Biozone Acquisition
Biozone Pharmaceuticals, a contract manufacturer, began its corporate life on December 4, 2006 under the name International Surf Resorts, Inc. It was an internet-based provider of international surf resorts, camps and guided surf tours. The company failed to gain traction so the original owners resigned on February 22, 2011. The new management team decided to pursue opportunities in the medical field and subsequently changed the name to Biozone Pharmaceuticals on March 1, 2011.
On May 16, 2011 Biozone Pharma acquired the assets of Aero Pharmaceuticals whose majority shareholder was Dr. Phillip Frost. On June 30, the company consummated a reverse merger with Biozone Laboratories.
On February 24, 2012 OPKO Health purchased a 2-yr convertible promissory note from BZNE for $1.7M @ .20/share plus warrants to purchase 8.5M shares @ .40/share. The same day it signed a limited licensing agreement with OPKO Pharmaceuticals for an exclusive license for the Qusomes and Equasomes drug delivery technologies for ophthalmic use and non-exclusive for other areas.
On March 26, 2013 MusclePharm purchased a 1-yr convertible promissory note from BZNE for $2M for the right to buy 10M shares @ .20/share plus warrants to buy an additional 10M shares @ .40/share. On October 24, BZNE repaid $1M and MSLP converted the balance into 5M shares. On November 13, MSLP sold its entire 5M-share stake earning a profit of $500k (buying @ .20 and selling @ .30). Note the day's price action. I wonder how it managed to execute the trade?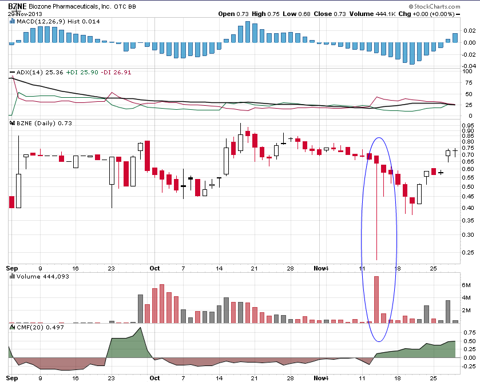 On November 12, 2013 MSLP entered into an asset purchase agreement with BZNE whereby it would acquire all the assets related to the Qusomes, Hypersorb and Equasomes drug delivery technologies. The purchase price was 1.2M shares of MSLP stock.
On November 25, MSLP sold the 10M BZNE warrants to certain investors for $1.25M (.08/share). Investors now owned the rights to buy BZNE shares for a fully-burdened price of .48. BZNE currently trades @ ~.75 but will undoubtedly rise after MSLP ramps up its gel and liquid production. Warrant holders are poised for a big payday. As I mentioned earlier, the largest BZNE shareholder is Dr. Phillip Frost. Another significant owner is Barry Honig. The warrant buyers are not disclosed but most certainly include some of the names previously mentioned.
Let's look closely at what MSLP did in this scenario. It received an early repayment of half of the outstanding funds plus accrued interest. It also received 5M shares of stock that it sold to the public for a $500k gain. It then sold the warrants for $1.25M earning a net profit on the note of $750k. It then acquired the BZNE assets for 1.2M shares of MSLP stock. Not only did MSLP save its cash in the deal, it actually made money by making the acquisition. BZNE shareholders will smell like roses too because they will profit from a rise in MSLP's stock price as well as their own.
There is nothing improper about this transaction. It's just a shining example of the benefits insiders create for themselves in exchange for their efforts and for the risks taken. It's great work if you have the money to pull it off.
A Few Additional Items to Consider
MSLP bulls could argue that most or all of the "warts" I've described above pertain to the "old" MusclePharm. Today's company, with its improved financial health, famous endorsers, professional managers and well-qualified advisors, is an entirely different organization, one with the credibility to take the company to the next level. Maybe. Over the past two years, the firm has undergone a significant transformation. And let's not forget the modest valuations of MSLP and BZNE. Retail investors still have time to buy in and ride the wave to the Promised Land.
I know that most retail investors insist on being fully informed before deploying their hard-earned money on an investment. Here are some of the more prominent items that caught my eye as I was researching the firm (in no particular order):
CF Ops remains negative despite the impressive top line growth. In my opinion, this is a substantial red flag that shouts out that it is premature to jump on board. For example, the company will probably be ~$11M CF negative this year despite recording $100M in sales. If you are bullish on MSLP, wait until this turns positive. This is a big money-saver over the long term. CF Ops the first area that I review when I research a potential investment. If it is negative, I move on.

Churning of accounting firms. MSLP has gone through auditors more frequently than Warren Beatty went through girlfriends in the 70's. On August 24, 2009 the company dismissed Moore and Associates and hired Seale and Beers. On March 1, 2010 it fired Seale and Beers and hired Schumacher & Associates. On January 10, 2011 it fired Schumacher and hired Berman & Co. On September 18, 2012 it fired Berman and after hiring EKS&H LLLP on September 14. Typically, the reason for this type of turnover is that the auditors refuse to sign off on management's aggressive accounting "preferences". This is profound considering auditors' willingness to push the envelope right to the edge of permissibility. MSLP does not disclose the specific reasons for its lack of patience with its accounting firms, but no credible reason exists that justifies this degree of churn. Here's an example of aggressive accounting that I noticed when I looked at BZNE's most recent 10-K. Compare the depreciation tables for both firms. BZNE's appears reasonable and customary while MSLP's is much more aggressive. This will artificially inflate MSLP's profitability once the assets are fully depreciated but still in use.

Generous employment agreements for certain executives. On August 15, 2011 Mr. Pyatt signed a 5-year employment contract that stipulates a base salary for 2011 of $250k; 2012: $350k; 2013: $400k; 2014: $450k and 2015: $500k plus 10k shares of Series A Convertible Preferred Stock at the 3-year anniversary (converts to 2M common shares). On November 14, 2011 MSLP amended his contract to include a bonus scheme that pays him $10k cash and $100k in stock for every $1M of new revenue versus the prior year. No metrics for profitability are specified. For example, in 2012 he should have earned $6.51M under this plan. The compensation table in the 2012 10-K (p68), though, lists $490.5k in cash compensation but no stock. I could not locate a disclosure that explains the discrepancy. Also on August 15, Mr. Gregory signed a similar contract, albeit for a lower salary, but the same revenue-based bonus scheme. Both of these men have large equity stakes already so these contracts are unnecessarily generous and send the message that their priorities are misaligned with investors.
Off-balance sheet operating leases. Commitments over the next three years total $1.1M. This understates the firm's liabilities on its financial statements so I hope the company moves them on promptly.
Absence of contact information for key executives. This may sound trivial, but there is no email address listed for any MSLP executive on its website or public documents. The only investor relations contact disclosed in its press releases is a consultant. Last week, I scheduled a telephone interview with this consultant for this morning to clarify a few issues. I called on time but he was MIA, leaving no message as to his whereabouts or reasons for not being available. Is this appropriate behavior for a supposed IR pro and an emerging market-leading firm?
Epilogue
So what do we make of all this? For me, I'll be on the sideline for a good long while until MusclePharm can prove that it can achieve profitability and consistently positive cash flow. If and when it happens, though, I doubt that I will establish a position because of the issues that I have described here. Just like a person, I judge a corporation by the company it keeps and its actions. Maybe management could not be discerning with its choices of financiers because it was desperate for capital. It's possible, but it still looks like poor judgment when it chose to do business with convicted felons and ex-cons. Unfortunately, the bulletin board/pink sheet/reverse merger universe is where most of these people seem to operate.
The key future event, of course, is the up-listing. When it debuts, bulls should insist on a high degree of enthusiasm from buyers. If it fails to materialize, well....
Disclosure: I have no positions in any stocks mentioned, and no plans to initiate any positions within the next 72 hours. I wrote this article myself, and it expresses my own opinions. I am not receiving compensation for it (other than from Seeking Alpha). I have no business relationship with any company whose stock is mentioned in this article.