Hoards of longs, 80 year old billionaires who have more money than I'll ever see in my life, weight loss believers, and those who have either made money on Herbalife (NYSE:HLF) stock or are distributors. That is the list of people who I, and several other bears, are against when we write about our bearish leans towards Herbalife. To that list, you can now add the Belgian court system. Why not just pin us bears against the rest of the world at this point?
But, I'm feeling spry and up for the challenge. I know for me, I continue to stick with my bearish lean and conclusion that Herbalife is indeed a pyramid scheme. And, I'll continue to calmly add to my short as funds are available and Herbalife continues to rise.
Today, Herbalife released a statement seemingly nodding to the fact that the Belgian court, who previously ruled that Herbalife was a pyramid scheme, has overturned that ruling. Herbalife commented on this without too much substance on the actual appeal being upheld, but it would appear that it has:
Global nutrition company Herbalife (NYSE: ), welcomes the judgment by a Belgian Appeal Court that states the company's sales model is in full compliance with Belgian law. This judgment overturns a previous ruling by the lower court, in response to claims brought by Belgian consumer organization Test-Aankoop, that Herbalife was operating a pyramid scheme.

Herbalife always believed that the first judgment contained factual errors and was based on misinterpretations of its direct-selling sales method, and was confident that the original judgment would be overturned on appeal.

Herbalife continues to focus on supporting its independent distributors and their customers in Belgium, and the company remains committed to an open and transparent relationship with those distributors and customers, as well as regulatory authorities and all other stakeholders.
While I'm sure it's a proud day in the Herbalife long camp, it still doesn't deal with the fact that Herbalife falls under all seven of the characteristics of a pyramid scheme released by the good ole' U-S of A's Securities and Exchange commission, which they published on October 17th of this year. This is an except from that memo, for the full text you can click here:
When considering joining an MLM program, beware of these hallmarks of a pyramid scheme:

No genuine product or service. MLM programs involve selling a genuine product or service to people who are not in the program. Exercise caution if there is no underlying product or service being sold to others, or if what is being sold is speculative or appears inappropriately priced.
Promises of high returns in a short time period. Be leery of pitches for exponential returns and "get rich quick" claims. High returns and fast cash in an MLM program may suggest that commissions are being paid out of money from new recruits rather than revenue generated by product sales.
Easy money or passive income. Be wary if you are offered compensation in exchange for little work such as making payments, recruiting others, and placing advertisements.
No demonstrated revenue from retail sales. Ask to see documents, such as financial statements audited by a certified public accountant (NYSE:CPA), showing that the MLM company generates revenue from selling its products or services to people outside the program.
Buy-in required. The goal of an MLM program is to sell products. Be careful if you are required to pay a buy-in to participate in the program, even if the buy-in is a nominal one-time or recurring fee (e.g., $10 or $10/month).
Complex commission structure. Be concerned unless commissions are based on products or services that you or your recruits sell to people outside the program. If you do not understand how you will be compensated, be cautious.
Emphasis on recruiting. If a program primarily focuses on recruiting others to join the program for a fee, it is likely a pyramid scheme. Be skeptical if you will receive more compensation for recruiting others than for product sales.
Again, regardless of Belgium, the Herbalife model continues to identify with the 7 SEC given aspects that make up a pyramid scheme:
1. Emphasis on Recruiting
Anyone who has viewed an Herbalife recruitment event on YouTube or has been to one in real life knows that recruiting is pitched first, products pitched second. In Bill Ackman's Robin Hood presentation, he presents evidence of an example of this, a video of Susan Peterson, a founder's circle member at Herbalife saying:
"If you want to move the check, you need to find other people that want to make money and represent the Herbalife products and the Herbalife opportunity."
2 & 3. Promises of High Returns in a Short Time Period & Easy Money or Passive Income
Both of these qualify under examples like Doran Andry's recruitment videos and numerous Herbalife recruitment presentations. The company is pitched as a way to make millions in passive income, and to start making substantial amounts of money quickly. Founders & chairman's club members often use examples and photos of checks they receive now and income they're currently making, despite having extraordinary downlines and many, many, years worth the recruiting behind them.
4. Buy-In Required
Which leads us to buy-in. The very first thing you must do as a distributor is to spend money, not make money. Depending on where you want to start in the commission structure, you're going to have to dole out the corresponding amount of money. You're looking at $3,000ish to simply start as a supervisor. There's many tales of people at the bottom of the pyramid that spend this money, never to make it back again, while stuck with inventory they either cannot sell or do not want to use.
5. Complex Commission Structure
As Ackman's presentation points out, the commission structure is insanely complex. Included in the Herbalife sales & marketing plan, you'll find:
126 pages of text and forms
over 150 rules
11+ levels of distributors
five different methods for compensation
over 60,000 words
Herbalife distributors that I've spoken to myself are largely unable to describe the intricacies of their own commission structure, of which they are a part of. Again, my favorite part of the commission structure was the "Millionaire's Club", where a distributor earns about $97k/year. And as I've said in the past, let's party, because by that standard, I'm a millionaire, too!
All this time being a "millionaire" and I didn't even know it.
6. Inappropriately Priced Items
Again, this nail is hit directly on the head by Ackman and company in his last presentation with one swift example. The reality is, though, Herbalife products are consistently way more expensive than their established counterparts. And, you can see that they're all over eBay and other retail sites on sale for discounts to what "distributors" paid for them. That's what happens when you hold onto inventory too long, you discount it and want to get it sold.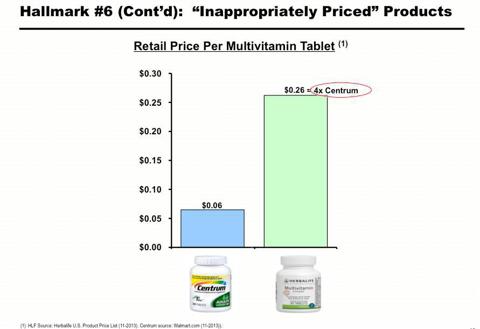 7. No Demonstrated Revenue from Retail Sales
This is another one that we can basically nail directly on the head. I talked about this ad nauseam during my last article about Herbalife, some of which I will quote below: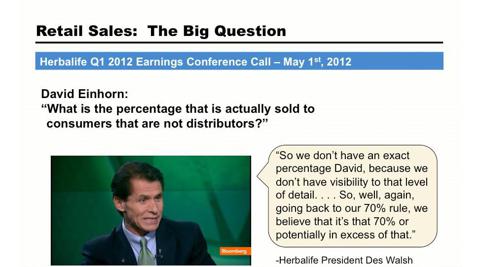 Alright, so the company, which prides itself on governing distributor vs. retail sales through its 70% rule, doesn't really seem to have a number as to how much product is sold to either.
As Ackman pointed out in his Robin Hood presentation, companies like Tupperware have extremely firm grasps on these numbers with Tupperware's COO reporting them to management weekly. Herbalife, however, not only doesn't have the data, but seems to be dancing around a finite answer for the company with regards to this question.
Somebody in IR at Herbalife needs to work with counsel to at least come up with the appearance of having an answer for this question, so they can all be on the same, confused page.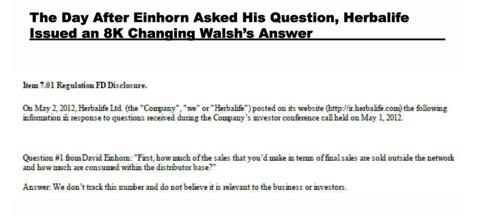 Additionally, this was again another point of contention after Ackman made his first presentation. CEO Michael Johnson, sounding like he had a couple too many of Herbalife's "Lift Off" energy pills, furiously answered questions with CNBC in regards to this issue, sounding half annoyed and half like he just got done playing a game of full court basketball.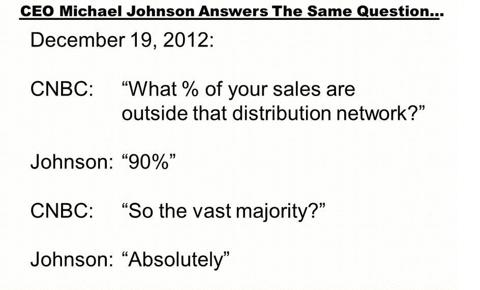 But, then he comes out to say that 90% of distributors are buying their own product? That's almost the inverse of what he said in his first interview. Which one is it?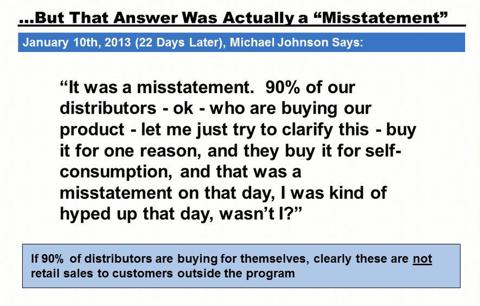 This is just one, of many examples, of confusion and general sloppiness with the company's message.
Conclusion
Additionally, the valuation placed on Herbalife stock continues to skyrocket with lack of underlying fundamentals to support it. Today's rally is on behalf of "someone not calling the company illegal". That does nothing to bolster Herbalife's fundamentals from a financial perspective, and isn't worthy of a 5% increase.
According to the company's 10-Q from October 28th the company had about $455MM in shareholder's equity and 101 million shares outstanding. That leaves us with a book value of $4.50/share on paper and a price/book ratio of roughly 15. The company is simply overvalued.
Remember kids, it's supposed to be the norm to run a company that isn't doing things illegally. Furthermore, that doesn't mean that Herbalife isn't a pyramid scheme.
Everyone that continues to buy at these skyhigh valuations is purchasing stock from a company that still has not released audited financials, is under an 11 month SEC enforcement division review and is severely overvalued. But, to each his or her own.
In light of the court's decision, I will continue to short Herbalife as it continues to pop off of news, confident that the fundamentals from a business - as well as a regulator - point of view, will drive the long-term direction of Herbalife.
Best of luck to all investors.
Disclosure: I am short HLF. I wrote this article myself, and it expresses my own opinions. I am not receiving compensation for it (other than from Seeking Alpha). I have no business relationship with any company whose stock is mentioned in this article.