Shares of 3D Systems (NYSE:DDD) have rallied 40% in just three weeks after the company announced third quarter earnings on October 29. Since November 19, the stock corrected almost 20%, and has been trending higher over the last two weeks. After checking the most recent short interest data, it is certain that the 40% run was mostly fueled by short-covering, since the stock interest decreased significantly in the first part of November. My view on the short-term prospects has not changed over the past two weeks, and I believe that 3D Systems is still vulnerable, and that risk outweighs reward at the moment.
Significant short-covering in November
The most recent short interest data shows a 6.5 million shares decrease in short interest as of November 15. This translated into strong buying demand which pushed the shares of 3D Systems higher in the first 15 days of November. Short interest decreased to 20.6% of free float, from 27.5% at the end of October. The short interest is still high, especially when compared to Stratasys (NASDAQ:SSYS), which has just 5% of its free float shorted as of November 15. It will be interesting to see the new short interest data, as I suspect that further short covering has stopped the decline of 3D Systems.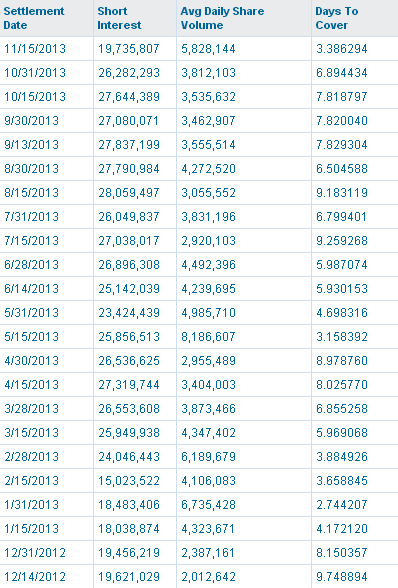 3D Systems short interest, courtesy of Nasdaq.com
3D Systems still trading at a P/S premium over Stratasys
In my previous article on 3D Systems, I noted that 3D Systems is trading at a premium over Stratasys on the basis of their respective price to sales ratios. This is still the case, and 3D Systems' P/S ratio is still 17% higher than Stratasys'. The disparity started at the beginning of November, when 3D Systems' rallied 40% and Stratasys did not follow suit, as it rose less than 20% in the first part of November. The fundamentals do not justify the higher valuation for 3D Systems, since both companies have grown revenue at a very similar rate over the past several quarters, and both are expected to deliver similar revenue growth in the future. I would justify this premium just on the IBM acquisition rumor, but I still believe that the acquisition is highly unlikely.
Group impact - voxeljet and Organovo selloff
Most of the stocks related to 3D printing have sold off significantly at the same time 3D Systems did. voxeljet (NYSE:VJET) dropped 54% in three days, although it has recovered some of its losses in the ensuing days. Organovo (NYSEMKT:ONVO) corrected 42% in two days. Both stocks were targets of negative research reports: voxeljet by Citron Research, which called the company "a total joke", while Organovo crashed after fellow Seeking Alpha contributor published a quite bearish report. Both voxeljet and Organovo are far from their recent highs, but Stratasys and 3D Systems have rallied following their selloffs and are not far from their all-time highs. However, the rally attempts came on lower volume, implying weak demand, although this could also be attributed in part to the Thanksgiving holiday, when trading volume is traditionally lower.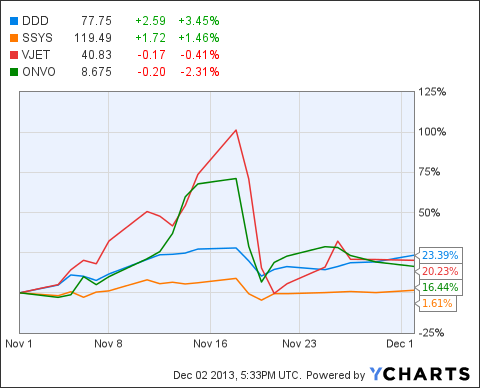 Conclusion
I am still concerned over the short-term prospects for 3D Systems, because of the following:
Most of the demand in early November was short-covering, which could be short-lived. I would like to see strong institutional demand (institutional ownership declined in the third quarter by 1.1 million shares), not just short covering.
3D Systems is trading at a 17% premium over Stratasys based on the P/S ratio, which was not the case until early November.
3D printing related stocks are highly vulnerable after their strong selloffs, which might spark more selling.
The risk still outweighs reward in the near-term. However, the long-term prospects of 3D Systems are still intact, as long as the strong growth is there.
Disclosure: I have no positions in any stocks mentioned, and no plans to initiate any positions within the next 72 hours. I wrote this article myself, and it expresses my own opinions. I am not receiving compensation for it (other than from Seeking Alpha). I have no business relationship with any company whose stock is mentioned in this article.