Discontinuing the HPDI Engine - a temporary hole in the revenue
Westport (NASDAQ:WPRT) launched a 15-liter High Pressure Direct Injection, or HPDI, LNG engine a few years ago. The engine was manufactured with the combination of both, Westport's HPDI technology and Cummins's (NYSE:CMI) ISX technology. This engine technology was used to decrease the amount of diesel usage by over 95%. In the third quarter results this year, Westport announced the discontinuation of its 15-Liter LNG HPDI engine in North America. It is the only natural gas engine available for trucks in this market. This decision was due to low demand for this engine, as the company has managed to sell only a thousand engines since it launched. For now, it has stopped manufacturing this engine. Westport aims at vertically integrating this engine rather than unfitting it. Instead of making a universal product, the company will manufacture engines as per the client's requirements, which will be fitted in the client's unit itself. For example, Westport plans to launch a 13-Liter HPDI engine for Volvo by the end of the coming fiscal year. This is similar to the F-150 natural gas engine it designed for Ford (NYSE:F), which Westport announced in August this year. I expect this to have a positive impact on the segment's topline, as the company will start delivering this engine by the first quarter of 2014. With both the start and end of the coming year supported by such huge projects, Westport will be able to revive revenue to the previous $100 million levels it posted in last year's second quarter, and I believe it will continue this improvement rate in the long run.
On the other side, Cummins launched the ISX 12G-engine, which is a 12-Liter engine available with a 400 horsepower version. It is a natural gas engine with CNG and LNG versions available. It also meets environment standards like the 2013 and 2014 U.S. Environmental Protection Agency, or EPA, regulations and the U.S. Department of Transportation fuel economy and greenhouse gases regulations. Overall, it provides a good package of reduced emissions and lower costs on fuel. The engine is also capable of providing fleet managers with a ROI within 18 months. Due to this, it has gained a lot of importance over the existing 15-liter engine capable of producing approximately 485 horsepower, so company decided to discontinue the 15-Liter natural gas engine.
The advantages of the 12-Liter engine over the discontinued one can be proved with the example of MHC Truck Leasing, a company that manages 4,000 trucks for services it provides in 11 states in the U.S. Recently, MHC delivered 10 new trucks with this engine to Valley Proteins, a recycling-centric company. MHC stated that it chose this engine because not only will it save on reduced diesel usage but it also cuts the greenhouse emissions by 468.8 metric tons annually. Given the improved features of this engine and its growing popularity, I expect Cummins and Westport will experience a boost in their engine segments in the coming quarters.
Benefiting from rising diesel prices
Despite the moderate level sustained by diesel prices this month, it remains near historic highs at around $3.88 per gallon presently. Generally, any rise in these fuel prices leads to higher expenses, due to which individuals or companies tend to search for low-cost fuel alternatives.
The rise in diesel fuel prices has accelerated the shift to natural gas. Presently, the price difference between diesel prices and natural gas prices is over $1. Taking the basic assumption of a truck running 50,000 miles in a year, the fleet manager saves over $7,800 every year on each truck.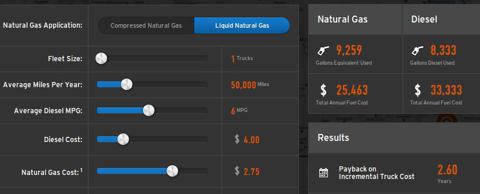 Source: FreightLiner
I think this positive commodity price environment will further drive natural gas vehicle adoption. Even though natural gases cost less, there are less natural gas fuel stations in the U.S. With the support of Clean Energy Fuels (NASDAQ:CLNE), I anticipate this will change soon. In the last week of October, Clean Energy Fuels announced that it would be opening a natural gas processing and fueling terminal in Jacksonville, Florida, which will be able to produce 300,000 gallons of LNG per day. With such projects, I believe the availability of natural gas fueling stations will increase significantly in the long run.
Along with this expansion, Clean Energy is expected to benefit in terms of fuel revenue from the Westport and Universal LNG deal, which took place on October 30th. As per this deal, Westport will supply its 900 Ice Pack LNG Tank Systems to Universal LNG, which will be delivered over 2014 and 2015. The shipment of these systems is expected to start in this quarter. This deal is anticipated to be valued around $20 million. The environment-friendly and cost-beneficial aspect seems to aid Westport from all sides; the company is not only benefiting in the engine segment but also the tank systems business. Overall, I expect Westport to win similar projects, in line with the growth in natural gas usage, in the coming years.
Once this deal completes, Clean Energy can benefit from providing natural gas through its natural gas fuel stations in the U.S. Based on the above assumption that each of the above trucks will utilize around 10,000 gallons of natural gas every year, in total (for 50,000 miles per year) 900 trucks will be using about nine million gallons every year. With the natural gas priced around $2.80, Clean Energy is anticipated to get an opportunity of approximately $25.2 million every year indirectly from this deal. This means that through the Westport-Universal LNG deal, Clean Energy is anticipated to experience natural gas sales equivalent to 10.3% of its total revenue generated in the trailing 12 months.
Buy this stock to gain in the long run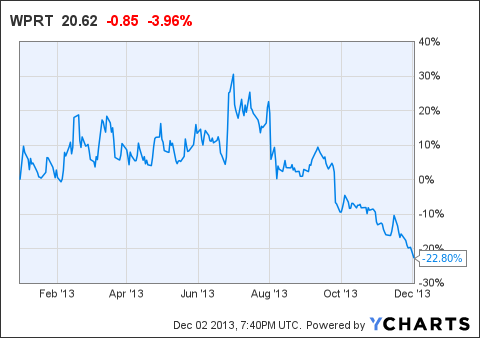 In the year-to-date period, the stock price of Westport has experienced a decline of over 22%. This was mainly due to a fall in the revenue levels, which I expect to recover in the coming year, based on the upcoming projects, like its deal with Ford. In terms of valuation, the stock is overvalued at present when considering price to sales ratio. I do not expect drastic changes in the near term, but it will definitely improve in the future.
On the other side, the use of natural gas is well established and growing in transit; I believe the adoption of natural gas as fuel in trucking applications is in the early stages at present. Based on the OEM relationships, technology advantage, and the presence in light, medium, and heavy-duty applications, I expect Westport to become a major player in this market as the adoption of natural gas for transport increases. Presently, Westport is in the early stage for a growth increase, but it's definitely expected to grow in the long run.
Disclosure: I have no positions in any stocks mentioned, and no plans to initiate any positions within the next 72 hours. I wrote this article myself, and it expresses my own opinions. I am not receiving compensation for it (other than from Seeking Alpha). I have no business relationship with any company whose stock is mentioned in this article.