It is time for the last gold miners analyst watch monthly update in this calendar year. As in previous articles of this series we will be noting price targets and target changes in comparison with results published in our last edition at the start of November.
We continue to consider the following stocks (in alphabetical order): Agnico Eagle (NYSE:AEM), Alamos Gold (NYSE:AGI), Allied Nevada (NYSEMKT:ANV), AngloGold Ashanti (NYSE:AU), AuRico Gold (NYSE:AUQ), B2Gold (NYSE:BGT), Barrick Gold (NYSE:ABX), Eldorado Gold (NYSE:EGO), Gold Fields (NYSE:GFI), Goldcorp (NYSE:GG), Harmony Gold (NYSE:HMY), IAMGOLD (NYSE:IAG), Kinross Gold (NYSE:KGC), McEwen Mining (NYSE:MUX), New Gold (NYSEMKT:NGD), Newmont Mining (NYSE:NEM), Primero Mining (NYSE:PPP), Randgold (NASDAQ:GOLD), Sibanye Gold (NYSE:SBGL), Yamana Gold (NYSE:AUY).
Most companies considered for this article are covered by more analysts than reported in our table since this article only considers analyst reports available through yahoo.com.
The table below summarizes our data. The first three columns list the company names, ticker symbols and share prices at the time of writing. Price targets (low, median and high) are listed in the following three columns. These targets are followed by a column giving the number of analysts providing data to Yahoo.com and the mean recommendations given by these analysts ranging from 1.0 (strong buy) to 5.0 (sell). This concludes the data sourced directly from Yahoo.com.
The following columns are colored in light green and contain data derived from our source data. These data points are given in percentages related to the share price at the time of writing. The column titled "median-price" gives the differences between the share price and the median target price. The column titled "high-low" gives the differences between the high and the low target. The last four columns titled "target change" document the changes in price targets since the November report with the last columns giving the average changes over the low, median and high price targets.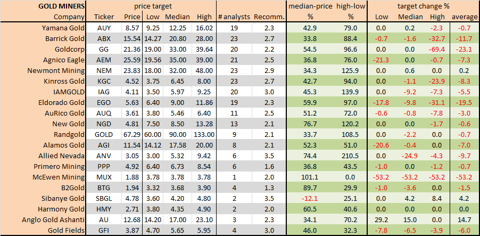 Click to enlarge
We usually keep an eye on the difference between the current share price and the median price target and interpret this difference as some measurement for the potential of a stock. This value is given in column "median-price" and the diagram below.
McEwen Mining has only got price targets supplied by one single analyst on Yahoo.com, but this analyst indicates more than 100% upside from current levels.
B2Gold is not far behind in terms of potential in this ranking and New Gold and Allied Nevada are also trading more than 60% below the median price target. Sibanye Gold is the only gold miner stubbornly trading above median price targets in our selection.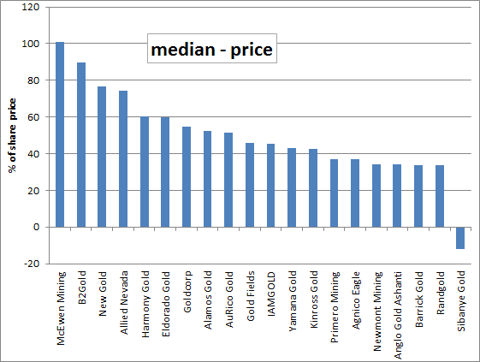 Click to enlarge
Column "high-low" measures the divergence in analyst opinions. The results from this column in the table at the top of this article are visualized in the next diagram.
Allied Nevada has analysts disagreeing the most with price targets gaping more than 200% of the current share price apart. Obviously there is still too much uncertainty with regards to the viability of the heap leach operation in Nevada among analysts.
The price target ranges for IAMGOLD, Newmont, New Gold and Randgold also diverge by more than 100%.
The analysts achieved the greatest degree of consensus with price targets for Sibanye Gold closely followed by B2Gold and Gold Fields.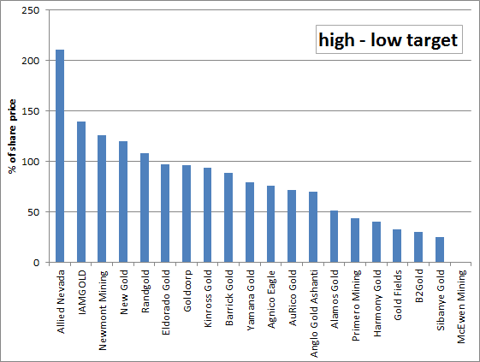 Click to enlarge
Most companies had their price targets cut during the past month with notable exceptions being AngoGold Ashanti and Sibanye Gold.
The largest target reduction was noted for McEwen Mining, GoldCorp and Eldorado Gold.
On average targets were reduced by 7% since early November.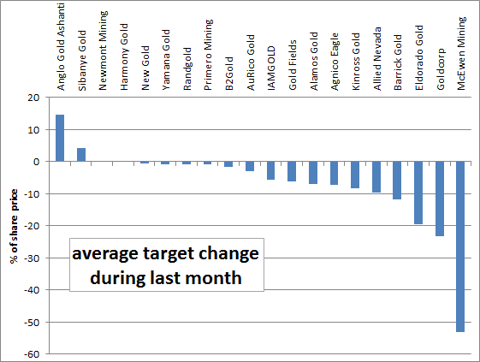 Click to enlarge
A visualization for column "Recommendation" concludes our report. The little red bars indicate recommendation changes since last month. B2Gold is still held in the highest regards by analysts followed by Primero Mining. AngloGold Ashanti received the largest upgrade during the past month. Allied Nevada and Sibanye Gold are still bringing up the rear. And the recommendation for IAMGOLD suffered the most.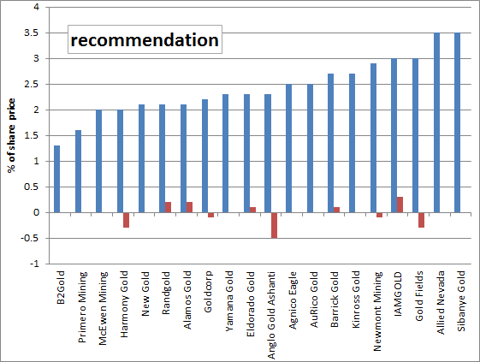 Click to enlarge
Parting Shot
The gold price is trending towards a test of June lows as we are writing this article and cost control will continue to be the main theme as we go into 2014. Gold miners have been curtailing their all-in sustaining costs as documented here, and this trend will need to continue in order to provide margins and cash flow. Hopefully once the ongoing gold price correction is done and dusted there will be a set of lean companies to choose from which will be well positioned to reap the benefits from the next bull run.
Disclosure: I have no positions in any stocks mentioned, and no plans to initiate any positions within the next 72 hours. I wrote this article myself, and it expresses my own opinions. I am not receiving compensation for it (other than from Seeking Alpha). I have no business relationship with any company whose stock is mentioned in this article.