Introduction
In this article, I'll have a closer look at Franco-Nevada (NYSE:FNV) which is a gold royalty and streaming company with several cash flow generating assets. I will provide my view on the company's financial results and balance sheet and will talk about Franco Nevada's future. This will result in my investment thesis at the end of this article.
My view on the financial results
In the third quarter of this year, the company sold 57,452 gold equivalent ounces, which resulted in a revenue of $98.8M, which is approximately 6% lower than in the same period last year. Franco Nevada's operating income was $48M and its net income came in at $35.3M, or $0.24/share.
But as I said in several previous articles, it's more useful to have a look at cash flow statements instead of at the income statement, as the cash flow statements usually give a much better impression of the quality of the underlying business.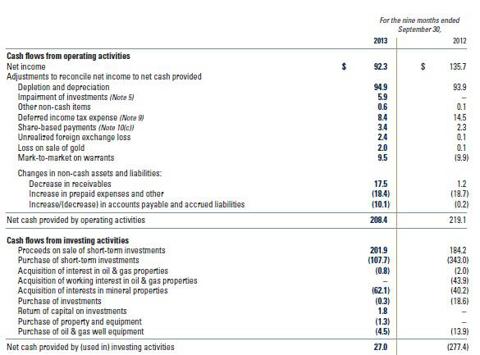 Click to enlarge
So when we look at these cash flow statements, we see the company reported not less than $298.4M in operating cash flow for the first nine months of this year (or approximately $400M on an annualized basis). As Franco Nevada also reported a net investment income of $27M (this number is mainly caused by the $201.9M sale of short term investments) and paid almost $78M in dividends, the company reported a net cash inflow of $157.8M after paying dividends, which is approximately $1.07/share for the quarter or $1.42 on an annualized basis. This is one of the very few companies in the mining sector whose dividend is actually covered by a positive free cash flow, which is something every investor should aim for. For instance, in an article I previously wrote on AuRico (NYSE:AUQ), it became quite obvious that company is paying dividends and buying back shares even though it's free cash flow negative.
My view on the balance sheet
Let's now move over to the balance sheet. At the end of September of this year, Franco Nevada had a working capital position of $891.1M, which is an increase of almost $70M compared to the end of last year when the company had a working capital of 'just' $822.4M. Franco Nevada's current ratio is an extremely high 20.25 (keep in mind a ratio higher than one means the company has sufficient current assets to cover its current liabilities), which might be an indication that the company isn't using its available cash in the most efficient way possible. I definitely wouldn't be surprised if Franco Nevada would add some more royalties or gold streams to its portfolio.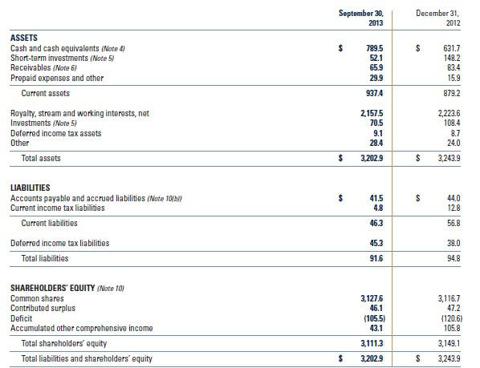 Click to enlarge
It becomes very clear that Franco Nevada has a very pristine balance sheet as in excess of 97% of the total balance consists of equity and the company's current assets are more than ten (!) times higher than its total liabilities.
At the end of the third quarter, Franco Nevada's book value per share was $21.16, which means the company is currently trading at 1.8 times its book value, which isn't extremely cheap.
Outlook
Franco Nevada still expects to receive between 215,000 and 235,000 gold equivalent ounces in 2013, but the main reason to consider Franco Nevada is for its future growth potential. The company holds a 1.5% NSR on the Canadian Malartic project owned by Osisko Mining (OSKFF) and a 2% NSR on the Detour Lake Gold project owned by Detour Gold (OTCPK:DRGDF). As those two projects are both gigantic, Franco Nevada will receive an NSR on in excess of 21,000 attributable ounces. Both projects are still in the ramping up phase, and Detour Gold has declared commercial production in Q3 of this year, as I explained in my previous article.

Click to enlarge
Unfortunately the company also acquired royalties or streams on projects with an uncertain future. Franco Nevada bought a 22% gold stream deal from Taseko Mining's (NYSEMKT:TGB) New Prosperity project which would bring in $50-70M at the current price of gold, but the situation for the project is extremely uncertain as the permitting process isn't going as smooth as planned.
Investment Thesis
Franco Nevada isn't cheap at all, but there's a reason for it. The company has an excellent balance sheet and is in a perfect position to acquire more royalties or gold streams and is able to fund any potential acquisitions with its excellent working capital position.
As most of my readers know, I prefer to write put options instead of just buying the common shares. In this case, I'm particularly looking at the P 35 January 2014 at $0.95 and a P 30 July 2014 at an option premium of $1.65.
Disclosure: I have no positions in any stocks mentioned, and no plans to initiate any positions within the next 72 hours. I wrote this article myself, and it expresses my own opinions. I am not receiving compensation for it (other than from Seeking Alpha). I have no business relationship with any company whose stock is mentioned in this article.
Additional disclosure: I have no position in Franco Nevada right now, but I might write an out of the money put, as I explained in the article.