By Brandon Matthews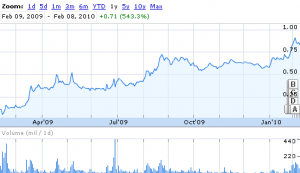 Click to enlarge
In recent weeks, Sirius XM (NASDAQ:SIRI) shares have skyrocketed from a low of .61 to a high of .95 following its pre-released fourth quarter results. The initial results confirmed Sirius XM's return to subscriber growth and ability to generate substantial free cash flow. The company maintained its 2009 operating guidance, while reporting that it had added over 257,000 subscribers in the quarter and had achieved free cash flow of over $100 million. The better than expected results got the attention of Wall Street, as analysts took note and began to initiate coverage or upgrade the equity while raising price targets. Credit upgrades by Bank of America/Merrill Lynch, Standard & Poor's and Moody's soon followed.
Sirius XM shares have since pulled back to the mid .80's following some extremely suspicious trading out of the Boston Stock Exchange. Some speculated that a conspiracy existed to hold SIRI shares below the one dollar mark, in order to force Sirius into enacting its shareholder approved reverse split. A Satwaves exclusive report on newly approved Nasdaq compliance guidelines, however, makes that theory highly unlikely. As we have been reporting for months, the market has confirmed that a potential reverse split of Sirius XM shares is, and always was, a non-issue.
The activity is more likely tied to the options market. As Siri shares near the coveted dollar mark, many writers of call options, both naked and covered, have a vested interest in keeping SIRI shares "out of the money." This applies to both institutional and retail call option writers who now run a substantial risk of losing their Sirius positions. Sirius XM will be reporting their Q4 2009 earnings after February expiration, and with so much good news already reported, it is not surprising to see Sirius shares retreat to a more comfortable level for writers of these one dollar call options.
Howard Stern is even being used to help suppress the price of SIRI as options expiration draws near, as the media is being manipulated into false reporting of his on-air comments. These comments suggest he will not only leave Sirius XM to take over American Idol, but some go so far as to claim he has confirmed this. A recap of Monday's show on MarksFriggin.com, reveals that Stern never confirmed or denied anything, but only mocked the judges, contestants and what he deemed a karaoke show.
This is a double edged sword that could create a substantial short squeeze if Stern was to dismiss the rumor outright, as he did recently with rumors of his return to advertising based, terrestrial radio. If this is combined with unexpected good news or a potential run up into earnings, shares of SIRI could be catapulted well above the 1.00 mark. I am looking for a recent rise in Sirius XM short interest to confirm this later today.
Position: Long SIRI