Like many downstream MLPs, Calumet Specialty Products Partners (NASDAQ:CLMT) has had a very rough 2013. Crude oil differentials have been seeing volatile moves impacting industry wide profitability. In addition, certain environmental costs related to the EPA biofuel mandate have seen their prices explode higher. However, many of the issues facing the company are now beginning to reverse which may point toward some stabilization for the stock. Calumet currently offers a $0.685 per unit quarterly distribution and yields about 9.90%.
Q3 2013 Overview
Net income: -$34.8M, or -$0.54 per unit

Adjusted EBITDA: $38.3M

Distributable Cash Flow: -$16M

Quarterly distribution: $0.685 per unit
On November 6, Calumet reported its Q3 2013 results. Overall results were fairly poor. The company was adversely impacted by weak crude oil differentials in the quarter and by a planned turnaround at its Montana refinery. Calumet's 10,000 BPD Great Falls, Montana, refinery was offline for 30 days in Q3 which added about $15.9M in turnaround costs last quarter. Calumet was generally not able to pass along higher input prices for crude oil to its customers. As a result, margins for both fuels and specialty products declined significantly.
For the quarter, Calumet posted a net loss of $34.8M compared to a net income of $42.4M last year. Adjusted EBITDA, which is a much better gauge of profitability for MLPs, declined 70% to $38.3M from $121.3M last year. Adjusted EBITDA is an important metric for Calumet as many of its debt covenants and financing instruments use it as a "measuring stick" for leverage metrics.
As noted above, profitability fell greatly during Q3. The 2/1/1 crack spread declined by more than 50% to an average of $16.81 per BBL. While crack spreads are not a perfect measure of a refiner's profitability, it is a good leading indicator. The WTI to LLS spread, a key metric for Gulf Coast refineries, narrowed to about $4.00 per BBL in Q3, a 77% decline from about $17.00 last year. The main factor for this decline would be an increase in WTI prices. WTI prices averaged over $12.00 higher in Q3 compared to last year, while Brent and LLS prices were essentially flat.
Weak Distribution coverage ratio remains a concern
Of special note for Calumet would have to be its worsening distribution coverage ratio. During Q3, Calumet actually generated negative $16M, or negative $0.23 per unit, cash available for distribution. Yet, Calumet's quarterly distribution remained intact at $0.685 per unit. This implies that the company may be using debt to pay for its current distribution which is clearly unsustainable long-term.
As shown below, Calumet's coverage trends have significantly worsen over time. Back in 2012, Calumet's DCF coverage ratio hovered at about 1.90X. However, for 2013, the coverage ratio is now merely .06X. To put it another way, Calumet has generated about $8M in DCF in 2013 compared to about $135M in distributions paid.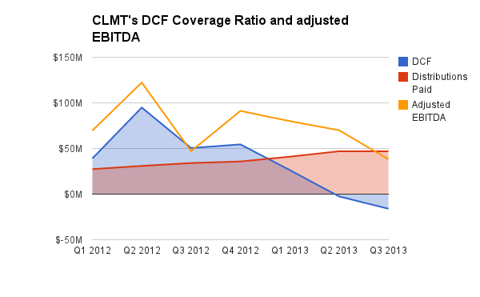 Changes to the EPA's biofuel mandate is a positive
A potential positive for Calumet would be that the EPA is cutting the amount of ethanol and other biofuels that must be blended into the nation's fuel supply. The EPA is proposing to require 15.21 billion gallons in 2014, down from 16.55 billion gallons in 2013. A catalyst for the change was due to the "blend wall" as too much biofuels in fuel blends may lead to engine damage at certain concentrations.
This move by the EPA was widely expected as the proposal had been leaked weeks earlier. RIN costs had likely fallen due to the expected changes. One bright spot for Calumet would be a decline in RIN costs and related biofuel expenses. As I noted in my previous article, Calumet RIN expenses exploded higher, from as low as $0.02 in Q2 2012 to over $0.83 in Q2 2013. For Q3 these costs seemed to have reached their top at $0.86. Thus far in Q4, RIN costs have greatly decreased. An example noted in Calumet's press release, the per gallon cost of a D6 ethanol RIN has fallen more than 80% from the all-time high recorded in July 2013.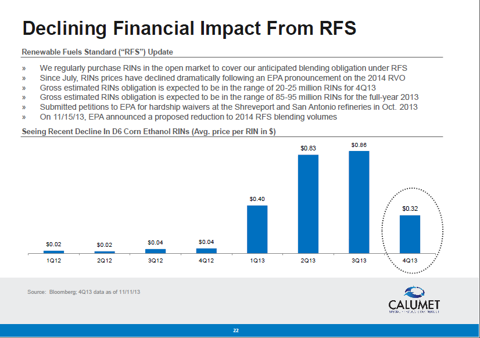 Q4 2013 Outlook
For Q4, things are looking better for Calumet. Margins are likely to bounce back somewhat as WTI prices have declined greatly. In addition, crude oil differentials have once again started to widen. Q4 is typically a seasonally weak quarter for producers as spreads tend to widen due to transportation bottlenecks. As an example, Bakken production is trading at a $12 per BBL discount to WTI. Another example would be WSC, a Canadian heavy crude blend, currently trading for a $30 per BBL discount to WTI. Combined, these factors have sent crack spreads soaring and are near YTD highs. However, they are still well off 2012 levels.
Final Thoughts and Conclusion
Due to improved fundamentals for refiners, Calumet is likely to have a decent Q4 2013. However, I would still avoid the stock. The primary reason for my bearishness would be the negative trends regarding Calumet's distribution, especially its weak coverage ratio. Another factor would be the sharp decline in Calumet's adjusted EBITDA. Both these metrics have declined greatly which has resulted in Calumet's overall indebtedness and leverage increasing. I would need to see several quarters of improvements in these key metrics before I could get behind the stock.
Disclaimer: The opinions in this article are for informational purposes only and should not be construed as a recommendation to buy or sell the stocks mentioned. Please do your own due diligence before making any investment decision.
Disclosure: I have no positions in any stocks mentioned, and no plans to initiate any positions within the next 72 hours. I wrote this article myself, and it expresses my own opinions. I am not receiving compensation for it (other than from Seeking Alpha). I have no business relationship with any company whose stock is mentioned in this article.