Retail sales were mixed in the first week of February, as a lack of clearance merchandise and inclement weather held back discretionary purchases, but led to strong sales of necessities such as groceries. Retailers also saw strong demand for Super Bowl related items, as well as early Valentine's Day purchases.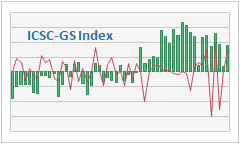 The International Council of Shopping Centers (ICSC) reported that chain store sales were a mixed bag for the week ending Feb 6th, as sales increased 1.4% week-over-week and rose 1.8% from the year-ago period. "The one-week later shift in the calendar for the Super Bowl and the blizzard threat (that materialized) from the Ohio Valley through the Middle Atlantic helped lift consumer spending on groceries for the week," said Michael Niemira, ICSC's chief economist. "However, winter clearance merchandise remains limited and with some 61% of the nation snow covered over the last week consumers were hindered in their travels to shop," he continued. ICSC expects February comp-store sales to be up about 2% from last year, slower than the 3% rise the firm reported for January.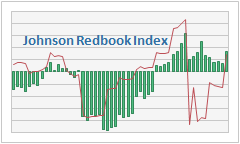 Redbook Research reported that same-store sales rose 2.0% for the first week of February compared to last year, while month-over-month sales increased 1.7% relative to January. "Retailers continued to clear pockets of winter goods at markdown, although these no longer represented a significant portion of business," said Catlin Levis, Redbook analyst. "In addition, Super Bowl Sunday drew sales of big screen TVs, snack foods, beverages, team apparel and other related merchandise leading up to the event," she continued. Sales picked up modestly towards the end of the week as Valentine's Day approaches, and should gain strength heading into this weekend.
Retailers will ramp up the Valentine's Day promotions this week in the hope of capturing a piece of the estimated $14-$17 Billion consumers will shell out for the holiday. Even with events including the Super Bowl and Valentine's Day, February is typically one of the lightest months of the year in terms of volume, so we aren't putting too much stock in weekly results which we expect to remain volatile. Instead, we are focusing on Thursday's report on January retail sales from the U.S. Department of Commerce, and a busy earnings season which kicks off with Walmart reporting 4th quarter results on the 18th.
Disclosure: No Positions