Gulfmark Offshore Inc. (NYSE:GLF) is now officially a cheap stock, trading at a trailing twelve months P/E of 5, and a forward P/E of 9. Deepwater offshore drilling is one of the biggest growth segments in the energy sector, with new discoveries being found very deep under the sea. The company supplies offshore support for energy drilling operations.
It is an innovative company, ranked #35 on the Forbes Best Small Companies list. The company has grown revenue 60% since 2006, and it has grown earnings more than 200%. This year, business has slowed down, but if the global economy is indeed picking up, I would expect increased demand for offshore drilling services.

Estimates for profit next year are for $2.74 per share. If you give the stock a P/E multiple of 10, it should be able to trade up to $27 or $30. That's if business does not improve. If business improves, the upside to this stock is much higher.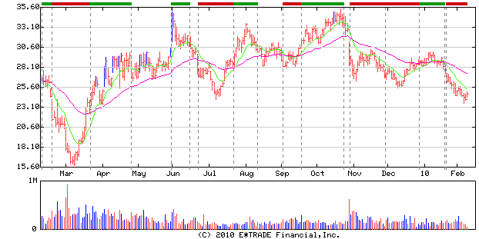 Click to enlarge
(Click to enlarge)
The company has a solid balance sheet with $300M in cash and short-term assets, and it has $50M in debt. The enterprise value/EBITDA is 4.25, which is extremely low and makes this company a takeover candidate, given that it is cash flow positive. I believe in buying stocks that are making money when the P/E is less than the return on equity (ROE) of the company (in this case the ROE for Gulfmark is 15, the P/E is 9). Given the fact that the stock has recently experienced a sharp selloff, it makes this a particularly opportune time to take a look.
Disclosure: No position